A firsthand account of advantages in doing tertiary studies in New Zealand
View(s):

The visit to three of the higher educational institutions in New Zealand represented by Edlocate was undertaken two weeks ago with a view to find out whether there are any advantages of undertaking tertiary studies in New Zealand vis a vis those in other locations.

The visit first took me to New Zealand's best university and the one and only New Zealand University listed as one of the top 200 universities in the world in university rankings – The University of Auckland. A traditional university with a long history, its strengths derive from being a research-led university. Therefore all courses and disciplines offered at the university incorporate the related latest findings and perspectives from such research. There are 4 campuses and my visit was to the largest of them – the city campus is in the heart of Auckland city. The university offers more than 30 undergraduate programs across 125 different subjects. I was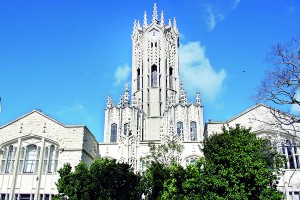 fascinated to find many innovative courses being offered amongst all the traditional subjects that are taught. At postgraduate level the university offers over 130 programmes and provides more than 180 subjects to choose from. There is a special funding scheme in place by the New Zealand government which enables the University to offer PhD study to international students for the same tuition fee as New Zealand PhD students (This year it is NZD 6,013 per year). The University of Auckland has an excellent scholarship program for international students that amount to over NZD 13 million each year.
My next visit was to The University of Waikato in picturesque Hamilton – just 2 hours coach ride from Auckland. Ranked as the 302nd university amongst world's best universities, this 50 years old new generation university's main feature is having the 8 faculties/ schools of studies / colleges together with halls of residences being in one location in 65 hectares of beautiful land. It is an ideal university to those students who want to concentrate on their studies away from the hustle and bustle of a large city. What caught my attention was the inbuilt work experience up to one year into all courses of studies offered at Waikato to prepare their graduates better for the job market. Businesses in the Hamilton region especially make this arrangement beneficial for students doing degree courses in all fields of engineering – a strong point of Waikato. Here again I noted many undergraduate courses of special interest to New Zealand and developing countries being offered. Two unique programmes at postgraduate level that attracted me was the MPM (Master of Project Management) and MBM (Master of Business & Management) which are of 15 months duration and could be done immediately after graduation with a bachelor degree, to be eligible to enter management positions.
My last visit was to Unitec In Auckland. This is a polytechnic with a difference where I visited the Mt Albert campus – just 7Kms from the city. Situated in a 55 hectare land this was a large complex. Unitec offers a wide range of programmes from certificate (level 4) to Diploma (L 5 or 6) to Bachelor degrees (L 7) to Masters (L 8 & 9) and PhDs (L 10) in 15 major disciplines. From a cross section of students I met I gathered that the courses in Engineering (especially Construction & Civil Engineering), IT and Computing, Teaching and Nursing are the ones that have a high demand.
What impressed me most was the large number of highly contented international student population at all 3 institutions from many countries mainly due to excellent International Student Support Staff (to a level I have not seen in any other country including Australia). They are contactable 24/7, and help and advice on matters like studies, immigration, health, finances, accommodation and even on personal issues. At Waikato University I saw how a young international female student was assisted with a minor accident she had just met with and was really in need of help. My visit to New Zealand was quite informative and we at Edlocate hope to give valuable first hand information to students keen to join any of these institutions in New Zealand.
The writer is the Managing Director of Edlocate
My next visit was to The University of Waikato in picturesque Hamilton – just 2 hours coach ride from Auckland. Ranked as the 302nd university amongst world's best universities, this 50 years old new generation university's main feature is having the 8 faculties/ schools of studies / colleges together with halls of residences being in one location in 65 hectares of beautiful land
comments powered by

Disqus