SC again orders better facilities in buildings for disabled people
View(s):

The Supreme Court has instructed state agencies to ensure compliance with the earlier court order of April 27, 2011 and implement comprehensive directions given to ensure that those with restricted ability be given every opportunity to integrate freely with the community. Supreme Court also directed the Attorney General to ensure the order was given its full effect by directing the authorities to take immediate steps to sensitise the private sector to take appropriate steps in compliance.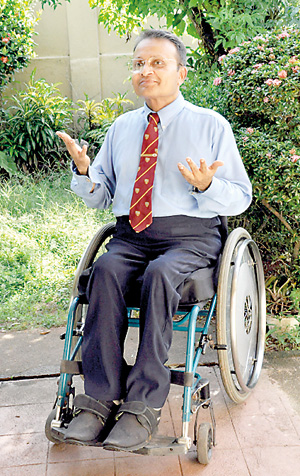 The SC bench comprising Chief Justice Mohan Pieris, Justice Chandra Ekanayake and Justice Sathya Hettige gave the latest ruling on a reactivated a fundamental rights petition SC.FR.No.221/2009 filed by Dr. Ajith C. S. Perera, an activist who has been campaigning for the full implementation of accessibility regulations enacted several years ago for disabled people.
Appearing in the case, Dr. Perera said that although a long time has passed since issuing accessibility regulations, still, public buildings are constructed without accessibility facilities…. The Supreme Court said the circular issued by the Social Services Ministry to state and private institutions was comprehensive and must be effectively implemented.
Dr. Perera complained that although the circular was issued several months ago, little or nothing had been done while the violators continue to break the law and the victims continue to suffer. We still see the ongoing renovation work at several reputed hotels and hospitals. This gives a second opportunity to rectify mistakes but the laws are still being violated, he said.
He said that to optimise the results of development programmes reaching everyone and especially further promote the lucrative tourism industry, facilities at buildings, and hotels in particular, must henceforth be designed under proper guidance of experts for full participation of the public with ease and safety, regardless of individuals' degrees of ability. He urged the Government to introduce fresh legislation in the greater national interest to have an effective mechanism to implement accessibility regulations in a meaningful manner.
Follow @timesonlinelk
comments powered by

Disqus