How the public beat counterfeiters
Gangs printing fakes on rough paper to resemble used money
View(s):
People are increasingly canny about spotting counterfeit notes, and this is leading to the spate of reports about forged currency, says Central Bank Currency Department chief Janaka Karunaratne.
"If you really look at why incidents on currency counterfeiting are being reported continuously, it is because people are being educated," Mr. Karunaratne said.
The public are learning how to identify the characteristic markings of a genuine currency note. Security features and other different aspects help to identify whether notes are genuine or counterfeited.
Police say most forgeries involve Rs.500, Rs.1000 and Rs.2000 notes.
Last week (July 19) a magistrate from Angunokolapelassa lodged a complaint at the Homagama police that he had found a forged currency note while paying his highway toll for the Southern Expressway.
He had apparently received the fake Rs.1000 note after cashing a cheque at a bank in Angunokolapelassa.
It was detected through a counterfeit detecting machine at the highway toll counter.
On July 18, two men were arrested in Poddala for printing forged money. They had nine Rs.1000 notes and eight Rs.100 notes in their possession. Computers and printers used for printing the counterfeit notes were seized by police.
Police statistics show 62 forged currency possession incidents were reported last year and 83 counterfeiters were arrested. Eighty 80 incidents relating to forged money transaction were reported, with 31 arrests, and 11 incidents relating to printing currency were recorded, with 35 arrests.
In the first half of this year, 29 incidents of possession of forged currency were reported, leading to 41 arrests; 59 incidents of forged money transaction led to 12 arrests, and raids on seven counterfeit currency printing factories led to 18 arrests.
Commenting on fake notes getting into banks, Mr. Karunaratne said banks had been requested to install counterfeit detecting machines in their counters. This had been made compulsory since April 1.
"There is no reason for counterfeit notes to come to the banks as clear instructions have been given to all banks to install counterfeit notes detectable machines. Now any bank should be able to detect a counterfeit note," he said.
"Previously, money processing took place at the headquarters or processing centres of the banks. There was no processing taking place at the counters. But the situation has changed and notes are being checked at the bank counters.
"In addition, banks have been told not to re-issue the notes that they get from customers without verifying whether they are genuine notes."
Mr. Karunaratne said that when loading notes into the ATM machines, banks should only load in genuine and clean notes. Banks should ensure that notes coming in were genuine before re-issuing them to the public. There were education programmes for bank staff on dealing with counterfeit currency.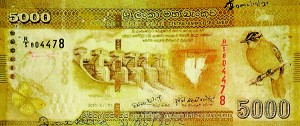 The Central Bank official said genuine notes were made of cotton pulp through a chemical process. Counterfeiters used normal paper to produce notes through a sophisticated scanning and photocopy process. They were using new technology to make notes on rough paper so that they resemble used genuine notes.
"It is easy to identify the difference of counterfeit notes from genuine notes by touching them. A genuine note can be identified by touch and feel. The texture of a genuine note will be different from a counterfeit note and this can be felt by touching the note," he said.
There are guidelines for the public to differentiate genuine from forged notes through security features. Security features are divided into Level 1, Level 2 and Level 3 categories. The general public can identify genuine notes through the seven-feature Level 1 process.
Banks and the Central Bank have more advanced methods of detecting fake notes. On genuine notes, very small letters that are not visible to the naked eye can be seen with magnifying glasses. The UV feature also helps detection: if a genuine note is held to a UV light or fluorescent lamp, coloured fibres can be seen that are not present in forged currency.
"In some countries, counterfeiters are able to add these coloured fibres to the notes, they are that much advanced," Mr. Karunaratne said.
"Over the years, we have added more security features. For instance, a few years ago, a colour-shifting feature was added to currency notes. On top of that we continue to carry out educating programmes among schoolchildren, teachers, police and government officials," he said.
He advised the public to get into the habit of handling currency notes in order to detect the security features.
"It is the role of the public to carefully tackle currency notes and be vigilant while using for transaction purposes. They also should immediately inform the police if they are suspicious of any currency note," he said, a position strongly backed by the Central Bank.
How to spot a dud noteWatermark: The different birds depicted on each note also appear as a watermark. In addition, the value in numerals appears vertically as a highlighted watermark.Security Threads: Genuine notes can be differentiated from fake ones. Security threads are different for each denomination and have the letters CBSL and the value (e.g. Rs.20, Rs.100). The width of the windowed starch-chrome thread which changes colour from red and green in Rs. 5000, Rs. 1000 and Rs.500 are 3mm, 2.5mm and 2mm respectively.

Colour-shifting: High-value notes have this feature. The value of the note and "CBSL" is printed on a straight thread in the note. "There is no colour shifting, denomination and CBSL on counterfeit notes," Mr. Karunaratne said.

Cornerstone watermark: This appears in the form of diagonal bars at each corner of every currency note.

See-Through: When the note is held up to the light the numeric value of the note on the front comes together in perfect register with the reverse on the back of the note.

The Extra Small Text: When viewed closely, text reading "CBSL" and the numeric value can be seen on the note.

Blind Recognition Feature: A vertical order of heavily printed dots progressing according to denomination appears on the left side of the currency note to help the visually impaired recognise the denomination.

Raised Print: Raised print will be felt when the note is handled. The raised print appears on tactile bars, the Central Bank title and the central images.
Follow @timesonlinelk
comments powered by

Disqus