Looking at relationships in love and politics
By Chandani Kirinde
Aadara Wasthuwa' (Love Object) by playwright cum director Rajitha Dissanayake to hit the boards
View(s):
On the face of it, love and politics are two subjects that do not seem to intermingle. But are they really that different or are the emotional responses of people to the break-up of a love affair similar to their reaction when a close political relationship comes to an end? This is a question that well known playwright cum director Rajitha Dissanayake explores in his latest production 'Aadara Wasthuwa' (Love Object) which will go on the boards this week.
The story revolves around a university lecturer, an unscrupulous media mogul and a journalist who between them question the notion of love, its boundaries and politics and how society as a whole contributes to how we react in different relationships.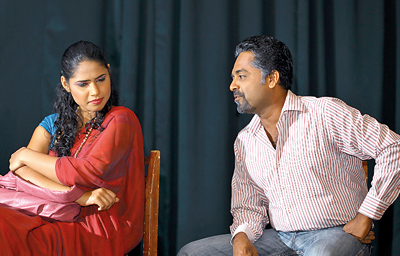 While some of his popular previous productions such as "Bakamoona Weedi Basi" amd "Weeraya Marila" carry a more obvious political message, in his latest play Rajitha sends out a more subtle message which he believes maybe more effective."This play will make people want to look inwards at their own feelings but it also carries an underlying political message," Rajitha says.
Love is a subject that Rajitha devoted much time to when he first began work as a playwright drawing from his experiences as an undergraduate at the University of Colombo in the early 1990s. Like for all his scripts, he has drawn inspiration from his own experiences as well as the lives of those around him. "I write my scripts by observing what goes on in society as well as in the lives of people around me, "he says.
But Rajitha also treads carefully when he directs his plays, understanding well the limitations in place in present day society. He pushes the boundaries but also sets boundaries for himself so that he can be effective without getting into controversies. . "I want to live and work in this country so I work with an awareness of the restrictions within our society," he says.
He is also an optimist who would rather look at the good side of things than dwell too much on the negative. "We need to understand the negative side of our society but instead of adding to that we must see how we can make it a better place."
Rajitha also feels optimistic about the future of Sinhala theatre in the country. " I can be optimistic about the fact that there is a younger, very committed group of people who come forward and work for the love of theatre when the financial returns for their time and energy they devote is minimal," he says. There is also a noticeable growth in the number of people who come to watch stage plays as compared to a few years ago, Rajitha says. The down side, he says, is the non-recognition of Sinhala theatre by a particular strata in society who usually makes decision on sponsorships, publicity etc. which are vital for the success for any theatre production in the country. "There has to be some attitudinal change when looking at Sinhala Theatre by these groups," he says.
This time around the Sunethra Bandaranaike Trust has come forward to support his production for which Rajitha is thankful. The cast of "Aadara Wastuwa' includes Sahyam Fernando, Nadeeshani Peliarachchi, Gihan de Chickera and Nalin Lusena. The play, presented by the Freedom Theater Group, will premiere on August 2, 3 and 4 at the Lionel Wendt in Colombo. Tickets are available at the Lionel Wendt priced at Rs 300, Rs 500, Rs 750 and Rs.1000.
Follow @timesonlinelk
comments powered by

Disqus