Appreciations
View(s):

He blew no trumpets and sought no publicity

Robert Cyril Fernando

With the great 'old school by the Beira' warming up to celebrate its centenary, it is only natural that our thoughts go back to its glorious past and to those illustrious men who gathered fruits of virtue and knowledge there and added glory and lustre to the school by the selfless services they later rendered to the country and to its people.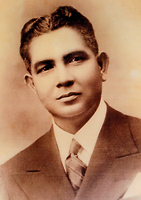 Let us, therefore, in the words of Ecclesiasticus, praise illustrious men, our ancestors in their successive generations… they were honoured by their contemporaries and were the glory of their day. Some of them left a name behind them so that their praises are still sung…. Their bodies have been buried in peace… the people will proclaim their wisdom, the assembly will celebrate their praises.
Looking over these years, one is also reminded of the solemn passage in the Book of Revelations, chapter 7: "I saw a huge number, impossible to count, of people" from every corner of the island. "One of the elders then spoke and said: Do you know who these people are?" Dressed in the familiar 'blue and white' these are the 'boys' who grew up to be men from the grand old school: St. Joseph's!
Among this glorious multitude, I like to remember with filial piety and with pride and gratitude my own father, Robert Cyril Fernando. He hailed from the 'little Rome' of Sri Lanka, Negombo, and was born on July 5, 1890. He had his early education at St. Joseph's College where he distinguished himself in studies. After a very successful school career he left for England to pursue his engineering studies in the School of Science and Technology under M/s Hensford Worth (Civil Engineers) at No. 42 George Street, Plymouth. He was only 17 then. At the age of 22 he had passed the Studentship and the Associate Membership Examination of the Institute of Civil Engineering. In 1914 whilst working under Mr. Hensford Worth as an Assistant Engineer he applied to the Crown Agents for the colonies for the post of District Engineer in the Public Works Department of Ceylon.
The application was strongly supported by his peers in England. But the PWD of Ceylon requested the Colonial Government at White Hall Gardens, London SW not to fill the vacancy. He then continued to work in England, till he became the chief assistant under Hensford Worth before the Colonial Secretaries (Ceylon) appointed him as District Engineer in the Public Works Department on June 1, 1917.
During the 11 years he spent in England, besides gaining the valuable experience required of a Civil Engineer, he became an active supporter of the Catholic Revival in England. Both in England and later in Ceylon, the most important thing about Robert Cyril Fernando (and he would have been the first to say it), the most distinctive quality in him was a quality which he shared with more than 300 million of his fellow-men; he was a Catholic! His religion mattered furiously to him.
The Church of England in the 19th Century could have written its history round the names of eminent personages like Bishop Milner and the three great Cardinals; Wiseman, Newman and Manning. Robert Fernando specialised in the study of these eminent men. Both in England and later, on his return to Ceylon he lectured on several occasions on Cardinal Newman and the Oxford Movement. He also delivered lectures periodically at his alma mater where for many years he was the Secretary of the OBU.
Returning to Ceylon, Robert Fernando entered Government service and distinguished himself in the many offices he held. The early part of his career was served in the unpopular districts reserved especially for the 'natives' in places like Pallai, Mannar, where Malaria was rampant at that period of time. He was later posted to Galle, Ratnapura, Kurunegala and finally at Public Works Department, Colombo where he was promoted as Deputy Director. It is interesting to note that the popular stations especially in the 'up-country' regions were the special preserves of the European Engineers for many years! Robert's first appointment was as District Engineer, Pallai in Pachchilaippalli!
It was whilst yet a young engineer at Pallai that he married Francina Fernando, a wealthy daughter of the planter L. David Fernando. They were married on April 1, 1921, at St. Francis Xavier's Church, Katana. Bede Beckmeyer, the Bishop of Kandy solemnised the marriage. The attesting witnesses were Cyril Leonard Wickremasinghe of the Ceylon Civil Service, Kurunegala and Reginald Marcus Fernando (planter) of Devronshireside, Edinborough Crescent, Colombo.
As Crown Agent for the Colonies, for 18 years, Robert Fernando held numerous Government, public and honorary posts.
Both his colleagues and the many others who came to know him during his public career held him in high esteem and considered him a gentleman of the highest integrity. He was both persevering and diligent in his work, an enlightened Christian, greatly attached to St. Joseph's College. He never crowed over his achievements, blew no trumpets and sought no publicity. He shunned popular applause and preferred to hide behind an impenetrable veil his many charities. Only his intimate friends knew how much he helped the needy. In spite of his academic achievements and his great public service, he lived a simple life, devoted to his family, avoided both luxury and extravagance and maintained the common touch.
His untimely death on September 12, 1935 at the young age of 45 years was indeed a sad loss to both his church and to his country. He was to be promoted to a high office in the Department of Public Works on October 1. He died 18 days before that date.
With grateful memories of a life lived in the service of his people we thank God for his life and for his work here on earth. Yes, his body has been buried in peace…. the people will continue to proclaim his wisdom and the assembly will continue to celebrate his praises.
-Cyril Fernando
Remembering an illustrious service rendered
Lionel Samararatne
Left us forever, after an
Illustrious service rendered
On teaching of English and  Methodology
Never slackened in your duties
Even accidentally
Love you had towards the learners is
So much, that all those who
Attended your classes
Maintained that your
Approach, you launched, did
Reward tremendous results.
Attention to the needs of your children
Rightly and
Appropriately done.
Three months after your demise, you still
Nest among us.
Evergreen shall you remain in our hearts
-W. Lionel Sirimanne
His gift to touch many lives knew no bounds
Rev. Fr. Thomas Kuriacose, SJ
With the demise of a special person on Sunday, July 7, this year, I feel it is only fitting that I pen my thoughts in honour and remembrance of a soul that touched the lives of many. Fr. Kuri's association with my family dates back several years as he was a friend of Terry Wijesinha, my grandfather. I had known him from the time I can remember and he will always hold a special place in the hearts of the Liyanage family.
My earliest memories of Fr. Kuri was a man in a crisp white cassock, with a hearty voice and welcoming smile as he enveloped me in a warm embrace. My sisters and I were always thrilled to see him. Fr. Kuri was always a "people's person". No matter how busy he might have been, even when he was rushing out the door, Fr. Kuri made time for me. Be it a query, a worry, a blessing, a piece of advice or simply to share news both good and bad, he was always there – a solid presence in my life and the lives of my family.
It was always a pleasure and privilege to listen to Father celebrate holy mass. I have rarely come across an individual with such an impeccable command of the English language. His sermons were delivered with ease, for they came straight from the heart. In an era where attending mass has become more of an obligation, Fr. Kuri made the service meaningful. His homilies were compelling and his words lingered long after the sermon had ended.
He possessed such a wealth of knowledge in so many spheres – language, literature, theology, politics, the arts… the list is endless. So it comes as no great surprise that in his younger days, as a lecturer at Aquinas, he was deemed a teacher par excellence. I cannot help but envy those who were fortunate enough to have studied under his tutelage.
Along with the serious side to his nature, Fr. Kuri was also fun-loving and possessed a wonderful sense of humour. He always enjoyed a good joke and would laugh heartily after the punch-line. I will always remember his wit and warmth and forever miss that infectious laugh…
Our family was so much a part of some of the milestones celebrated in his life, such as the Golden Jubilee commemorating 50 meaningful years in the priesthood and his 90th birth anniversary three years ago. He enjoyed listening to harmonious singing and constantly asked my sisters, Samindri, Shehara and I to sing him his favourite hymns and carols. "You Raise Me Up" was the song he loved the most, while "When a Child is Born" was the carol he always requested when the festive season came around.
Few have the ability, or rather, the gift of being able to touch and influence the life of another in a positive and uplifting manner. Fr. Kuri's gift knew no bounds. He reached out to everyone with love and understanding for nearly six decades in the service of the Lord.
His numerous pieces of advice have been filed away in my mind and they always surface when I need them most. But there is one particular phrase that I will always carry with me. During one of our many conversations, I had been grousing about some matter that had irked me, and he told me, "Sush, no matter what, you must always do the handsome thing."
That phrase, I believe, epitomises all that Fr. Kuri stood for. He always did the right thing, the honourable thing. He always took the high road even when he had to traverse difficult paths and face obstacles. Priests of his calibre are few and I am blessed and privileged to have known and loved him.
Fr. Kuri was a beacon that shone brightly for many. Though he walks no more among us, he lives on in our hearts, shining brighter than before in our minds and in our memories. I have no doubt that the welcome he received in heaven was glorious! The life he led attests to that. He is smiling down on us all, loving us, guiding us and blessing us.
Thank you for everything you were and still are to us, Fr, Kuri. Your presence has enriched our lives beyond words and it is a blessing we are eternally thankful for. Life and Fate are unpredictable partners. They lead us down avenues that are sometimes strange and unfamiliar, giving us experiences that mould our character and strengthen our faith. And as I conclude, I would like to add that no matter what avenues I follow or whatever experiences I encounter, I promise I will always strive to do "The handsome thing."
Sushara Liyanage
The great matriarch who was a guide and source of love
ZARINA IZZADEEN nee KHAN
The eldest of seven siblings born to the late Mr. and Mrs. G B Khan, Zarina was a tower of strength to her younger siblings, including me. Showering us with love and kindness, she was a second mother to us, guiding and disciplining us in our formative years, efficiently and tactfully and with much understanding.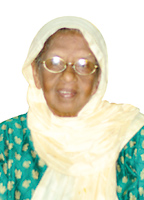 Zarina 'Buwa', as we all called her respectfully and lovingly, grew up to be a tall, graceful and elegant lady. There were many suitors for her hand, but a tall handsome young police officer, Izzadeen, who was also a relative, "arrested" her. Months after her happy wedding, we felt a void in our lives, as our darling Buwa had to leave us, to join her husband in his new home. We were despondent but she cheered us promising to visit us often.
They were a happily married couple; she was a mother to two sons and three daughters. After 35 years of married life, Buwa was shocked and saddened by her husband's death of a heart attack. Very much later Buwa was devastated when she lost her second daughter Rukshan, the mother of two young boys and it took her a period of time to regain her composure through prayer. When Buwa was a young lady we lost our elder brother Haroun Rasheed which affected us badly. It was three years ago that we had the misfortunate of losing Jezima Usman, our youngest sister. Buwa was deeply affected by this loss.
Death is the cause for sorrow, so let us dwell on the happiness of life. Zarina Buwa lived a happy and contented life; she was the matriarch of the family — loved and respected, generous and philanthropic. She was blessed with many great grandchildren too.
Friday was 40 days since you left us. I write with a heavy heart darling Buwa, your siblings, children, grandchildren and great grandchildren feel the huge void you have left. May Allah grant you the bliss of "Jennathul Firdhouse".
Duleep
Follow @timesonlinelk
comments powered by

Disqus