A place to collect their wavering minds
By Duvindi Illankoon | Pix by Susantha Liyanawatte
The newly opened Cinnamon Care Services provides a haven for dementia patients
View(s):
Mauve* is sweetly reminiscent of everyone's grandma (albeit a more fabulous one in her chic skirt and makeup). Her smile is incredibly generous and her enthusiasm infectious. Yet she will struggle to do the simplest of things, like brush her teeth or comb her hair. For Mauve and the many like her succumbing to dementia in their old age, such simple things are a daily struggle because they just can't remember how it used to be.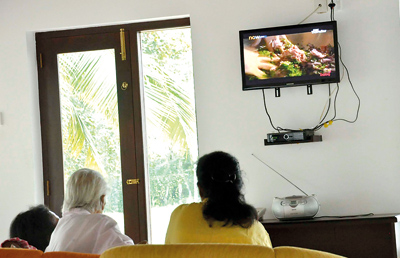 What you need to realize about people with dementia is that they are different, say the brains behind the newly opened Cinnamon Care Services. Caring for them is a specialized job, and one that families are often ill-equipped to do. This is why they've just opened Sri Lanka's first ever exclusive care service provider for dementia patients. Cinnamon Care is a sprawling modern facility off Bandaragama that provides a permanent home for those suffering from dementia, as well as specialized care in-house and on a consultant basis.
Milithri and Minusha Wickramaarachchi are the duo behind the scenes handling everything from recruitment to administration of the facility. Milithri has 35 years of experience and a professional qualification in caring for people with dementia in the UK while her daughter-in -law Minusha runs the administrative end of things. "Though I had a fulfilling career in the UK I wanted to come back to Sri Lanka and train young people here," says Milithri who also specializes in training carers of dementia patients. "Luckily, both my son and Minusha felt the same way so we decided to do this together." Minusha was the first to move to Sri Lanka in 2010, setting up the foundation and putting things in motion for Milithri to arrive and begin work immediately.
Cinnamon Care was opened just two months ago. The extensive grounds of the premises a short way off Bandaragama is the ideal location for anyone looking for some calm and quiet. While it's a little over an hour's drive from Colombo, Minusha says that this was the very reason they chose the place. "Our residents can't live in busy, noisy environments. That's very disturbing to their sense of security and wellbeing."
This is something not many carers of dementia patients realize, she points out. "We all lead busy lives. So if a parent suffers from this condition, we think we can just leave them in an apartment with a carer. More often than not the carer is barely qualified to take care of the patient's most basic needs, let alone handle them. Along with this trained care, environment is also very important for a dementia patient."
The sprawling acres of their home are a testament to their beliefs; the only sounds to be heard are the chirp of the birds and the wind rustling through the trees. The air is clean and fresh and the atmosphere is tranquil-"anyone would be happy to live here," smile the owners.
Cinnamon Care specializes in providing carers trained specifically to handle dementia parents. "It's a tough job," says Milithri. "One an average person can rarely take on." Everything about handling a patient with dementia is tricky, she says, pointing out that you absolutely cannot handle them with confrontation or admonishments. "Even the tone of voice you use needs to be different. Otherwise they'll just snap back at you." These carers-who are available for each patient in residence and can also be provided to stay with patients in their own homes-are well equipped to handle patients with ease, says Milithri. "It's about 50% medication and 50% care. The two need to be balanced out."
In keeping with standards the facility is specially designed to house those of advanced years and fragile conditions. The rooms are all well-equipped and Minusha says that customizing them to the patient's need is not a problem. Wandering around the building, we find little touches here and there that clearly make all the difference to the residents. Each day at lunchtime kitchen staff will put up a menu for the day in the dining room, and noticeboards inform residents of the events and activities for them to take part in. Each room also has an entrance to the extensive walled-off garden.
The process of registering a patient for all this is a comprehensive one. Family or friends are encouraged to visit the facility before admitting the patient. Following that, Milithri will run several tests to gauge the level of memory decline in the patient before prescribing a care plan for him or her. After that it's a matter of making arrangements and moving in. "We encourage the family to come and visit the patient at least once a week," they say.
The focus is on ensuring quality of life for people with dementia. "More often than not you'll find a carer planting them in front of a television or giving them medicine that makes them drowsy. We believe in providing our residents with a variety of interactive activities to keep their minds alive," says Milithri. For this reason residents are encouraged to socialize and engage in activities that interest them-when we visited a sewing lesson was in progress. That, perhaps, sets the tone in caring for these patients-"what they need is interaction," Milthri says simply. "They want conversation and company and something to occupy their mind."
For more information visit www.cinnamoncare.com | *name has been changed
Follow @timesonlinelk
comments powered by

Disqus