The importance of challenging yourself
By Duvindi Illankoon
Highly regarded by future employers, the prestigious Duke of Edinburgh Awards programme helps to tackle individual fears and mental hurdles
View(s):
Over eight million young people around the world have completed the Duke of Edinburgh Awards programme. Why haven't you?
The international award was founded by the Duke of Edinburgh in 1956, together with German educationalist Kurt Hahn. Concerned that young people's development was lacking in key areas they created a programme that would eventually become known for its two main qualities of being voluntary and non-competitive. "It's about having the right attitude and commitment," says Rohan Ellawala, Director of the National Youth Awards Authority. "You have to set a benchmark for yourself and live up to it."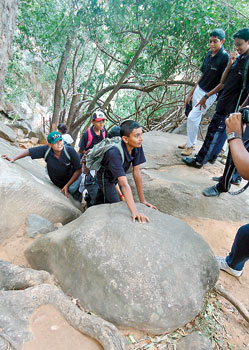 Believe it or not, the awards programme has been active in Sri Lanka since the 80s. Thanuja Wijesinghe, who completed the highest level of the programme when it was introduced, says that the experience changed her life. "I learnt many things about myself and realised I was more capable than I thought I was." She completed the three levels Bronze, Silver and Gold in 18 months, eventually completing the residential project at Gold level. "I still draw from what I picked up along the way," she says.
The award is about setting individual challenges-you're not measured against anyone else but yourself. "The journey is often challenging because you tackle your own fears and mental hurdles," says Mr. Ellawala. "But the reward is ultimately more than worth it. The sense of accomplishment will give you immense confidence to tackle any challenge, and the award itself is recognised by many institutions and future employers."
The award programme is quite simple. You need to be between the ages of 14-24 to be eligible to take part. While you're free to start at any level (it will take the same time period of 18 months to achieve the Gold award nevertheless), it is advised that you begin with the Bronze, moving onto the next levels depending on your accomplishment. To start the programme you will need to contact the National Youth Awards Authority, who will put you in touch with a trained coordinator in your area.
To qualify for the Duke of Edinburgh Award you must show development in four areas; skills, service, physical recreation and your ability to survive in unfamiliar terrain. The beauty of the programme is in its flexibility and versatility. You can personalise the programme according to your talents and resources and appoint your own (professionally qualified or experienced) assessors. For the skills programme you're free to pick something that you're good at and work on becoming even better, while service requires you to engage directly with your community.
Physical recreation encourages you to take up a physical activity and the expedition part of the challenge will test your survival skills in the great outdoors. At Gold level, you'll be required to complete a residential project where you must live and work for a short time in a place of need-anywhere in the world. "The possibilities are endless," says Thanuja. "You get to do things you wouldn't normally have the opportunity to do."
The award itself is extremely prestigious. "This will give you an edge over your peers," says Mr. Ellawala. "That's why we encourage any young person interested to apply and complete the programme. All you need is commitment." For further queries contact the National Youth Awards Authority on contact@slnyaa.org and visit www.dofe.org
Follow @timesonlinelk
comments powered by

Disqus