'Miles of a Dream' A French film from Lanka
By Susitha R. Fernando
View(s):
Young filmmaker Udaya Dharmawardena's maiden solo film, a French-Sri Lankan co-production 'Miles of a Dream' has been completed and ready for release. Played by French-Sri Lankan cast including Pauline Delpech, Lakshan Abenayaka, Iindrachapa Liyanage, Ayesha Disanayaka and Hemasiri Liyanage, the film was shot in France and Colombo. A tale of pain of love and its physiological impact 'Miles of a dream' is a triangular love story that crosses continents.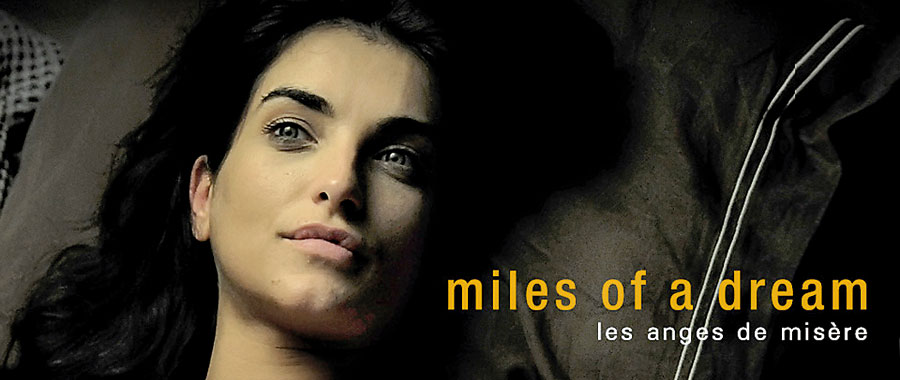 Being an illegal immigrant worker in Paris; Gayan, a Sri Lankan is doing a petty job in a supermarket. Mother's death in back home makes him more frustrated, as the last attachment to the origin country is dissolved. Gayan meets Eve, who is searching way-out from her own disquieting past and comes to know the pain that Gayan too is undergoing. But she brings a new life to Gayan and they fall in love.
The tranquility shatters once the couple meets Chapa at a pub, where the three become friends. Eve loves music and Chapa falls in love with her who has already started liking him. Soon Gayan realises the change in Eve.
However she is in a dilemma, as she cannot leave Gayan, with the pleasurable but suffering memories in the past with him. When Eve decides to join Chapa, he has been deported for being an illegal immigrant. Eve's leaving makes Gayan for an attempted suicide.
Eve follows Chapa and realizes that his life is not as comfortable as she sees and he barely survives by singing at bars and performing in musicals on the road. Desperate girl's pain ties up with the memories she shared with Gayan before. Having crossed and irreversible distances she quenches relief by savoring the memories she has of Gayan. But one day she accidently, comes across Gayan again in a vegetable market, then decides to make a turn of her life. Leaving Chapa aside Eve goes in search of Gayan into the empty market.
Pauline Delpech, a French writer and actress makes her debut major role in the film. She is the step daughter of French singer Micheal Delpech and currently she is working on her forth novel.
'Miles of a Dream ' is produced by Lakshan Abenayake, a Sri Lanka born French actor resides in Paris. In 2005, he played 'coffee' in 'Chok Dee' directed by Xavier Durringer which was well-received by critics and he is also the producer of a number of feature and short films.
Scripted by Chinthana Dharmadasa, Channa Deshapriya is the director of photography, internationally acclaimed musician Lakshman Joseph De Seram is the composer .
Udaya; A revolutionary director
Well-known as a revolutionary representing the modern generation of Sri Lankan filmmakers, Udaya Dharmawardhana, made his debut film 'How I Wonder What', novel production in Sri Lankan cinema together with his colleague Chinthana Dharmadasa. Well-received by the critics for its controversial narrative and its poetic visual, the film was also screened in an alternative screening system.
Began his career as an artistic photographer Udaya continued his desire to see the world around him through the frame, by becoming a videographer and shortly then cinematographer. After working as a program producer in a leading TV station in Sri Lanka for few years, he became one of the most prominent music video directors in the country who severely contributed to form a music video art in Sri Lanka taking it into a new approach.
Udaya, still contributing himself with a lot of alternative films and short film productions has become an inspiring personage among his contemporaries and upcoming young artists in Sri Lanka. Udaya's visual style and his inspirations are mostly attached with urban experiences. The hardship he experienced himself in the city have helped him with better understanding of the alienated young lives within urban surroundings.
Follow @timesonlinelk
comments powered by

Disqus