From Hospitality business to vision care
Hotel Renuka and Renuka City Hotel commemorates 110th birth anniversary of founder chairman with CSR initiative
View(s):
'So Others May See' (SOMS), a vision care programme sponsored by the Chairman of Hotel Renuka and Renuka City Hotel, Ravi Thambiayah and its board of directors, will be held in July 2013 for the people of  Kayts and neighbouring islands in memory of the late Mr. Alfred Leo Thambiayah (MP for Kayts 1947 to 1956) on his 110th birth anniversary.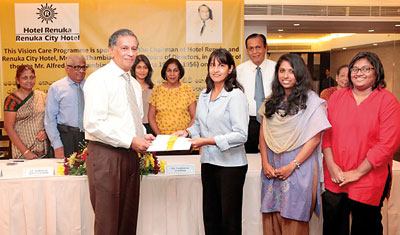 A non-profit organization, So Others May See Inc. (SOMS) will be organising this vision care programme based on a request received from the Jaffna RDHS Dr. Ketheswaran. SOMS will collaborate with the Jaffna RDHS and local MOH offices and the Vision 2020 Secretariat to conduct a series of mobile clinics in mid July. The proposed programme will begin at the Kayts Base Hospital as a full-day clinic and continue with half-day clinics at other islands' divisional hospitals.
Dr. Ketheswaran and his team of MOHs and their staff will advertise the clinic and pre-screen and identify all those with vision impairment. It is anticipated that there would be about 500-600 patients who are in need of spectacles but are unable to afford them, who will then undergo further testing by qualified optometrists and receive a SOMS custom-fit pair of eyeglasses.  In addition, cataract surgeries would be conducted for about 250 cataract patients at the Jaffna Teaching hospital (JTH).
"My father had always been actively involved in the welfare of the people of Kayts and the neighboring islands and on the occasion of his 110th birth anniversary we wanted to honour his memory by funding a useful programme that would benefit the people he cared for so deeply. Thus we have partnered with So Others May See Inc. in making his passion stay alive even after his demise." said Ravi Thambiayah.
Ravi Thambiayah, the chairman of Hotel Renuka and Renuka City Hotel said that this vision care programme is arranged in memory of his late father, Mr. Alfred Leo Thambiayah who served the people of the Kayts electorate for ten years including the areas of Karampan, Velanai, Pungudutivu, Narantanai, Suruvil, Mandathivu, Saravanai, Nainativu, Analaitivu, Karainagar and Delft.
In addition to his political and social career, Mr. A. L. Thambiayah was also a businessman par excellence. He broke the monopoly of the Indian businessmen in the theatre business by leasing the Olympia Cinema at a mere age of 21 and began his career as an entrepreneur. He later teamed up with the late Sir Chittampalam Gardiner and started Ceylon Theatres Ltd which later on acquired Cargills & Millers, where A.L. Thambiayah was Chairman/Managing Director for many years.
He was also one of the first to venture into the hospitality business with the introduction of tax incentives to the industry by the State, when he set up Hotel Renuka in a family property in Kollupitiya in 1970.
Follow @timesonlinelk
comments powered by

Disqus