Friendship dish from two culinary giants at MLH
View(s):

Two premier culinary experts showcase their styles of cooking and unique tastes to launch a friendship dish that will be on the cards: SlovLanka Friendship Dish – Bloody Mary Octopus with Cheese Gnocchi accented by Stuffed Chicken Dummassa with Curd Rice, that will be on the menu card at the Governors Restaurant and Terrace at the Mount Lavinia Hotel.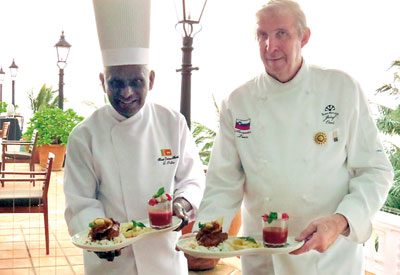 Josef Oseli from Slovenia, having more than 22 years of executive level experience, including State Protocol of Slovenia in the former Yugoslavia Residence. Josef was the ex butler for Marshal Josip Broz Tito who was the leader of the Yugoslav Partisans. Chef Oselia has conducted individual ceremony Protocol Lunches and Dinners for many different Presidents, Kings and Emperors in the President Residence in the Brdo Castle in Kranj from 1972 to 1989.
Further he has participated in matters related to catering for the Viktor's Awards of the year in Slovenia in 1996, 1997, 1998. When he was Kitchen Master and the second time as a Crew – leader of the Slovenian team and Kitchen Chef he assisted Miss World Competition in Seychelles Island in 1997 and 1998. He also is an external Lecturer in Academy Couliner in Croatia. And Last two years he began to assist in organizations and as an adjudicator in Chef Competitions across the world. In July 2009 he was the Marshal in the Chefs Competition held in Dubai by ACG.
In September 2009 was the judge for Asia Culinary Cup Bangkok. The Judge in Salon Culinary Dubai. Accredited Judge of the World Association if Chefs Societies. He is a Member of Amnay Associations including President of Slovenian Culinary Academy, Member of Academie Coulinaire de France, Member of Emirates Culinary Guild, Member of Slovenien Sommelier, Member of WACS / World Association of Chefs Societies, WACS global approved Judge, Manager l'Escole Superieure de l'Hotellerie et de la Gastronomie Poznan, Pologne and many more.
Pubilis Silva, a legendary figure responsible for the authenticity of Sri Lankan food partners with Josef Oseli to launch a dish that emphasizes the unique diplomacy of friendship shared between Slovenia and Sri Lanka. He is affectionately known as a legend synonymous to the Mount Lavinia Hotel where he serves with great loyalty for many decades to date. His prowess in authentic food, the compilation of its nutritious qualities and connections to Ayurveda, is priority in his literary works.
As a consultant to many countries, both in the west and east, he is a flag bearer of Sri Lankan food. He is the center of attraction, inculcating interest in the large variety of local food on offer. The winner of the Presidential Award for Travel and Tourism 2009 – where he was named The Legend. Dr. Publis Silva is the only Chef in the world to hold a doctorate in culinary art, awarded for his effort in the upkeep of traditional values of local food. Apart from his numerous awards, his presence as a live demonstrator in Garnish place the quail egg
Follow @timesonlinelk
comments powered by

Disqus