Why we shouldn't, but we let it pass…
View(s):

I like work. I can sit and look at it for hours. My own. As well as that of others. The perks and privileges afforded to highly placed time-wasters, pencil-pushers, clock-watchers, wool-gatherers, sleep-hunters, et al., are the matters of the greatest prestige for a cross section of people in important positions. "I and thou/doing nothing much/is paradise enow." (I'm just kidding about myself and you, dears. Trust you got the satirical tone of voice! We don't belong in that camp of procrastinators and antinomians, do we?)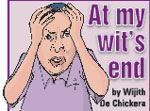 On the other hand, there are many in our culture, and society, and land at large, today, who take the joke too far and too seriously. On my hour-long-drive to work, I see one aspect of our worker economy: everyone in a mad rush to scramble past the next motorist or commuter and get to one's place of work.
On arrival at my workplace or yours, another attribute may manifest itself: many, if not most, workers are more like shirkers; and nobody is in quite as crashing a hurry to get anywhere – now that they are actually firmly ensconced in their seats of employment – as they were when they were fretting and fuming en route to office, school, or some other den of doing-nothing-much-ness.
The chaos of this apathy is compounded by anarchy.
This was recently highlighted in the press when it was found that a senior police officer was not doing his duty. That worthy was doing someone else's duty, instead, and performing his task so well, to boot, that he could have been mistaken for a criminal mastermind and not simply a very senior if rather controversial copper.
Which, unfortunately, has become something of a par for the course in many spheres of national life. Many examples spring to your febrile mind and mine. But a brace will do to illustrate the truth of the shenanigans that ensue when cowboys in the constabulary and other work-ethic-deviants alike are guilty of a dereliction of their duty.
Of Sabbaths…
One instance of the chaos of apathy being compounded by apathy is the case above of the cop gone bad. The police are meant to protect the public. When they exceed their egregious mandate to the extent of beating errant schoolboys and even abducting and murdering persons for profit you can be sure there is something rotten in paradise. There is a trail of breadcrumbs scattered around the whole arrest of the officer, the media reportage, and the subsequent soft-pedalling of the issue that smacks of friends in high places, a falling out of thieves, an expedient sacrifice of an uncooperative co-felon on the altar of expediency. I press my suit too far, perhaps? I need to rest my case at the door of un-civic-minded abdication from championing citizens' rights to safety and security; not point unprofitably fingers at shadowy masterminds. Be they who they may.
Another example of the chaos of apathy being compounded by anarchy is the rising incidence of accidents at unprotected railway crossings. Every week, we read in the papers that commuters or schoolchildren or laggards by the tracks lost their lives and limbs because of the inordinate number of unprotected railway crossings island-wide. One wonders what the real problem is. A blatant disregard of the value of human life… especially on the part of van drivers who risk their own necks as well as those of a myriad others to save seconds on a pick-and-drop round? The anomie and accidie of authorities who can't invest precious time, energy, or resources to erect the barriers and implement the requisite safety measures? Those unemployed and lounging around being unwilling to take up guard at the one dull and dreary post available in the neighbourhood? It is a problem that can be resolved at the local level, not by appealing against institutional inertia. A few good men can get the job done and save lives while earning a living. The rest is up to the railway authorities.
…and shibboleths
Naturally nothing will probably change. Despite the heat and intensity of the present protests over alleged political patronage of bent coppers. Because our islanders in general and the opposition in particular will resort to their familiar mantras – and move on, as they have done time and again with a myriad issues.
"What can ordinary people like us do?"
"Don't bother too much about it!"
"Can't take these things too seriously…"
"Live and let die."
"Mind your own business and no one will bother you."
"It will all work out in the end."
"It will all end in tears."
"No one will shed tears for you if you persist in this madness."
"Madness!"
Follow @timesonlinelk
comments powered by

Disqus