Raising a blow torch to a Japanese restaurant that's utterly Sri Lankan
By Smriti Daniel
View(s):
As he introduces an extravagant 10 course menu to celebrate his restaurant's 18th anniversary, you'd expect Darshan Munidasa to raise a glass of champagne, maybe even two. Instead, Nihonbashi's founder and chief innovator chooses to wield a blow torch as he serves up lightly charred salmon sushi. As the flame hits the delicate pink meat, the rich fat veining it melts ever so slightly, ensuring it will simply melt away in your mouth. The shake no aburi sushi is a dish Darshan is proud of and Nihonbashi has become famous for. It's also a highlight of the new degustation menu.
Dressed in beige pants and a crisp white shirt, Darshan gestures around the room when he admits candidly, "When I opened this restaurant I thought being in Sri Lanka was my biggest weakness. It has turned into one of my biggest strengths." In fact, the salmon sushi is an oddity in Nihonbashi's menu, one of the few things that requires an imported ingredient for it to be served. When an increasing number of restaurants pride themselves on what they order from foreign markets, Darshan seems determined to head in the opposite direction. For him, his relationships with local fisherman, farmers and food producers of all kinds are what keep his restaurant afloat. He contends that Nihonbashi could simply not exist anywhere else and that, though they make no concessions to local palates, it is in its own way utterly Sri Lankan.
"Japanese food is so simple and in that simplicity lies a huge challenge," he says, explaining that many of the dishes on the new degustation menu are unique to Nihonbashi. The ten course meal for two which will retail at Rs.10,000 includes N sashimi, a non-wasabi sashimi whose invention Darshan attributes to a successful accident; gyuu no tataki, a plate of thinly sliced rounds of beef which were first char grilled then plunged into an ice bath and are served in deliciously pungent sauce; maguro carpaccio, thin tuna paired with a unique wasabi and olive oil combo and the restaurant's signature crispy slivers of karapincha tempura.
Also on the menu are the likes of maru ebi – fresh prawns simply grilled in natural sea salt – ten sebi maki where the golden, crispy tempura prawns and wasabi mayo rice are rolled in toasted seaweed or nori and served in a mouth-watering cone. Darshan is particularly pleased to include barramundi miso yaki – having at long last found a supplier to provide the fish, he's devised a way of marinating it in miso and chargrilling it to really draw out the taste. Finishing up the menu's offerings are the garlic rice maki and the delicate but utterly wonderful fresh shitake broth. The latter is made in the small vessel it's served in and is always over too soon.
This year has been a good one for Darshan and Nihonbashi. In February, the restaurant was included in a list of Asia's Top 50 (it came in at no.38 overall but was declared the best in Sri Lanka). Other positive reviews have come from the likes of the Miele guide and Darshan himself is ever in demand. He is currently considering branching out into the Indian market – a recent $400 a plate dinner in Mumbai has won him the interest of possible backers.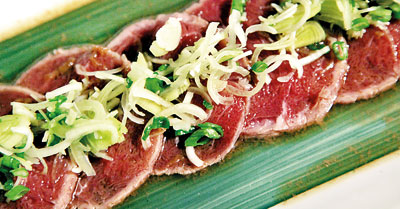 It's a long way away from the career a younger Darshan was considering when he graduated from Johns Hopkins University in America with a degree in computing.
Then, the untimely death of his father brought him back to Sri Lanka where he would eventually open a restaurant with his mother. In the beginning, Darshan estimates only 22 of Nihonbashi's 2000 monthly customers were non-Japanese.
Today he counts himself lucky that his food has found fans both local and foreign and he's pleased to offer them a culinary version of a greatest hits album – 10 of Nihonbashi's finest creations, back to back.
Follow @timesonlinelk
comments powered by

Disqus