Out of the history of a place emerges a hotel
View(s):

Book facts: Grand Hotel, Nuwara Eliya by Richard Boyle.Reviewed by Richard Simon

The Grand Hotel, Nuwara Eliya, is a place of mild interest. You could write a modest pamphlet about it. Modest pamphlets, however, are somewhat deficient in pleasurable gravitas, so the owners of the hotel have commissioned a two-hundred-page coffee-table book on it instead.

Faced with the problem of spinning out a rather thin storyline for so many pages, the author of Grand Hotel Nuwara Eliya, Richard Boyle, has hit upon the auctorial equivalent of batting round the wicket – writing, that is, about more substantial topics and connecting them in some way, however tenuous, with the ostensible subject of the book. It's a well-tested solution: I've used it myself, in fact, under similar circumstances, and can testify that it works. In this case, to eke out his history of the Grand Hotel, Mr. Boyle presents us with the history of Nuwara Eliya.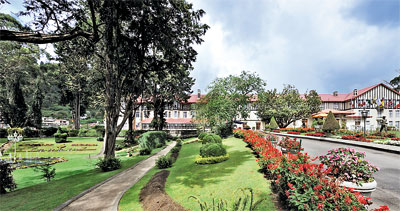 He has chosen well; Nuwara Eliya in British times was a very interesting place. 'Discovered' by the military physician and writer John Davy in 1819, at which time it was quite uninhabited, Nuwara Eliya became, in rapid succession, a killing field for big-game hunters, a military encampment, a sanatorium and a holiday resort for homesick colonials craving the nostalgic comforts of a coal fire in the grate and a blanket to snuggle under.
Then, in the late Victorian era, it became Ceylon's equivalent of Simla. Mr. Boyle is especially good on this period, giving us both a broad survey of the history, with frequent references to key documentary and pictorial sources, and a plethora of fascinating details, such as the make of the first motor-car to reach Nuwara Eliya by road (it was a Beauford, in 1903), the cost of hunting licences (Rs. 2.50 for a single-barrelled shotgun; Rs. 5.00 for double barrels), and the amusing fact that Lake Gregory was earlier and rather more literally known as Blackpool. He describes the key involvement of two British governors, Sir Edward Barnes and Sir William Gregory, in the early growth and later development of the town, and touches also on the important role played by Samuel Baker, the great Victorian explorer, who, sent there in 1847 to recuperate from a fever, started a farm and 'colony' and later took, in his own writings, a great deal of credit for the establishment of the town.
Like many Sri Lankans, Boyle is repelled by the bloodthirstiness of Baker's hunting memoirs (With Rifle & Hound in Ceylon, etc.) and, perhaps for this reason, fails to give his name quite the credit it deserves. Sir Samuel Baker was a man of extraordinary courage and fortitude who explored much of what are now South Sudan and Ethiopia on horseback, alone except for his equally redoubtable wife, at a time when almost nothing was known about the region and its peoples for the simple reason that foreigners who visited it never returned. Baker was also influential in the Abolitionist movement against slavery, and certainly deserves to be remembered as something more than a slaughterer of elephant and sambur.
Although the author is careful to mention the Grand Hotel at every possible opportunity, the first ninety pages of this book are really all about Nuwara Eliya. We reach the hotel itself only in the second half, but once we arrive the focus is complete. We get what can only be described as the Grand Tour: guest-room follows restaurant follows lobby follows hall follows bar in exhaustive succession. Each is minutely described and closely cased for points and objects of interest – architectural features, unusual or historically interesting items of furniture, antique clocks, mirrored ceilings. The drawings, watercolours, photographs and posters which adorn the walls of the hotel come in for special attention. While the Nuwara Eliya portion of the book is illustrated mainly by archival images and a few scenic photographs, the section dedicated to the hotel itself has been sumptuously photographed by Waruna Gomis. The visual effect achieved is an amalgam of upmarket hotel brochure and English stately-home guidebook; one imagines this is just what the publishers of Grand Hotel, Nuwara Eliya were aiming for.
The book concludes with two short sections in Sinhala and Tamil, which I am not competent to review. Their presence leads me to suspect the hand of the commissioning client, since they serve no purpose whatsoever in the greater scheme of the work. Besides these, the experienced eye will discern a few other evidences of amateurish 'additional editorship' scattered through the book. They are nearly always to its detriment, but he who pays the piper rarely resists the temptation to call the tune nowadays.
As for the Grand Hotel itself, the book makes a heroic effort to convince us that it is a romantic, storied and historically important establishment. We are reminded that it was originally built as a holiday home by colonial Ceylon's best-loved governor, though nothing recognisable remains today of Barnes's relatively modest bungalow. We learn of a number of European royals who stayed there.
The Queen of England had tea there on Easter Sunday, 1954, we learn, and at least one world leader of consequence – the late Marshal Tito of Yugoslavia – took a short holiday at the Grand Hotel. Still, the pickings are thin; no great poet ever died of opium and self-neglect in its guest-rooms; no Mata Hari ever draped herself over its bar; no Playboy of the Western World ever potted a frame ball at its snooker-table. If there are any juicy scandals about the place, they are not in the book; and if there are any ghost stories told in it, I missed them. None of this is the fault of the author, or of the researcher of the book, Ismeth Raheem, who have done the best they can; it is simply that there is nothing very exciting to tell, and an evident paucity of documentary material makes it very difficult to pin down and authenticate what little there is. Even the hotel's own records appear to be deficient.
For all this, the book serves its subject well. It also contains quite simply the best short history of Nuwara Eliya, especially during the colonial era, that I have ever read, and I recommend it freely to anyone interested in that subject.
Grand Hotel Nuwara Eliya is published by Top Property Group and L & A Publishing and is available at the Grand Hotel and Tangerine Tours, 236 Galle Road, Colombo 3, priced Rs 8,500
Follow @timesonlinelk
comments powered by

Disqus