Hard work helps Chamila win NYCIFF award
By Noreyana Fernando
View(s):
Shouts and screams fill Jagath Chamila's ears as he wakes up each morning— they come from the busy marketplace adjoining his modest house in Moratuwa. But on June 20, it was cheers and applause from around the world, when the actor won top honours at the New York City International Film Festival (NYCIFF).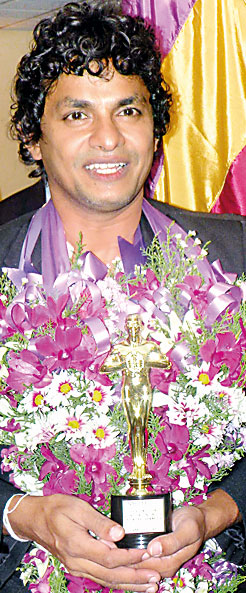 Chamila, 41, came into the international spotlight winning the NYCIFF award for the Best Actor in a Leading Role for his role in "Sam's Story," directed by Priyankara Vitanaarachchi. The other nominees for the award were Edward Furlong of the US, Sebastian Jason of Denmark and Omar Franco of Cuba.
"I was thrilled to be able to bring the glory of an award from a powerful nation like the US to my beloved country," an elated Chamila said. The film "Sam's Story"—based on the Gratiaen Prize-winning novel by Capt. Elmo Jayawardena—follows the hardships faced by Sam, a mentally challenged boy in the backdrop of the country's civil war. "The film is based largely on the power of a mother's love — and its ability to keep a person alive and make him or her a success," Chamila explained.
In production from March 2006, the film which had its premiere in Vancouver last year is due to be released shortly. Stepping into Chamila's humble home, a white statue of the Lord Buddha is what first meets your eye. Five-year-old Pansilu Pawan races across the hall to hug his father, his 11-year old sister not far behind. Chamila's wife Piumi Uthpala says her husband does not get back from shooting until about 11 p.m each day. It is Piumi who has had to field the flood of calls after news of Chamila's win reached Sri Lanka.
This past week, Chamila has been congratulated by prominent national and international actors and directors and President Mahinda Rajapaksa. "I get more than 400 calls each day but I try my best to take all of them if I am here," he said.
"The award is a result of my efforts, but I could not have done it without the cast and crew. They are the biggest reason for my success," says the actor who started out when he was just 14 and made his film debut in Wijeya Dharmasiri's 'Guru Gedera' in 1989. The role of Sam involved much preparation, he says, relating how he spent two months learning about the behaviour and distinct movement patterns of the mentally challenged. He cut his hair short, had careful makeup and false teeth to transform into the young Sam.
"Before I come to the set, I clarify any doubts that I have about the role. I do my research and I come in with a clear idea of the person I want to portray," Chamila says. Looking ahead Chamila says his plans have not changed. "Acting is my livelihood. It is what keeps my wife, two children and my home going. I cannot afford to be picky. I will take whatever opportunities come my way, be they teledramas, stage dramas or films."
Follow @timesonlinelk
comments powered by

Disqus