CB to design amnesty for secret account holders
By Duruthu Edirimuni Chandrasekera
View(s):
The Central Bank (CB) is contemplating relaxing rules for Sri Lankans owning secret overseas accounts provided they bring US$ 5 million or above into Sri Lanka, amidst concerns that this may be an attempt to protect those with secret cash hoarded outside
This has come on the back of some powerful Sri Lankans being on a list of secret foreign accounts revealed by the International Consortium of Investigative Journalists (ICIJ) recently. Sri Lanka prohibits offshore accounts for individuals. Nearly 30 Sri Lankans and two companies have been identified as having secret offshore accounts by the ICIJ report.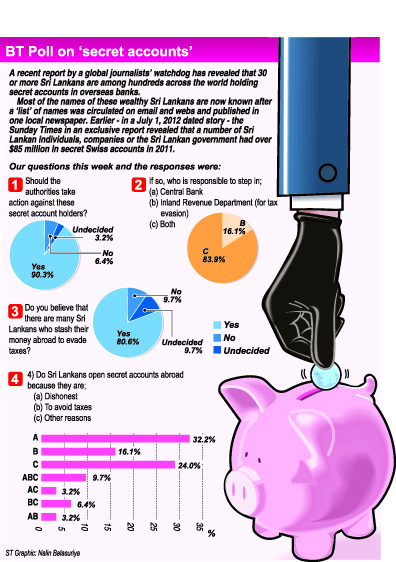 A source at the Finance Ministry said that granting a sort of a tax amnesty to those with secret foreign accounts will boost dollar remittances into the country. "The CB has already completed the initial procedures pertaining to relaxing regulations governing this area," the source told The Business Times. He added that it is likely that changes to exchange control regulations will be done within the next few months. "If they bring a minimum investment amounting to US$ 5 million into the country, they don't need to declare their accounts abroad," he said.
The level of taxation of these remittances is under discussion, he said.
The list shows local businessmen, owners of family controlled businesses, entrepreneurs and high investors with accounts from the British Virgin Islands to the Cook Islands. According to local rules having such accounts is a criminal offence and can be interpreted as income tax dodging, non-disclosure, money laundering and insider trading. Analysts say that this sort of relaxation will entice tax dodgers.
The data is part of a cache of 2.5 million leaked offshore files ICIJ analysed with 112 journalists in 58 countries. Since April, stories have been published based on the data – the largest stockpile of inside information about the offshore system ever obtained by a group of investigative journalists.
Secret accounts by Lankans to evade taxes -BT Poll
Many Sri Lankans are believed to be stashing their money abroad to evade taxes, a Business Times (BT) poll revealed this week.
Furthermore, more than 90 per cent of the respondents to the email poll said Sri Lankan authorities should take action against those holding secret bank accounts overseas.
Two weeks back, the International Consortium of Investigative Journalists (ICIJ) said dozens of journalists across the world had sifted through more than two million files to expose how money was secretly being hoarded abroad in tax havens and other sources. These included corporate, trusts and individuals.
Over 30 wealthy Sri Lankan including those involved in the regulatory process and other businesses were among those in the list. Asked which agencies – Central Bank or Tax Department – should be responsible for 'taking' action, 83 per cent of the respondents said both are responsible. Over 80 per cent of the respondents said they believed many Sri Lankans are hoarding cash overseas to evade taxes.
In the final question, 32 per cent of the respondents said 'being dishonest' was the reason for opening secret accounts while 29 per cent said it was for 'other reasons.'
Most of the names of these wealthy Sri Lankans are now known after a 'list' of names was circulated on email and webs and published in one local newspaper. Earlier – in a July 1, 2012 dated story – the Sunday Times in an exclusive report revealed that a number of Sri Lankan individuals, companies or the Sri Lankan government had over $85 million in secret Swiss accounts in 2011. There has been no investigation so far on that report. (Also see Page 3 for connected stories)
Follow @timesonlinelk
comments powered by

Disqus