Horana Sri Palee marches forward with confidence
By Sujitha Miranda
View(s):
Horana Sri Palee College is a National school has a respectable history which was initiated by the world's great poet Rabindranath
Tagore who laid the foundation stone for the school. Sripali which means, "The Kingdom of the God Saraswathy" is also named as "Hela Kala Ulpatha" of the century for its Oriental Culture and Aesthetic achievements.
Wewala, the village with its peaceful and heavenly scenic beauty was a rural retreat where calm and solitude prevails. Mr. Wilmot A. Perera was the son of the famous "Rubber Raja" of Horana. He had an intention to develop and improve the quality of the life of the people in the area and the invitation of Gurudev Rabindranath Tagore, to visit "Santiniketan," situated in rural West Bengal, was the ideal scenery for the advancement of students to master Oriental Culture and Aesthetic studies – Music, Dancing, and Arts must have created an eternal impression for his dream. After his arrival, his aesthetically inclined mind must have worked enthusiastically on the creation of his dream institution – "Sri Palee" to accomplishment his ambition.
Wewala-Horana initiated to new era of un-paralleled education system in 1934 with the founding of Sri Palee.
Mr. Perera invited Rabindranath Tagore to inaugurate the institution.
Sri Palee is a great achievement of aesthetic studies – a role model of "Santiniketan".  Arts, Music, Dancing and Handicraft along with the general education were given to students who had come to study at Sri Palee.
Sri Palee operated as a private school with landscaped and a special layout of buildings, Class rooms, Science Laboratories, Open Air Theater; Playgrounds and ponds which displayed a typical college atmosphere. Sri Palee was equipped with hostel facilities for girls and boys. Mr. Wilmot's intension was to develop an educational institution with all faculties. This enabled him to setup a Science Education stream in Sri Palee and started off with the preliminaries of setting up laboratories for Physics, Chemistry, Biology, and Zoology.
With the takeover of denominational assisted school by the government in 1960, Sri Palee College started functioning as a government
school.
Today, Sri Palee has more than 4000 students, more than 150 well qualified, enthusiastic academic staff and 37 non academic staff. The present administration is in the hands of Mr. W. Weerasinghe who is a well experienced and dedicated person who is keen to steer the college on the path of success.
In 1950-60's, the Sri Palee institution prides itself with very good results of SSC (O/L) and HSC (A/L), University entrance and other Educational institutions such as Teacher Training College, Nurses Training College and Technical College entrance results.  The name of Sri Palee was continuing to be popular – day by day. Even today, they are well ahead in public school examinations. In 2012 among national schools Sri Palee was placed eighth in the island at the Grade 5 Scholarship Examination.
During the last few years, they have gained 100% results for 17 subjects out of 21 in the English Medium O/L section while Sinhala medium enjoyed 100% for 8 subjects and overall obtaining 83% success. Almost every year the G.C.E.(A/L) has brought more than 55% successes at university entrance examinations.
Sri Palee received recognition not only from the Sri Lankan society but also from other countries as well. Sri Palee students had the option of exposure to an appreciable level in all extracurricular activities as well. The college debating team brought the all island runners-up and Kalutara district championship trophies at the all island debating championship organized by University of Paradeniya. They have also been selected as one of the best teams to participate in the next level at "The Debater" championship organized by Sirasa TV.
Sri Palee dancing, music and drama troupes has brought honour to the school bringing district, province and island victories to their Alma-Mater. They are famous for their Cricket, Volleyball, Badminton, Gymnastic, Chess, Boxing, Rugby, Karate, Netball, Swimming, Athletics and Throw Ball talents.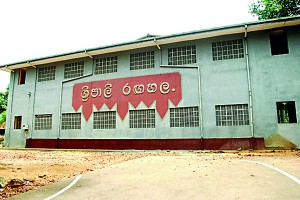 The girls' and boys' cadet corps, traffic unit, health unit, scouts, media unit, Buddhist society, commerce society, science society, Arts society, youth council and environmental corps function extremely well at outings and they are proud to say that there are a few Presidents' scouts who flag the name Sri Palee high with their outstanding performances.
With the influence of Indian culture and Chinese sponsorship, Horana Sri Palee College to date maintains close relationship with them. The administration of "Santiniketan" has donated Rs. 5 million for the development of the Tagore Building.
With the nick name of "Hela Kala Ulpatha" Horana Sri Palee College strides forward as a dazzling star of the nation.
Follow @timesonlinelk
comments powered by

Disqus