AAP 8th Anniversary
View(s):

Academy for Administrative Professionals celebrated her 8th year anniversary followed by the Annual Seminar/Workshop recently, at Galadari Hotel.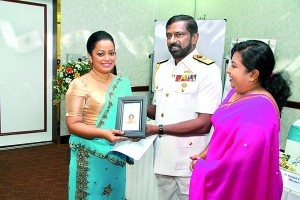 Vice Admiral Jayanath Colombage, Commander of the Sri Lanka Navy, was the Chief Guest at this occasion and delivered the keynote address on the theme "Emerging Trends of Administrative Professionals" He emphasized the necessity of being par excellence and being skillful to climb the professional ladder without any fear. Committed and dedicated service is the secret of success of any employer, immaterial of the field,Continuous Education and mastering technological advancements are the compulsory essence of sustainability and for better perks in life, he said.
MsSunethraJayaratneNugawela, HonyExecutive Director of the academy, welcom in gall, congratulated the students who were graduating at this occasion said that AAP continued to build its brand which has now become synonymous with commitment to helping Administrative professionals share knowledge and create innovation. The important factor at AAP, are the commitments to providing exceptional professional service and to living to core values: Excellence in Everything, Leadership by Example, Integrity and Transparency, Focus on the employer and Employee Centered. As a result AAP is a name now highly regarded by employers and AAP qualifications and students always excel with high performance
Looking ahead, our focus is on accelerating of our growth strategy while continuing to build on the strength of our brand—in helping our associates share knowledge and create innovation and in bringing positive change to the communities in which we work and live. We are incredibly excited about this journey and truly believe of huge potential we have ahead of us, she said.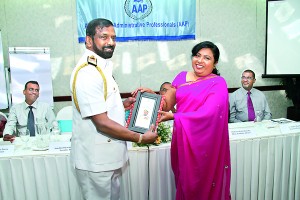 AAP team is proud of all achievements and particularly about the outstanding results of examinations thus marking its place internationally by securing the status of only Recognized Training Centre of London Chamber of Commerce for secretarial studies, she concluded.
The Unique feature of the day was certificate and award presentation to the students who completed Diploma, Higher Diploma of Secretarial/Administrative Practice. MsRuwaniWeerasekerawas the "Batch Top" of Diploma and MsAnuradhaUkwatta received the "Best Project Book" certificate. Ms Sulochana Maddumage and Harshini Fernando were the recipients of "Attendance Award"
The eminent Panel of Resources consisted of DrThilakshiKodagoda, DrTissaRavinda Perera and DrMahimMendis. Managing priorities ; Elimination of Stress, Partnering with your boss: Strategic Skills, and Our Administrative Commitment towards a Professional and Happy Work Place", were the topics interactively discussed at the workshop, respectively.
Prof Carlo Fonseka-Academic Advisor, DrRanjith Cabral-Director, AAP Management staff and distinguished invitees graced this occasion.
SANASA Development Bank was the Gold Sponsor for this event.
Looking ahead, our focus is on accelerating of our growth strategy while continuing to build on the strength of our brand—in helping our associates  share knowledge and create innovation and in bringing positive change to the communities in which we work and live
Follow @timesonlinelk
comments powered by

Disqus