Indian expertise guides local talent
View(s):

By Shehani Alwis

Since independence there has been a national effort to rebuild the field of Arts and Crafts. Today this task is carried out by the National Crafts Council under the Ministry of Traditional Industries and Small Enterprise Development by preserving handicrafts of national and cultural value, developing local handicrafts, supporting and encouraging craftsmen in their vocation and leading them towards better economic and social standards.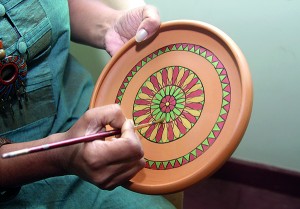 This week the National Crafts Council will launch an exhibition of crafts, "Visithma" which will showcase new creations developed by Indian designers and Sri Lankan students along with Sri Lankan artisans. The exhibition that will be on at the Lionel Wendt Art Gallery from March19 comprises a collection of products developed by a workshop organised by the National Crafts Council with the guidance of two Indian designers–Usha Prajapathi, a designer and also a social entrepreneur and Sakshi Gambhir, a communications designer. The programme was held in collaboration with the "Daskariharth Samithi", an NGO in India.
Design activities including work with textiles, mouldable and rigid materials, paper, and plant fibres will be displayed. Many artisans have used natural or entirely indigenous, materials while others have opted for modern, non-traditional materials, including recycled industrial material.
"Two undergraduates from the Moratuwa University also participated in the programme. We had the participation of 21 artists- men and women from different areas of the country. It was a resident programme and many of the participants were award winners of the National Crafts Competition," Chairman National Crafts Council Buddhi Keerthisena said.
The focus is on utilising cheaper items which can be found easily or raw materials and textiles, the parts that go to waste in the making of a craft– cut pieces, balance materials etc.
Mr. Keerthisena said one of the aims of holding this exhibition was to attract the local and international markets and in turn tourism.
It is a noted fact that most of the tourists who come to Sri Lanka like to take back with them souvenirs and they usually prefer small ones. The council also pays special attention towards encouraging craftsmen to focus on producing export oriented craft products. "Laksala" will help find a market for the products, the chairman said.
Mr. Keerthisena said Indian expertise was brought in to encourage the exchange of skills between the two countries.
Follow @timesonlinelk
comments powered by

Disqus