Embracing the seasons through dance
View(s):

 nATANDA Dance Theatre's 10th annual production gets underway

Pix by Susantha Liyanawatte

As the Cicada emerges slowly into the light, shedding its underground prison, the world is changing seasons. A tiny animal's life cycle unfolds in tune with the Earth's yearly cycle of sun, wind, rain and snow. A company of dancers will embody the life of this tiny insect, because the Cicada embraces the seasons.

nATANDA Dance Theatre's 10th annual production is as sublime and wonderfully expressive as its Founder (and Artistic Director)himself. Kapila Palihawadana's dance company has come a long way since its rusty beginnings in 2002, when even Kapila admits to 'not being very serious' about running his own dance company.

However, following a two year stay in Germany he returned in 2004 with renewed determination and the nATANDA you see today was born. With the Goethe Institut's kind support and patronage the company has gone from strength to strength, staging such hits as 'Ravens' and 'Ripples' for discerning audiences locally as well as internationally.
"I'm a strong believer in discipline," says Palihawadana. "My dancers are highly disciplined and very committed. Before I enlist dancers for the company we will have intense workshops and I will always, always go for the most committed ones over the better dancers." Dance, he says, is in your body no matter how left footed you think you are. "It's my given responsibility to draw that out of my student."

Perhaps this is what sets Palihawadana apart from the rest of the herd. His techniques are unusual, and he is reportedly a demanding teacher, but his students are appreciative of the time and attention to detail when they're in training. "It's a different aesthetic," says Dr. Indika Bulankulama, a PhD holder in Sociology , who has been with nATANDA since 2009. "But that's the beauty of it. We're always encouraged to give nothing but the best." Dr Bulankulama, was herself a confessed newbie to professional dance theatre till she began training with Palihawadana's company. "It's been very challenging working with professional dancers," she admits. "But I was always encouraged to train harder and now I'm performing at this show! It's fantastic to have been able to come that far."

Cicada follows hot on the trail of nATANDA's last major production 'Ripples', which was an effort to draw attention to water conservation in Sri Lanka. Cicada itself is an effort at reconciliation, with its cast of dancers that includes 15 young male dancers from Batticaloa. "The underlying themes of our productions always have a strong social conscience," explains Palihawadana. "I believe that art is the best form of communication and that has been proven true again and again."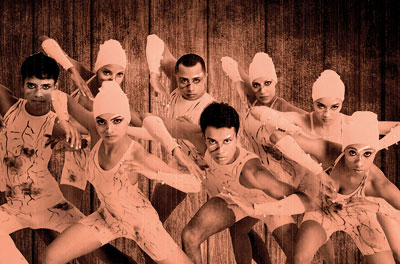 For Cicada, the nATANDA dancers are working in collaboration with 15 male dancers from Professor Maunuguru's Theatre lab in Batticaloa. "This is the first time these boys have been exposed to the contemporary form of dance," he says happily, as apparently these are trained Kuttu dancers. "When we travelled to Batti to train these boys, we realised that they were amazing dancers! They have very few opportunities to work with different communities. This collaboration, more than anything, is an effort to break the barriers of ethnicity and language through dance."
It's a formula that works exceptionally well, says Indika who has been training with these dancers for Cicada almost a year now. "As someone who has worked in the field of reconciliation before, I'm used to working with different communities," she says. "But when we started working with these boys I realized that this was probably the best way to engage in that reconciliation process. None of us came into this thinking about reconciliation in particular, but it's something that has happened unconsciously." Cicada is also set to be performed in Chile, South America in the latter part of the year.
For this show, the nATANDA dancers including Malith Upendra, Dakshika Bandara, Kalani Sachithra, Lasanthi Dilhani, Hasani Wijebandara, Harsha Kumara, Tanuja Damithendri, Amila Liyanage, Lakini Kalpana, Indika Bulankulama, Dilan Chathuranga and the dancers from the Theatre Lab will be joined by five students studying choreography at the Sri Lanka Foundation Institute.
Kapila choreographs the entire show while handling lights, makeup and costume as well. Cicada will be staged on the March 21 and 22 at the Nugaya Open Air Theatre (Sri Lanka Foundation, Colombo 07). The performance is sponsored by The Prince Claus Fund for Culture and Development, with support by the Goethe Institut, Sri Lanka Foundation and the Nelung Arts Center. The show will begin at 7.30pm. Tickets priced at Rs.2000, 1500, 1000 and 500 can be bought at the Goethe Institut and the Sri Lanka Foundation Institute.
Follow @timesonlinelk
comments powered by

Disqus