Bringing Ray Cooney's 'Funny Money' to life
View(s):

By Duvindi Illankoon

Henry Perkins never meant to lie anyway. It was Jean's fault (his wife that is). Henry has just stumbled upon a briefcase switched with his on the tube, full of major league money, and he's already booked two tickets to Barcelona and a life of illicit luxury for them. Except Jean, straight-laced Jean who never drinks and cannot for the life of her come to terms with this new Henry, has started blabbing in a misguided attempt to protect her husband.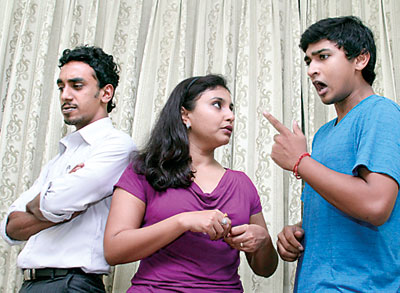 Sniffing out something very fishy is Detective Davenport, who may or may not be after the money himself. Playing good cop to Davenport's bad cop is Detective Slater, who has come to inform Jean that her husband-or a man with a briefcase marked Henry Perkins-has been found dead; two bullets in the head, clutching his briefcase in the Thames. Add to the fray family friends Vic and Betty Johnson-poor Vic who wants nothing to do with the whole mess and bored Betty with a penchant for the scandalous-who have just come over for Henry's birthday dinner party.
Poking his nose in places it shouldn't be throughout the mayhem is Bill the taxi driver, curious to the end. And so unfolds Ray Cooney's farcical masterpiece 'Funny Money', directed by Abbasali Rozais and starring Indu and Sanwada Dharmasena as Henry and Jean Perkins.
"I've wanted to do a Ray Cooney play for a long, long time," says Abbas, whose former productions included Clueless (2005) and Presidents, Promiscuity and Pineapples (2010/2011). Abbas is an experienced playwright, having written and staged shows since his schooldays.
"I met Indu when I was in school and we wanted to do this short play he had written," remembers Abbas. "Subsequently, we started working in productions together. Indu is, I would say, one of my greatest influences."
Watching them rehearse, it's pretty clear Indu's having a hard time keeping his nose out of it! When asked how it feels to be the one taking direction this time around, Indu laughs that it's pretty impossible not to butt in every few minutes with his own suggestions. Although to be fair Abbas is highly democratic in his direction, where cast members are free to decide how they will interpret their character and rehearsals often involve discussions among themselves as to how things should be done. "It's a very laid back production," says Abbas. "There are those who are very neurotic when it comes to directing but I personally prefer to let things run their course."
Sanwada, who's quite used to playing Indu's romantic counterpart, says that Jean's blabbermouth tendencies are all thanks to her husband's sudden change of personality. "Jean likes routine, she likes predictability. So when Henry comes home and starts acting very odd, she's thrown into chaos that she can't make head or tail. When people start knocking on the door she makes up the most ridiculous stories because she wants to protect her husband."
Apart from Indu and Sanwada, the cast is made up of a selection of old theatre hands and new ones alike. Sanjula Amarasekara returns to the stage as Betty Johnson, wife to Vic. "Betty is the atypical bored housewife," says Sanjula. "She's desperate for some excitement. So when they visit Henry's and realize that something scandalous is going on, she's only too happy to get into the thick of things!" Vic, played by Abbas himself, is less enthusiastic about the whole affair. "Vic is drawn into the whole mess inadvertently. If he had his way, he'd stay far away," smiles Abbas.
Caught up in a situation, the gravity of which he is unaware of is Bill the taxi driver played by Chalana Wijesuriya. Bill is the taxi driver that Henry has called to take the couple to the airport-when he knocks on the door and is answered by a bumbling Jean, his curiosity is tickled and he decides to poke around a bit. Chalana laughingly draws a Sri Lankan parallel between Bill and our own tuk tuk drivers, adding that this made it easier for him to relate.
Playing rivals are Zainul Meeadh and Yasal Ruhunage as Detectives Davenport and Slater. "Slater initially comes to deliver the bad news to Mrs. Perkins and he soon cops on to the fact that something is amiss," explains Yasal. Davenport's intentions, on the other hand, are not entirely clear. Is he after the money himself? Will Jean get her husband in troubled waters with her explanations? Do the Perkins eventually end up with the money? And where did that money come from anyway? You'll need to watch the play to find that out.
Ray Cooney's 'Funny Money' will be staged from March 22- 24 at the Lionel Wendt from 7.30pm. Tickets for the event are priced at Rs. 1500, 1000, 800 and 500 and can be obtained from the Lionel Wendt box office.
Follow @timesonlinelk
comments powered by

Disqus