Two Lankan women take their cases to Pillay
View(s):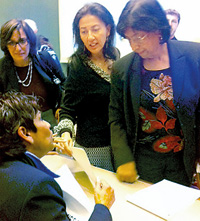 United Nations Human Rights High Commissioner Navi Pillay had just walked out from a room where there was a side event on Wednesday – a meeting of non-governmental organisations. Walking up to her was Swarna Gunaratne, a sister of late Bharatha Lakshman Premachandra who died in a shoot-out with Parliamentarian Duminda Silva.
She lives in Canada and had travelled all the way to Geneva to ensure justice is meted out to her brother's killer. The UN Human Rights Council is now in session. Swarna is seen here pleading her case before Pillay whilst two of her aides listen earnestly.
Sandhya Ekneligoda, wife of missing cartoonist Prageeth Ekneligoda also similarly buttonholed Pillay on a different occasion to plead her case. Mid-way through her conversation, she wept prompting Ms. Pillai to console her.
Ranil drives back to stadium car park
Opposition UNP Leader Ranil Wickremesinghe attended a meeting at Kaleel grounds in Maligawatta last week to look into the grievances of people whose lands were acquired by the Urban Development Authority.He recalled how the nearby Khettarama International Cricket Stadium (renamed Premadasa Stadium) was built sans a car park. Wickremesinghe said one day former President Ranasinghe Premadasa asked him whether he had gone to Lords cricket ground in England. "I said yes".
Then he asked me whether it had a car park. I just said no, because I went there in a taxi. Actually it doesn't have a car park. Then he told me, if so Ranil, I wouldn't have a car park for thr Premadasa Stadium.
But in fact, the Premadasa Stadium does have a car park now. It is the only ground in Sri Lanka that has a separate car park for the media.
Liquor tycoon wants to bottle up employee
A private sector employee working for a leading businessman who owns a distillery company decided to quit his job three months ago as he believed that it was time for retirement.But his boss was not allowing him to go. He eventually decided to keep away from work. However, the boss sent him several messages to return.
As there was no response he decided to send his emissaries, but when nothing worked he sent retired police officers working for him. They threatened the employee with death.The former employee lodged a complaint with the Welikada Police against the businessman. Police assured they would bring the businessman to the police station.
But, on the date of the inquiry it was only a former Police Superintendent working for the businessman who turned up. Police told the complainant that they had ordered that the persons who threatened him should surrender. "I have never heard of an accused having the privilege of being able to send a representative to the police," lamented the complainant.
The former employee knows that his boss wants to retain him not because he loves his ex-worker, but because he fears that some of the business 'secrets' will leak out.
TNA pushes for South African facilitation
South Africa is continuing its diplomatic efforts to become an interlocutor in the Government's reconciliation process.
This has led to heightened contacts between those in the Tamil National Alliance (TNA) and senior South African dignitaries.
This week, TNA Parliamentarian M.A. Sumanthiran was in Geneva to take part in some side events linked to the on-going UN Human Rights Council sessions. Later, he joined the London based Global Tamil Forum's Suren Surendran to fly together to South Africa.
Namal takes the main gate, not the wall
UPFA Parliamentarian Namal Rajapaksa attended a ceremony at Vishaka Vidyalaya in Colombo for the inaugural session of the school's students' parliament. Whilst having chat with some of the students, Rajapaksa said, "Wenada nam big match kaaleta api Vishaka Vidyalayata enne ara thappen horen penala. Eyeth ada viduhalpathithumiya aradhana kala nisa ara gettuwen enna una." (During the Big match season we came to Vishaka Vidyalaya scaling that wall. But now I have been invited by the Principal. So, I had to come through the main gate).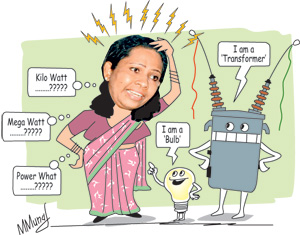 Power minister a tube light
When JVP top rungers meet, the conversation is often in Sinhala. Some of the dialogue is not only pithy but humorous. Parliamentarian and trade union leader Lal Kantha met his colleague Ranjan Jayalal, who is well versed in matters relating to the power sector. He asked "How is the new Power Minister Pavithra Wanniarachchi?"
Jayalal's reply came in Sinhala. He said "Aththatama hondai. Harima ahinsakai. Eyeth viduli baley gena melo deyak danney nehe. High tension line, kilowatt, megawatt, transformer ho mey kisi deyak danne nehe. Sakachchawakata giyama peye eka peya thunak yanawa. Mokada mula indala kiya denna wenawa".
Here is what Jayalal said in English: "She is good and innocent. But (she) doesn't know anything about electricity. Doesn't know what is a high tension line, kilowatt, megawatt, transformer or anything. So a one-hour meeting would drag on for three hours. She has to be told everything from the beginning).
UNP's versatile Dayasiri in role of fish merchant
Whilst being a politician, the United National Party's Kurunegala District Parliamentarian Dayasiri Jayasekera is finding more time for other chores.
He won acclaim as a singer. He became a vocalist at parties hosted by senior members of the party.
Jayasekera has now turned actor. He is playing the main role as a fish merchant in the play "Yali Oba Enna".
Ex-MP speaks to UNHRC in NGO way
Former Jaffna District Parliamentarian Gajendrakumar Ponnambalam found a novel way of addressing the UN Human Rights Council last Friday. It was just when the Council was taking up Sri Lanka's human rights record during the Universal Periodic Review (UPR). Such reviews are conducted every four years on every member country of the UN.
Mr. Ponnambalam took the floor as a representative of a non-governmental organisation recognised by the UNHRC. He said in a brief speech: "Taking note that the Government rejects all recommendations most likely to bring about accountability and remedy as required by international humanitarian law, we urge an independent international investigation."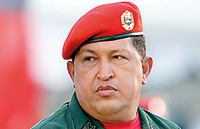 Chavez's funeral: How Wimal got his picture
Housing Minister Wimal Weerawansa and External Affairs Deputy Minister Neomal Perera represented Sri Lanka at the funeral of Venezuela's President Hugo Chavez. After a long flight via Germany they arrived in the capital Caracas to attend the funeral on the following day.
Due to tight security, the two visitors from Sri Lanka were not allowed to take their cameras. Disappointing news for the former journalist turned minister who would have wanted a media blitz over his visit.
However, the minister and the deputy minister found a way to overcome the problem. Minister Weerawansa used his mobile phone to capture the picture of Deputy Minister Perera paying his last respects and Perera did the same when Weerawansa was paying his last respects. Otherwise, the main purpose of their visit would have been lost. The picture of Weerawansa paying respects to Chavez appeared in local newspapers.
That saved the day for the duo. During the flight Weerawansa had even found time to put together lyrics for a song in memory of the late Hugo Chavez.
Bills sent to MPs at midnight
UNP MP Ajith P Perera says that last Saturday around 1 a.m. a group came to his house in search of him.
When neighbours inquired, the persons identified themselves as Parliament officials. They handed over some documents to the neighbours and asked that they be given to Perera.
When the MP received the documents on Sunday morning, he realised that they were Bills that were to be tabled the next day in Parliament. Perera contacted Parliament to verify. The officials informed him that they handed over a package to his neighbour because they were unable to open the gates of the MP's house.
JVP MP Vijitha Herath had also gone through a similar experience. Herath said he received a telephone call from Parliament around 11 p.m. last Friday asking whether he is in the office. When he responded to the caller saying he was in the office, the MP was told six out of 21 Bills that were not tabled in Parliament could be delivered to him now. Then the JVP office received the six Bills around midnight.
Follow @timesonlinelk
comments powered by

Disqus