Blue murder: Dial D for defence
View(s):

My Dear Dumindha,
I thought I must write to you when I heard that you had suddenly returned to the country. It was a surprise because all this time, we had been told that you were quite seriously ill and we didn't expect you to recover so quickly to be able to return to Sri Lanka.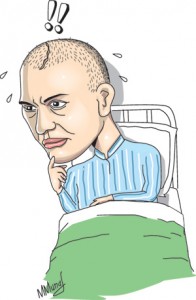 Anyway, Dumindha, it takes courage to return to a country when you know that there are charges pending against you with the prospect of being arrested, interrogated and then put on trial for killing someone during an election campaign. So, we have to admire your decision to return.
As you must be well aware of by now, Dumindha, the fact that you are a member of a lawmaking body means nothing. It will not get you any privileges nor will it protect you if you have done something wrong. That is because in this country, everyone is equal before the law.
Now I know there will be some who will disagree with this, but there is more than enough evidence to prove that that law is no respecter of persons in Sri Lanka. The authorities have gone out of their way in recent times to prove this.
Just look at what happened to our former Army Commander. He may have won the war for the country and he may have been called the best Army Commander in the world but they said that he took one small step in one small tender and off he went to jail!
Then, see what happened to our Chief Justice. She may have been the head of the judiciary but she was sent packing just because her sister sent some money in to her bank account; such are the high standards we set for ourselves!
This is why, Dumindha, you should prepare yourself well for the trial that awaits you. I know you have hired some of the best lawyers in town but still I thought some advice on how to present your case at your trial would be necessary.
There are a variety of ways to defend yourself against these murder charges, Dumindha. All of them have been successful in recent times, so you need not worry about whether they will be helpful or not. You just need to choose the one which you think best suits you.
You may adopt the 'Mervyn defence'. Here, you do not deny what you did. Instead, you accept that you committed the deed but say that it was all a performance to educate the public. So, maybe you can say that you were, quite literally 'shooting' a film to educate the public on election violence!
They may then ask you to explain why real bullets were used. And of course you must say that someone has changed the bullets and that you knew nothing about it. You may even say that this was an international conspiracy to tarnish your good name. Wimal may be able to help you with that.
You can also use the 'Malaka defence'. That is to say that you are not the assailant but the innocent victim. You must say that everything you did was done in self defence because the other party was attacking you and that is why you did what you did.
In this, it is also important to question what the other party was doing at the time. Then, there would be an inquiry as to why they were in that place at that time and it will be found that they are not supposed to be there. Then, the focus automatically shifts to that, instead of your alleged offence!
You can also try the 'Maithripala (Jnr.) defence'. That is to say that this was only a small incident and that it was settled then and there. Of course, people will not believe you when you say this and that is when you make the next, carefully planned move.
You call a news conference, distribute copies of your autobiography to journalists and then say that this is all being done to ruin your political career. You can even claim that there may be a plot to assassinate you. Believe me, even this strategy works!
Finally, we have the 'Keheliya defence'. This is not as ingenious as the previous ones — just like the man after which it is named. It does not go in to the detail of what happened but simply takes up the position that 'boys will be boys'.
It does work if you raid a school in the middle of the night and get away with important documents. It also works if you are asked for an explanation after falling off a balcony while staying at a hotel in Australia. I'm not sure whether it works when you are a suspect in a murder case, but you can give it a try!
These are my suggestions for you, Dumindha. I'm sure the coming days will be eventful for you but you can also take comfort from the fact that you will get more than enough publicity without even lifting a finger: Hirunika will make sure of that!
Yours truly,
Punchi Putha
PS: Your rival for the most number of preferences at the last general election, Thilanga, is again running for the cricket elections. Now, if you ever want advice about how to succeed despite having all the charges in the world being made against you, there's the man you should be talking to!
Follow @timesonlinelk
comments powered by

Disqus