Art and prejudice
View(s):

ARTRA Magazine Endowment 4 highlights the inclusive Nature of Art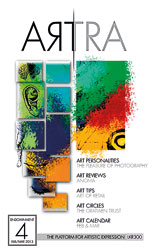 This time around the theme of ARTRA Magazine revolves around the non-prejudicial nature of Art. Team ARTRA creatively highlights Art's inclusive space with its characteristic parameters that have been set forth from the previous edition. Endowment 4 attempts to question whether it is justifiable to differentiate between the works of art by those who are considered to be 'normal' and 'subnormal'.
The features of the fourth issue are further enriched by critical reviews on various performances of Art that took place in the months of December and January. Some of the reviews include Deshan Tennekoon's photography exhibition on Sanfransico's 'Day of the Dead', Colombo fashion Week's Designer Deneth Piumakshi, all you need to know about the Gratian Trust, Mind Adventure's 'Afterclass' directed by Ruvin De Silva, Anoma Wijewardena's latest exhibition,
Natasha Nathanielzs' EP 'Chasing Rainbows', Mika Tennekoon's exhibition 'Home' and many more. Also ARTRA showcases the need to combine Art with retail to create a strong identity along with a comprehensive art calendar for the months of February and March.
The fourth issue will be in the shelves of Barefoot, Sarasavi, Vijitha Yapa, Makeen Bookshops and www.books.lk for purchase.
For online purchases of ARTRA Magazine Endowment 4 visit http://www.magzter.com/ LK/Jaz-Publishing/ARTRA/Art/.
Keep tabs on ARTRA also through www.artra.lk, https:// www.facebook.com/pages/ARTRA and https://twitter.com/ArtraMag
Follow @timesonlinelk
comments powered by

Disqus