Nat Geo 'Mission Cover Shot' comes to a grand finale
View(s):

The elimination rounds of the first photography based reality show conducted by National Geographic with Cinnamon Hotels and Resorts concluded in Habarana last Monday.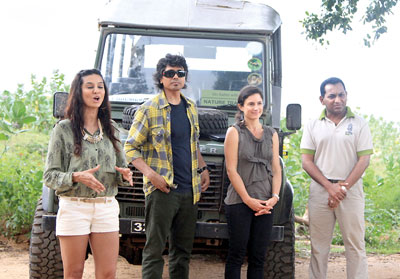 The event is expected to give Sri Lanka much coverage in the international arena, focusing on most of the tourist attractions in the Island. Cinnamon Hotels and Resorts the key hospitality partner for the event set the background for these challenges adding colour and glamour to the images taken and providing excellent accommodation for the Nat Geo Team.
Chaaya Wild Yala posed a wildlife based challenge for the contestants. However in this instance it was noted that Cinnamon Hotels and Resorts were more than a hospitality partner. The experts in the field, Head of Eco Tourism Chitral Jayatileke along with the Cinnamon Nature Trails team proved to be mentors to the photographers offering tips and advice on how to capture the best images in the Wild. Mr. Jayatileke was also part of the panel of field specialists conducting the Yala leg in short listing the best images.
The Nat Geo team experienced a variety of unique experiences such as Sri Lankan Marshall arts, the traditional battle of the kings at Chaaya Tranz Hikkaduwa which they were able to film on the beautiful beach facing the Hotel. The next task was photographing typical Sri Lankan village style dining at the Nuga Gama restaurant at Cinnamon Grand whilst also experiencing Kala Pola followed by an elimination round at Cinnamon Lakeside. Cinnamon Bey Beruwala provided the ideal location for the Mask Dance act which was yet another major photo challenge.
The Nat Geo team also visited the Pinnawala elephant orphanage whilst at Cinnamon Citadel Kandy due to its close proximity from the shooting location. Chaaya Village Habarana was the base from which the contestants were able to film the ancient city of Pollonaruwa which is home to many of the ancient temples, manmade lakes and artefacts of ancient Sri Lanka.
Cinnamon Lodge Habarana hosted the grand finale, after which the entire team bid goodbye to Sri Lanka and Cinnamon Hotels & Resorts with the promise that they would return.
As a leading hospitality brand in Sri Lanka, Cinnamon Hotels & Resorts are proud to have been part of the first ever National Geographic Mission Cover Shot Photography based reality show, an event that will bring Sri Lanka much coverage and awareness as a must visit tourist destination. It highlighted the unique aspects of the country covering traditional, historic and cultural events and places in Sri Lanka.
'It was indeed a privilege partnering an event of this nature and we are delighted that it was an absolute success' said Jayantissa Kehelpanna, Sector Head, Sri Lankan Resorts, John Keells Holdings PLC.
The elimination rounds are scheduled to be telecasted on National Geographic for ten consecutive weeks starting end March.
Follow @timesonlinelk
comments powered by

Disqus