People and events
View(s):

Hearts in Harmony

Though it is two years now since the beloved Principal of the Secret Heart Convent, Galle, Rev. Sr. Rosina Nanayakkara passed away, her kind and caring ways live on among the past pupils of the school.

A group of dedicated past pupils have organised a concert, Hearts in Harmony, which will be held today, Sunday, February 3 at 5 p.m. at the school's Centenary Hall to raise funds for the charity established in Sr. Rosina's name– the Rosina Nanayakkara Charitable Trust Fund. The events lined up for the evening include Sinhala songs like Walakulen Besa, a Kapirinna dance as well as English songs and a memorial song written for Sr. Rosina Nanayakkara, by Dr. Wasana Mendis, past pupil and head girl in 1990.

The guest of honour will be Rev. Dr. Raymond Wickramasinghe, while the chief guest will be Nishara Mendis LL.M. (Yale), Attorney-at-Law, Lecturer, Faculty of Law, University of Colombo; who was the Head Girl in the centenary year – 1996.

For more details and tickets please contact Nirmala Liyanage on 0773673810, Hemamala Wijesena on 0718234001, Anushani Welikala on 0718352336, Ethel Nanayakkara on 0775747324.

Tickets can also be bought at the school.

Expect a "Burst of Colour" at Shi-en Ikebana floral exhibition 

The Shi-en Ikebana and Floral Art Society of Sri Lanka will hold their annual floral exhibition titled "Burst of Colour" on February 10 and 11 at the Bouganvillea Ballrom of the Galadari Hotel. The exhibition will be opened by Japanese Ambassador to Sri Lanka. Demonstrations of lkebana & Western Flower arranging will be held at the venue on Sunday February 10 from 4 p.m.

The Shi-en lkebana and Floral Art Society of Sri Lanka was formed in 1991 to promote the art of flower arranging in Sri Lanka. The Society has held many successful floral exhibitions annually.

This year, the over 70 exhibits will range from simple designs to complex thought provoking arrangements. The members will be using not only bright flowers & foliage, but vibrant, unusual accessories too. There will be two sections at the exhibition one displaying the art of lkebana, the Japanese art of flower arranging and a section showing the Western art of floral arrangements. Now worldwide, the trend is towards fusion of both lkebana and Western styles of flower arranging and this too will be seen at the exhibition.

Proceeds from most previous exhibitions were donated to the Thalassaemia units found in the main district hospitals around the island. This year the money collected will be used to help children with Thalassaemia in the Kurunegala General Hospital.

Ridmaranga – a tribute to Vajira

The Chitrasena Dance Company celebrates the life and work of Guru Vajira in 'Ridmaranga – Vajira in Perspective', on February 9 at the Kularatne Hall, Ananda College at 7 p.m. In addition to being Sri Lanka's first prima ballerina, Vajira was a trail blazer in creating roles for female dancers, a prolific creator of children's and adult ballets, a gifted developer of drum compositions as dance acts, and an ardent collaborator with other artistes. With Vajira's talent and assistance, Chitrasena, was able to create a path for female dancers in what was initially an art form exclusively for males. Vajira developed the feminine, or Lasya form, within the confines of a dance that demands zest and vigorous technique.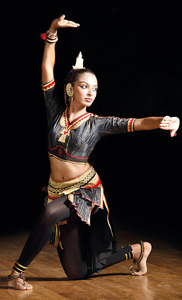 Today, indigenous dance theatre in Sri Lanka is firmly based on the foundations developed by Chitrasena and Vajira. While the efforts of these two pioneers have spawned many commercially successful artistes and dance companies in Sri Lanka, the Chitrasena Dance Company continues to represent the core ideals of these two great gurus — a deep commitment to presenting world-class dance performances firmly rooted in tradition.
Conceived and directed by Heshma, Artistic Director of the Chitrasena Dance Company, 'Ridmaranga – Vajira in Perspective' thoughtfully restages a number of Vajira's finest creations to showcase her continued impact on dance theatre in Sri Lanka. The performance will include a selection of solos, group items, drum compositions, and scenes from selected ballets spanning the period 1963-2004.
This performance is organised by the Colombo Branch of the Past Pupils' Association of Mahamaya Girls' College, Kandy to raise funds to assist present students. For tickets contact Amitha on 0773 021223 or Dakshinie on 0777 746074.
ICE  regional conference held in Sri Lanka 
The sixth Asia Pacific Regional Conference of the Institution of Civil Engineers, was held at the Mount Lavinia Hotel recently on the theme Natural Disasters : Engineers Role in Preparedness, Mitigation and Recovery.
There were 15 countries represented with those from the public and private sector and University academia participating .
Chairman of the Sri Lanka Association and Country Representative Professor Dayantha Wijeyesekera while welcoming the participants, stressed the importance of taking care to avoid man-made disasters in addition to natural disasters which are inevitable.
The President of the Institution of Civil Engineers, Prof Barry Clarke, who has been responsible for the accreditation of Moratuwa University and Peradeniya University's Civil Engineering degrees by the ICE a few years ago, outlined the history of the ICE and the importance of regional cooperation in dealing with the preparedness, mitigation and recovery through professional inputs of civil engineers.
A highlight was the award of the Professional Review Certificates to young civil engineers, successful at the ICE Professional Reviews held in Sri Lanka after decades.
Monk leaves for Germany on Dharmaduta work

Ven. Dikwelle Seelasumana Thera, Deputy Chief monk of the Buduraja Maha Vihara, Wevuru – kannala, Dikwella left for Germany on December 27 to engage in Dharmaduta work as the second resident monk of the Berlin Vihara (also known as Das Buddhistische Haus). He joins Ven. Kongaspitiye Santharakkhitha Thera who is currently resident at the Vihara since June 2010.
Ven. Seelasumana's visit is being sponsored by the German Dharmaduta Society founded by Asoka Weeraratna in 1952.
Ven. Seelasumana Thera is a member of the Amarapura Siri Saddhammawansa Maha Nikaya. He has served as a Principal of a Dhamma school and as a lecturer at the Vidyatunga Pirivena in Dickwella. He also conducts meditation classes.
This is Ven. Seelasumana's second spell at the Berlin Vihara. He has earlier served as a resident monk at the Vihara for a two year period from 2007 – 2009, and is familiar with the German language.
Ex-Combankers get-together
The 6th annual Ex-Combankers get-together will be held on Monday, February 4 at Berjaya Mount Royal Hotel, Mount Lavinia from 6 p.m. onwards.
Red Lotus organisation distributes first aid boxes 
The Red Lotus organisation has begun a programme to distribute First Aid boxes to Buddhist Temples, schools and Dhamma schools. The first donation was recently received at Red Lotus office, 280/7 Sarana Road, off Bauddhaloka Mawatha, Colombo 7.  The picture shows Mr. D.D. S. Jayawardena handing over a cheque for Rs. 3,50,000 to the President of Red Lotus, Deshabandu Olcott Gunasekera. Others in the picture are Dr. Hema Goonatilaka, Hony. Secretary, Miss Kusum de Silva, Hony. Treasurer and the project initiator, Ranjith Tennekoon.
World leader celebrates 130 years of the Salvation Army in Sri Lanka 
Currently on a visit to Sri Lanka is the World Leader of the Salvation Army General Linda Booth. She is here for the celebration of 130 years of the Salvation Army in Sri Lanka.
General Booth was guest of honour at a service of thanksgiving and parade at the Cathedral of Christ the Living Saviour on Bauddhaloka Mawatha, Colombo 7.
General Linda Booth was elected as the 19th General of the Salvation Army in 2011. The Salvation Army which began its work in Sri Lanka in 1883 is well known for its social and spiritual ministry.
Follow @timesonlinelk
comments powered by

Disqus