Appreciations
View(s):

Goodbye Missy, my favourite cousin

Sithy Sunny

Sithy Sunny was a Girl from Galle
Known as Missy to one and all;
Almost six foot tall,
Missy was one of the prettiest girls in the Fort of Galle;
Her passing away saddens us all.
Missy liked the company of everyone.
Missy was BBC, Rupavahini, Al-Jazeera, CNN all in one.
Her sources of information she divulged to none.
Missy was very fond of her relations and cousins
Whom she had by the dozens;
She died the way she wanted –
Troubling no one.
Almighty Allah made her wishes comes true.

Missy is aunty on mother's side
And cousin on father's side;
Missy was always busy reciting her thasee;
Missy is irreplaceable;
Missy liked my little rhymes.
Which is why I have written these lines.
May almighty Allah grant her Jennathul Firdhouse.

Your loving cousin Nizam

He has left a void in the hearts of many

C. S. DHARMARAJAH

I was saddened to hear of the death of C.S. Dharmarajah, veteran journalist who was in the field of journalism for over five decades. I met Dharmarajah during the '50s as he was a friend of my brother Dr. Meeran and known to my family. During my tenure as Mayor of Colombo and subsequently as Minister in the Cabinet of Dudley Senanayake and J.R. Jayewardene, we used to meet regularly to discuss matters related to my ministerial activities.

His flair for writing and journalism made him an indispensable resource for both the Times of Ceylon and Lake House. He was very well read and was knowledgeable on many matters. His articles on the law were reproduced in overseas newspapers too. He had a unique personality where he would only speak when needed and not otherwise. His advice on many matters was very valuable. Being a good friend of mine and a true gentleman he has left a void in the hearts of many who loved him so much for his gentle and unassuming qualities.

M.H. Mohammed

The clique of six: A bond that stood the test of time

Nirmala de Mel

Nirmala de Mel passed away recently after a terminal illness hardly any of her close friends – even those who were in touch with her – were aware of.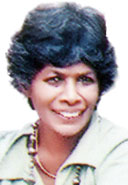 Nirmala was one among six of us (Jo, Jap, Sausage, Frecks, Chocs and Dee). We became firm friends, directly upon the merger of the three language mediums in Ladies' College, when we were twelve. It was she who first called me Dee, and that nickname stuck!
What cemented our friendship was that some of our mothers had also been classmates in our school. The common interests we shared were many — like collecting stamps; reading the William and Biggles range; Enid Blyton's schoolgirl series; and cowboy comics; musical comedy films, beginning with 'Annie Get Your Gun'; collecting autographs of visiting international wrestling champs like Wong Bok Lee, Baron Von Heksy, Dara Singh, and Tennis champs like Frank and Jean Sedgeman.
Whenever even two of us walked together in the playground, our arms encircled each other's waists, or shoulders. We were all the same height (then!) and five of us sported identical trendy short hairstyles with a side-fringe.
On leaving school, the six lives of our clique followed different paths. One lost contact after she migrated Down Under in her mid-teens. Nirmala, though an acclaimed national and international high profile figure, and a private person, will always be remembered for her warm smile and welcoming manner on meeting a friend or acquaintance. Her very demeanour reflected her interesting personality. Four of us (including Nirmala) were in touch until three months before she entered eternal rest.
God rest her soul.
Deirdre Jonklaas Cadiramen
Father was a father figure to hundreds of Sebastianites and others
P. DON CLEMENT MICHAEL (CLEMENT SIR)
'You were my strength when I was weak
You were my voice when I could not speak
You were my eyes when I could not see
You saw the best there was in me
Lifted me up when I could not reach
You gave me faith 'coz you believed
I am everything I am
Because you loved me …'
February 16, 2013 marks the 10th death anniversary of my loving father, P. Don Clement Michael. My father was a father figure to many at St Sebastian's College, Moratuwa, where everyone called him simply "Clement Sir." He was a teacher of outstanding repute who dedicated his whole life to teaching. He taught at St. Sebastian's for 32 long years.
His teaching career did not end with his retirement. He was involved in many spheres of society. He was a marriage and family counsellor, a lecturer, and a life educationist, even after retirement. He was passionate about teaching and gave of his best to all who came to him. He was teacher, counsellor, guide and mentor.
He never compromised or wavered in his principles, and always upheld honesty and integrity. Money never motivated him. He had many opportunities to seek greener pastures, but his love for his students and for teaching were more important to him than money.
I was fortunate to have Clement Sir, my father, as my class teacher when I was studying for the GCE Ordinary Level. I still remember some of his lessons, 25 years later. He was my Sinhalese teacher then, and I remember a good part of the poetry and literature he taught us. He was blessed with the talent to make the stories of the Guththila Kawyas, Ummagga Jathakayas, Singhabahu, and so on, interesting and lively.
To many, he was more than a teacher. One student recalled how Clement Sir changed his life. This student was good in his studies but mischievous. He had dreams of being a writer, when other students wanted to be doctors and engineers. Teachers would berate him for his "unfocused ambitions." But Clement Sir said: "You can be whoever you want to be, but be honest, believe in God and trust in yourself."
He showed no partiality or favouritism to anyone, including his own children. I remember that he used the cane only once in the classroom.
He taught not only the required subjects, but also values. He said there was no point in becoming the best of doctors or engineers if you were not a good man.
Apart from teaching at the school, he was involved in numerous activities as a life educationist. He was a mentor to many youth who came to him for guidance. Many have told me how their lives were transformed after an encounter with my father.
What was unique about my father was his ability to empathise with those who came to him with problems. His house was open round the clock for those in need of help. I remember how my father and mother gave their time and energy to fixing many a broken family and marriages that were on the rocks.
My father could relate to everyone. He had a sharp instinct for understanding others. When I was grown up, I considered him a close friend I could confide in. This helped me to mature and grow. Because he was open-minded, I could talk about most things without feeling uncomfortable.
At my father's funeral, I saw adults crying. Only then did I realise the impact my father had had on those who knew him.
He was outspoken when he saw injustice. On many occasions, he was the voice of people who were weak and helpless.
He feared the Lord whom he served. He never worked for position or recognition, but positions and recognition followed him. He believed firmly in the teachings of his Master: "I came only to serve, not to be served." He never expected anything in return from anyone but from his Lord.
He was not only a great teacher but also a great husband to my mother. I have learnt many a lesson from the marriage of my father and mother. Time only brought them closer together. Every day they looked like a newlywed couple,
He sacrificed a lot for us. What we have achieved is largely because of the sacrifices he made with my mother. He taught us that there are more important things than money. We learnt that the best things in life cannot be bought. Money is a servant, not the master. He may not have given us luxuries when we were growing up, but he gave us all that we required, and taught us to know when we may have luxuries in life.
His compassion is unimaginable. He lived a life of love. One of his favourite quotes from the Bible is: "And now, these three remain: faith, hope and love. But the greatest is love." (1 Corinthians 13:13).
He lived his life to the full till the last day of his life. He was ready to meet his Master before he left us. Some of his final words to me were: "I lived a life of love throughout my life and even now I experience the presence of that Love."
Father, I was so fortunate to have had a Dad like you. You were more than a Dad. You were more than a friend. I still have the rose I removed from a wreath at your funeral 10 years ago. It has withered, but the memories of you will never wither. Rather, they renew each passing day. Those who love beyond the world cannot be separated by it. Death cannot kill what never dies.
Thaaththa, may your soul rest in peace.
Anuja Srinath (son)
The day Grandma passed away the fire in our family was extinguished
ALEXANDRA JEYARAJ
"He that dwelleth in the secret place of the most high shall abide under the shadow of the Almighty." Psalm 91: 1
No words can describe, no person can tell,
No thoughts portray, how much you meant
To love with heart, to sing with joy,
To pray with love, was how you went.
– Warren John
In her last years, though physically weak, my grandmother Alexandra Jeyaraj was mentally and spiritually strong. She developed arthritis at the age of 55, and suffered from it for the next 20 years of her well-lived life.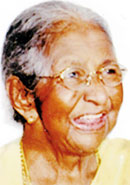 In her final stages, she was not only alert about things going on in the house but also of events unfolding across the globe. She gave a whole new meaning to the phrase "life is good." She never spoke of her disabilities and always wanted to be a part of everything and join in the family conversations.
Every day you would see a smile on her face. I believe she made it her ambition to live on despite her prolonged illness. She was very disciplined. She taught me to treat life as the most precious thing we have. She read the Bible and prayed for us every day.
Even in old age, she had an extraordinary memory. She remembered a range of events, from 9/11 to family birthdays and get-togethers. She had this amazing attitude towards life, amidst her pain and disabilities. She never gave up, and she always tried to make each day enjoyable.
My grandmother is the person with the strongest character I have ever encountered. She taught me to cherish every moment of life, even when that seemed impossible. The day she passed away was as if the fire in our family was extinguished. I will endeavour to live up to her expectations and make the most of my life.
My grandpa Alfred Jeyaraj, parents Chris and Premila, brother Warren, aunts Sharmila and Vijila, uncles Otto and Sharon, cousins Selina, Fredi and Avril – we will cherish our fond memories of you.
We miss you very much, Nana.
Shane John
Follow @timesonlinelk
comments powered by

Disqus