Hakka pataas set to become Elephant Killer No. 1
View(s):

The improvised explosive device put out to kill wild boar killed 35 jumbos last year, reports Malaka Rodrigo 

A six-month baby elephant is the latest victim of a "hakka pataas" – an explosive device designed to fatally wound an animal when it picks it up in its mouth. The wounded animal was found by Army personnel posted in Nedunkerny, Mullaitivu.

One side of the animal's mouth was split open, and its teeth cracked, but its tongue was not severed, said veterinary surgeon Dr. Chandana Jayasinghe, who is treating the baby jumbo. The elephant is responding to the treatment, and the doctor is hopeful it will survive.

Last year, 35 elephants were killed by hakka pataas, making the killer device the second biggest cause of elephant deaths. Ninety per cent of "hakka patas" victims do not survive.

"When a hakka pataas explodes, the elephant's mouth is destroyed and the animal, which cannot use its mouth any more to eat, dies of dehydration or starves to death," Dr. Jayasinghe explained. Very often, the hakka pataas victims is found long after it has suffered injury, by which time the elephant's wounds are in an advanced state of infection and hard to treat.

In 2012, hakka pataas killed 35 elephants, while 44 elephants died of gunshot wounds. Experts fear the hakka pataas will become the No. 1 elephant killer in Sri Lanka, unless strict preventive action is taken.

The hakka pataas, which is largely used to kill wild boar, is made from gunpowder taken from the "Cheena pataas" (Chinese cracker), a firecracker that is readily available in the market. Poachers use the gunpowder of several Cheena pataas and sometimes mix in stones. The explosive is tucked inside a food package of dried fish or vegetables and placed in areas frequented by wild boar.

Wildlife Department records show the hakka pataas has been in regular use since 2010. The Sunday Times, however, reported use of hakka pataas to kill animals in 2008. The hakka pataas is widely prevalent in the East and North Western Provinces, leading to speculation that the knowhow for making the crude explosive has been provided by persons familiar with making explosives.

Young elephants released from the Elephant Transit Home (ETH) in Udawalawe have also fallen victim to hakka pataas. The first victim died, but the second, a female named Neela, was located with the help of advanced monitoring equipment, and veterinary surgeons were able to reach the animal before its wounds became infected. "Neela may be the only elephant in this region to survive a hakka pataas," said Dr. Vijitha Perera, who treated the animal at the Elephant Transit Home.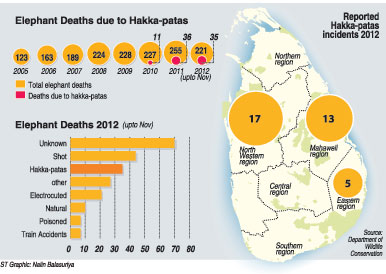 Recently wildlife officers surprised a poacher in the act of making hakka pataas. The man, who had nine explosives in his possession, was arrested and is facing trial.  Wildlife Conservation Department director general H. D. Ratnayake told the Sunday Times that steps are under way to try and ban the Cheena pataas, which provides the main ingredient for hakka pataas. The department is in discussions with the Registrar of Explosives.
Last month a child was killed after biting on a cheena pataas. It is believed the toddler had mistaken the explosive for a toffee.
Electrocuted and knocked down by trains
Twenty-one elephants died from electrocution last year. Only last week, a jumbo in Habarana was electrocuted when it became entangled in a exposed power line strung up round a paddy field. Last year a farmer was arrested for illegally setting up exposed electric wiring to keep elephants out of his paddy fields. The wires had killed an elephant.
Another seven elephants died on the railtrack after being knocked down by trains. In December 2012 alone, trains killed three elephants. These are preventable deaths, says veterinarian Dr. Prithviraj Fernando. Railway drivers have been instructed to "go slow" on railroad stretches that pass through elephant country. Wildlife officers are entitled to board trains to ensure speed limits are kept, but unfortunately this precaution has so far not been taken, Dr. Prithviraj.
Follow @timesonlinelk
comments powered by

Disqus