The victorious General
View(s):

This article is part of a continuing series on the 'Mahavamsa,' the recorded chronicle of Sri Lankan history

The Four Korales were fully supportive of King Vimaladharmasuriya. The Portuguese armies arrived to suppress this charge. They came to Attanagalla – an entrance to the Four Korales and built a fortress there.

King Vimaladharmasuriya too erected a fortress in Dedigama, to protect Iddamalpana. Meanwhile, Simon Corea picked up a quarrel with the king and was in anger. So he joined the Portuguese.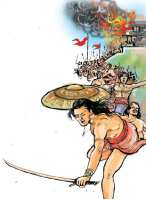 The Portuguese welcomed Corea very warmly. Now the king was afraid that his camp would be attacked. So he sent an army to Chilaw.
The Portuguese too did a quick march to the Seven Korales. They ruined the Mundakondapola town and built a fort in Chilaw. An army that came to attack this fort was also defeated. Then the Portuguese erected another fortress in Alawwa. The king, along with an army came to fight. There was fighting between the two armies. It is with the greatest difficulty that the Portuguese defeated the king's army.
King Vimaladharma-suriya then abandoned the fortress in Iddamalpana and went to Kandy. Up to now, Azavedo was fighting for his safety. He was overjoyed at the victory gained so far. So he planned to attack the Kandyan Kingdom.
He tightened the security in the two fortresses of Alawwa and Penthanigoda. Menikkadawara was chosen as the centre of the battle. There, a strong fortress was built and troops stationed. He decided to operate from there by sending out troops. King Vimaladharmasuriya planned to topple this plan of action. The King ordered the army to besiege Sabaragamuwa.
The Portuguese too marched there. Troops were stationed at Batugedera too. This same action was followed in the Seven Korales. A fortress was built at Athgaltota.
While all this was going on, the new year dawned. A set of troops who wanted leave to go home to celebrate the new year, had a dispute with Azavedo. Over this they got angry with Azavedo and joined Koratota Kuruppuarachchi. They went on destroying churches and schools in Hewagam Korale. Then Azavedo marched there with his army and attacked the Sabaragamuwa Devale, where the most violent soldiers were camped. The two villages Kuruwila and Batugedera were fortified.
By Halaliye Karunathilake, Edited and translated by Kamala Silva, Illustrated by Saman Kalubowila
Follow @timesonlinelk
comments powered by

Disqus