Cross-campus learning
View(s):

HD Video Conferencing and live streaming technologies define the learning process at BITS campuses.
Birla Institute of Technology and Science (BITS), Pilani, in association with BITSAA, its global alumni association, launched the first of its kind multi-million dollar cross-campus technology initiative named BITSConnect 2.0.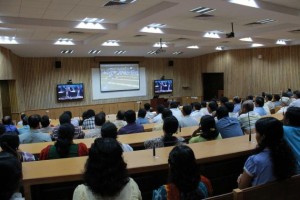 The initiative comprises Immersive Telepresence, High-definition Video Conferencing and Live Streaming technologies to help the students' learning experience by connecting all their campuses. Cisco is the technical partner in this initiative to connect the three campuses in India and soon will be connecting the Dubai campus too.
This University-Alumni initiative was launched simultaneously at Pilani, Goa and Hyderabad campuses, while being connected to Cisco's offices in San Jose and Boston, jointly by Prof. Bijendra Nath Jain, Vice Chancellor, BITS Pilani, and Raju Reddy, Chairman, BITSAA, in the presence of the Governor of Goa, Shri Bharat Vir Wanchoo and Shri J Satyanarayana, Secretary, Department of IT, Government of India.
The physical infrastructure consists of a 200-seater classroom in all three campus through which a lecture can be delivered from any location through telepresence. Unlike the video-conferencing over products like Skype, this facility enables to recreate a classroom-like atmosphere. Each student has a microphone in front of him/her and with a push of button can focus the camera towards them allowing a more personal virtual interaction unlike the single camera video conferencing solutions over the internet.
The director of the Hyderabad campus, Dr. V.S Rao, elaborated on some of the key issues which the initiative aims to address. "One of the main advantages of this initiative is that we will be able to offer cross-campus courses, helping the students tremendously. From this semester we will be offering 14 courses through this technology."
"With this method, we can also reduce the travel of faculty across campuses and help in reigning in costs and also provide the best teachers." He also added, "With this technology, guest lecturers from any part of the world can deliver lectures to all the campuses at the same time. Academicians and management people need not travel for discussions on curriculum.""This initiative will help develop a strong multi-campus education system. The most important feature is that this will allow student groups to interact with each other across the campus." "Even teachers and researchers can collaborate with their peers from other campuses," he added.
The unique feature of this initiative is the role played by the alumni. Apart from funding it partly, alumni have been involved in the project's conceptualisation and getting it on track. Dr. Rao said, "BITSAA always wanted to contribute in an innovative way which helped us complete the target one year ahead of schedule."
Sarath Kolla, an alumni of BITS Pilani of the 1993 batch, who is the Co-Chair for this project and also the trustee of BITSAA, says, "We conceived the idea to advance the recruitment drive and bring the big companies and industry giants from across the world to the doorstep of the students." "For quite some time now, we have delivered alumni lectures and helped getting industry leaders from across the world to address the students. We believed this technology would help provide a more real-life like quality over simple videoconferencing techniques and also stream it across campuses simultaneously."
Ravi Varanasi, an alumni of BITS Pilani of the 1986 batch, who is working as Engineering Director, Cloud Security at CISCO, has been instrumental in getting CISCO on board for this project. Mr. Varanasi says, "Since we are in the industry, we knew the right experts and suppliers to get this project, and with my day job with CISCO I was able to champion this cause from the inside to give something back to my alma matter." "The challenge was to package the solution which is already used in corporate sectors to the needs of the campus. "I was responsible fore making sure internal CISCO resources were brought in for the right solutions along with few other alumni working here."-thehindu.com
Follow @timesonlinelk
comments powered by

Disqus