CA Students' Society spearheads worthy CSR project for the benefit of war heroes
View(s):

The CA Students' Society of the Institute of Chartered Accountants of Sri Lanka recently spearheaded worthyCSRproject in its efforts to show the students appreciation to the thousands of war heroes who fought a bloody battle to end the country's three decade long war against the terrorists.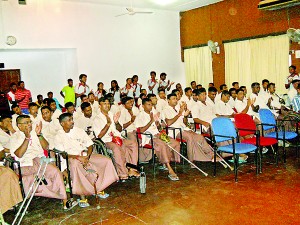 The project titled, 'Give back to those who paid from their lives so that we could live another day!!!" was a special project aimed at spending a fun-filled evening with the war heroes of the Ranaviru Sevana at Ragama by donating various necessities to the institution and showing them that the country had not forgotten them despite the ending of the war almost four years back.
The CSR project was carried out with the support of the Young Chartered Accountants Forum, the Member and Student Services Sub Committee of CA Sri Lanka,CA students and CA Sri Lankamembers.
The programme held at the Ranaviru Sevana began with a line of exciting games designed to specially involve soldiers of various capacities. The committee members also took time to visit and converse with the

bedridden soldiers who were unable to join in the games. Former members of Students' Society members also assisted in this worthy cause by arranging a Calypso band which was well received by the soldiers as they joined in the merriment by dancing and singing.
The event concluded with a scrumptiousdinner at the Ranviru Sevana organized by the Society.
The Chartered Accountants Students' Society, which is the students' body of CA Sri Lanka, organizes various activities with the objective of promoting the interests and welfare of the students. At present, the active student base of the Institute is a mammoth 41,000 who are studying the Institute's globally recognized chartered accounting programme.
Follow @timesonlinelk
comments powered by

Disqus