American College of Higher Education – The wind beneath your wings
View(s):

The American College of Higher Education or ACHE as it is more fondly known, is as a leading Higher Education provider in Sri Lanka, and since opening it's doors in 1995, has provided the opportunity for over 2000 students to pursue their higher education in the USA and elsewhere through it's 2+2 programme alone, and also here in Sri Lanka and continues to offer a wide range of academic programmes in a number of highly specialized fields.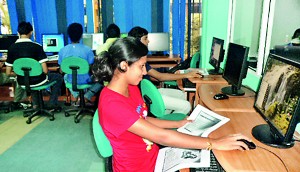 The American College of Higher Education has also been conferred the rare privilege of being an off-shore campus of Broward College, Fort Lauderdale, Florida, USA. Broward College has recently been named among the top ten community colleges in the USA. ACHE is also the only American education provider in Sri Lanka that is approved by the Southern Association of Colleges and Schools (SACS) USA, a regional accrediting agency in the USA.
Established in 1959 in Fort Lauderdale, Florida Broward College is a public college and has a student body of approximately 100,000 students each year. Broward offers programmes such as associate and bachelor's degrees in arts, science, applied sciences, and advanced technical diplomas.
As ACHE is an off-shore campus of Broward College, students who follow degree programmes at ACHE are accepted and recognized as students of Broward College and allows them unrestricted access to its network of 28 Florida State Libraries allowing students to access the latest textbooks, journals and publications and faculty at Broward. Furthermore, on successful completion of their study programme at ACHE, students are given a transcript from Broward College and are able to make the transfer to the college of their choice. These students are guaranteed a place in any state University across Florida, and also have the option of applying to over 4000 Colleges and Universities across the USA to complete their bachelor's degree.
ACHE also offers Edexcel HND courses specializing in Business Management, Marketing and Human Resources, which is a programme designed for both students who have successfully completed their Ordinary levels or Advanced levels and working professionals who wish to fulfil the necessary criteria for career advancement.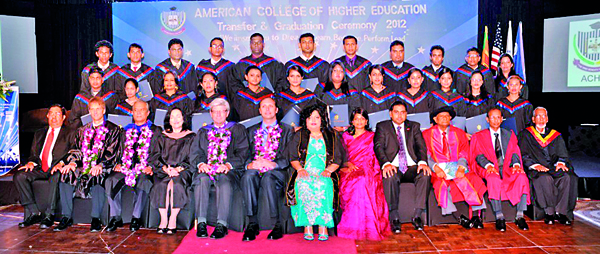 ACHE in collaboration with Guangzhou Civil Aviation College, China, also offers four post secondary diploma courses in Travel, Tourism and Flight Services, Aircraft Maintenance Engineering, Airport Operations Management and Avionics Maintenance. The Guangzhou Civil Aviation College program is conducted by the Civil Aviation Authority of China. Under this programme, ACHE offers Students of this two-year programme to study one year in Sri Lanka, and then transfer to Guangzhou Civil Aviation College, China to complete their programme.
In addition to these programmes, ACHE also offers internationally recognized, short-term diploma and certificate courses in a range of disciplines such as Marketing, Human Resources, Business Administration, Education, Computer Studies, Psychology, Counseling Psychology and Child Psychology to name a few.
ACHE also conducts teacher training programmes for aspiring teachers and offer diplomas in Early Childhood Education and Primary teacher training.
With 5 branches in Dehiwela, Kandy, Matara, Negombo and Kurunegala and Information centers in Ja-ela, Moratuwa, Akurana and Kegalle, ACHE conducts the US UTP (University Transfer Programme) with over 500 majors including Engineering, Pre-Medicine, Business, Psychology, Information Technology allowing students to spend the first two-years in Sri Lanka and then complete their degree in the US, Canada, Australia, the UK, Singapore, Dubai or Malaysia.
The new semester for the Broward Programme commences on the 18th of February. Students who have recently completed their A/Levels are welcome to visit any of our branches and information centers for further information and assistance from our guidance counselors on your future educational prospects with us here at ACHE.
Follow @timesonlinelk
comments powered by

Disqus