Katina Pinkama at the Berlin Vihara
View(s):

A Katina Pinkama was held at Das Buddhistische Haus (Berlin Vihara) on November 4, 2012 and in the preceding Vassa period special Dhamma activities including Dhamma discussions, lectures, meditation classes and retreats were conducted at the Berlin Vihara.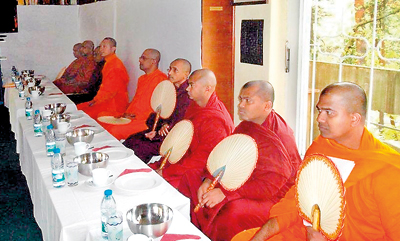 The participants at this Kathina Pinkama included Germans, Thais and Sri Lankans, among others. The programme for the day comprised a Buddha Puja, Sangha Dana and Kathina Chivara Puja.
Nine Buddhist Monks participated in the Katina ceremony. They were – Ven. Dr. Wijayarajapura Seelawansa Nayaka Thera (Nyanaponika Dhammazentrum Lecturer, Vienna University, Austria), Ven.Godauda Ariyadhamma Thera from Sri Lanka, Ven. Dodampahala Rahula from Sri Lanka, Ven. Pujapitiye Santhusitha Thera from Sri Lanka, Bhante Anusak from Thailand, Ven.Lediyangala Sudassi Thera (Chief Incumbent Sri Lanka Vihara, St. Gallen, Switzerland), Ven. Thalpawila Kusalagnana Thera, M.A. (Hamburg Buddhist Centre, Germany) , Ven. Kongaspitiye Santharakkhltha Thera, M.A., Das Buddhistische Haus (Berlin Vihara), and Ven . Badalkubure Dhammasiri Thera (Buddhist Temple, Milan, Italy)
The Berlin Vihara also known as 'Das Buddhistische Haus' was built in 1924 by Dr. Paul Dahlke, German Philosopher and a pioneer of Buddhism in Germany. The German Dharmaduta Society founded by Asoka Weeraratna in 1952, purchased the premises from the heirs of Dr. Dahlke in 1957 and converted it into a Buddhist Vihara with resident Buddhist monks on a long term footing. It is the oldest Theravada Buddhist Centre in Europe.
Follow @timesonlinelk
comments powered by

Disqus