All the way from Melbourne, they came, they danced and wowed us
View(s):

Kala Korner by Dee Cee

A full house at Nelum Pokuna Theatre last Saturday evening was entertained to a performance of traditional Sri Lankan dances by a group of over a hundred talented Sri Lankan boys and girls residing in Melbourne.

The audience was predominantly their friends and relations who possibly did not expect the high standard that they displayed. When my niece invited us for the show where her teenage daughter was also performing, I frankly had my reservations about it. I wondered how these children could acquire that much of quality as to come all the way and perform before a Sri Lankan audience who generally expect high standards. But I was more than satisfied with what I saw.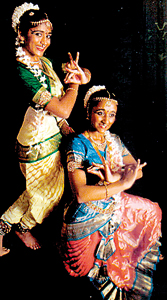 It was a well-trained, well-rehearsed, well-disciplined performance. The young dancers showed a high level of commitment and talent. Hardly anybody showed stage fright or lack of confidence.
It was the result of a high degree of devotion and dedication of a woman who migrated to Australia over a decade ago and set up an academy of dancing. Rashika Kulasinghe had got a degree in dancing from the Kelaniya University having had her secondary education at Galahitiyawa Central. She had seen an opportunity where Sri Lankan parents in Melbourne would like their sons and daughters to get a taste of our culture and appreciate age old traditions. The parents had responded positively. The show was a good example of the hard work put in by the teacher and the students – both parties being conscious of the need to be professional in their approach.
It was basically the story of Vijaya-Kuveni presented as a ballet. Apart from the basic story, prominent forms of local and Indian dances were linked to it, which I felt, was more to give an opportunity for the students to participate and show what they have learnt. It was a mixed group from tiny tots to mature teenagers. And the discipline they showed on stage was amazing. 
With over 125 students performing it is difficult to pinpoint the ones who deserved special mention. The easy picks are the two who played key roles of Kuveni and Vijaya – Piruni Sirimanna and Sachith Fernando. They were impressive.
The use of technology by way of back projection was intended to make it easy for the audience to follow the narrative. At times it tended to disturb the slick dances. Music had been composed using Indian and local pieces obtained through the Internet.
It was a near perfect show except for the few lapses in lighting and sound which showed lack of coordination. The show tended to drag on as a result.
For seasoned compere Kelum Srimal to publicly say that he found an extremely well disciplined lot backstage spoke volumes of the planning team's effort. 
Rashika appreciated the assistance she got from a local dance tutor (I forget his name) whose young students turned out a superb performance of 'ves' dance giving hope for the future when there is fear of some of our traditional forms disappearing.
At the end of a show of over three hours, the voice of Manel Jayasena singing 'sath siyak' in 'Kuveni' produced by husband Henry (the song was used effectively in the background as Kuveni made her appearance on stage) was still reverberating in my ears as I left Nelum Pokuna.
Follow @timesonlinelk
comments powered by

Disqus