Two critical challenges in 2013: Fiscal and trade deficits
View(s):

After averting the so-called "fiscal cliff", President Obama said there is need to reduce the fiscal deficit while spending more in those areas that will determine the development of the US. This is even truer of the challenges facing Sri Lanka's economy. Reforms of state enterprises and more prudent government expenditure are needed to reduce the fiscal deficit and increase expenditure on economic and social priorities. These are serious challenges in 2013.

Road Map 2013

Central Bank Governor Ajith Nivard Cabraal presenting the "Road Map for Monetary and Financial Sector Policies for 2013 and Beyond" emphasised the need to contain the fiscal deficit. He said the Government had been successful in staying within the 2012 budget targets despite a series of adjustments made since February 2012 to curb a balance of payments problem." It was a tough call, but a serious commitment has been made by the Government towards fiscal consolidation."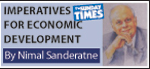 While commending the Government for the fiscal improvements, he said it would have to stay committed towards fiscal consolidation.
The containment of the fiscal deficit to 6.2 per cent of GDP last year was a daunting task as the expenditure of the Government had overshot the budgeted figure and revenue had declined in the first ten months. Whether government expenditure is likely to be reined in significantly and government revenues increases substantially remain to be seen. The Central Bank Road Map for 2013 hinted that it would be exceeded to some extent but not much. 
Even if the deficit is contained at below 7 per cent of GDP it is reasonable in the economic context of the year. What is of much more significant is whether there would be fiscal consolidation in 2013 and whether the fiscal deficit could be brought down to 5.8 per cent as targeted in the 2013 budget. This is one of the foremost challenges in 2013. For this to be achieved it is vital that government revenue is increased substantially from the current 15 percent of GDP and public expenditure reduced drastically.
A key to achieving this is the reduction of the massive losses in public enterprises as most recurrent expenditures, such as the debt servicing, salaries and pensions, are committed expenditures that cannot be reduced. Therefore efforts to reduce public enterprise losses are vital to achieve a reduced fiscal deficit. A reduction of such expenditure would enable the government to spend more on social infrastructure such as education and health that would have an important bearing on sustainable growth.
Cabraal was forthright in observing that losses in public enterprises must be brought down. He urged the Government to allow domestic electricity and fuel prices to reflect global realities. With oil accounting for more than 25 per cent of imports, the CB Governor advocated a more sustainable and renewable energy policy for the progress of the economy. He pointed out that in 2011, the Ceylon Petroleum Corporation and the Ceylon Electivity Board incurred a combined loss of Rs. 119.5 billion. Unless these losses are cut down significantly, achieving fiscal consolidation so important for economic stability and long term development would be difficult.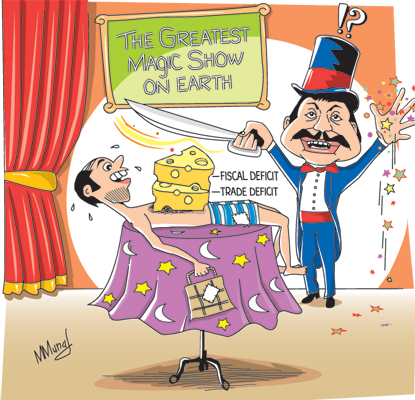 The Governor suggested a realistic pricing policy that would cut losses. He proposed a greater pass-through of energy and transport prices. He alleged that successive governments had pursued decades of populist pricing policies for electricity and fuel that continue to be heavily subsidised. He said these burden the economy, making it vulnerable to external shocks and making fiscal and monetary policy implementation difficult.
"The CPC sells fuel at a loss to the transportation sector and supplies fuel to the CEB for electricity generation at well below cost." As a consequence of this, "Credit to the public sector was higher than expected last year (2012), especially to the CPC and CEB…… This cannot be sustained. There has to be a change and this can only come about if prices are allowed to be adjusted. This is something we hope the government would seriously consider this year." 
It would, however, be inadequate to achieve a reduction of losses in public enterprises through the adjustment of prices alone. A revision of prices must go in tandem with reforms of these enterprises. Part of the reasons for the losses is inefficiencies in corporations that are directly related to politicisation of government enterprises. Overstaffing, recruitment of inefficient staff and corruption are among the factors responsible for losses. The divergence between local pricing and comparable prices in other countries would indicate the extent of losses due to inefficiency.
It must also be remembered that there was a more flexible pricing policy in place earlier that was given up. The flexible pricing policy would have reflected changes in international price changes more gradually and been more acceptable to consumers. It must also be recognised that an increase in petroleum prices are likely to increase the rate of inflation. The Central Bank's objective of single digit inflation of around 7 per cent in the Road Map is likely to be jeopardised by the suggested pricing policies.
Trade deficit
The other vital macro-economic challenge is to reduce the trade deficit that was around US$ 9 to 10 billion in 2011 and 2012 by about one billion US dollars. 
However much of the trade deficit has been offset by workers' remittances and tourist earnings. This has resulted in a complacency that could be of serious consequences in the long run.
If the trade deficit is brought down to about US$ 7-8 billion that could result in a balance of payments surplus that would enable avoiding further foreign borrowing and enable a repayment of foreign debt.
Export decline
Export earnings declined last year. Agricultural export earnings fell owing to the disruption of traditional markets for tea in the Middle East due to the political turmoil in the region and the US ban on trade with Iran: the second largest tea export market for Sri Lanka. 
Drought conditions too affected tea production in the early part of the year. In as far as agricultural exports were concerned the loss of earnings was beyond the country's control. There should be a larger exportable surplus this year as tea production has been rising in the last three months.
The reduction in export earnings of manufactures is of serious concern. The sluggish demand for manufactured exports is largely due to the slow economic recovery of the US and Europe that has affected our highly income elastic exports adversely. In addition, the loss of the GSP Plus concession in Europe has been an important factor in the country losing its competitiveness. There was no effort to regain the GSP+ status by the Government perhaps owing to prior knowledge that such an application would not be successful due to human rights and rule of law concerns.
A continued drop in manufactured exports is a serious problem to the trade balance, employment and incomes of the working class. A key factor affecting the country's exports to Europe and the United States has been the confrontational diplomatic relations with these countries that matter.
Consequently, there are increasing non-tariff restrictions being placed that discourage exports. The country's foreign policy lacks adequate concern and interest in trade. Foreign policy has tilted towards countries that do not matter to our trade. The reduction of the trade deficit would have to rely on both a reduction in imports and an increase in export earnings. There is an expectation that the slowdown in imports late last year would continue. The reduction in the imports of investment goods was a good sign and should be sustained to ensure a significant reduction in imports. 
Fiscal consolidation and an improved trade balance are the challenges for the economy in 2013. Sustained high economic growth requires the reduction in these deficits.
Follow @timesonlinelk
comments powered by

Disqus