The last wilderness on earth
After a polar expedition with explorer Sir Robert Swan, Imalka De Silva tells the Mirror Magazine why she would like to send Sri Lankans to Antarctica

View(s):
In 2010, Imalka De Silva found herself in Antarctica with renowned polar explorer Sir Robert Swan and his team at 2041. Now, she's founded her own company V4C Sri Lanka – an organisation which will collaborate with 2041 to "build champions that promote sustainable leadership for a cause."
Imalka has managed to pack quite a bit into her 33 years of living. She followed an MSc in NGO Management and Social Policy in Developing Countries at the London School of Economics and Political Science with a stint at the British Civil Service's Department of Environment Food and Rural Affairs (DEFRA) as a Policy Advisor for their Air Quality Team.
When she returned to Sri Lanka it was to take up a post as a Senior Executive at the National Council for Economic Development (NCED) in the Ministry of Finance and Planning. She's currently reading for her PhD and dreaming of a better world.
MM: How did your expectations match up to the reality of Antarctica? 
I: It was beyond any expectation that I ever had. Antarctica is the last wilderness on earth; to me she was a representation of the glorious history of earth; her character showed limitless capacity, pristine beauty and the synchronicity of raw nature. And amidst all of this wonder it also revealed the reality of global warming.
MM: Could you share with us a little of what life is like there – what did your days involve, what were some of the most memorable encounters with the continent?
I: The 'Inspire Antarctica Expedition' is set within a frame of science and adventure with a vision of building skills and knowledge that champion sustainability.
During the expedition, we mostly work in teams and the days we spent on ice involved hiking, night camping, lectures on ice, explorations, observing wildlife, visiting research bases including the education base for 2041 and also time for reflection and planning. We also get to meet and work with some of the top sustainability heads in leading global companies.
One of the most memorable moments was my close encounter with a mother and baby Humpback whale in Willamina Bay, Antarctic Peninsula. I can connect with that moment even today. Seeing the Larsen B iceburgs a few metres away made me reluctantly accept that we are in the age of global warming.
MM: What did you take away from the experience?
I: The 14 days on ice exposed us to what I would call 'reality' and with this exposure I discovered the tremendous responsibility we all have not only towards preserving the Antarctic Continent but also the action we need to take in our home countries.
MM: How would you like to apply your learning in Sri Lanka?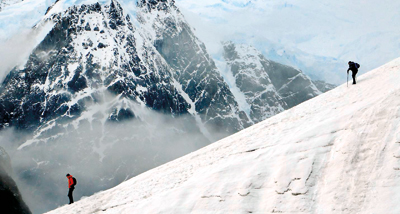 I: Myself and my team 'V4C' in partnership with Sir Rob Swan have created a platform for young professionals, entrepreneurs, environmentalists and young leaders to take part in future expeditions to Antarctica and more importantly enable these sustainability champions to invest the knowledge and skills back in Sri Lanka mainly focusing on local projects that promote sustainability.
MM: How important is it to work with Corporates?
I: Thinking differently about sustainability also means that we need to look beyond Corporate Social Responsibility (CSR). I believe that in order to make the environment work for the future we need to link it with business and incorporate it to business strategy.
I'm also pleased that MAS Holdings and MAS Intimates saw the importance of championing the message of sustainable leadership; this led us to working with Sir Swan and his International Sponsors Coca-Cola in Sri Lanka, who organised the motivational talks that were held early this November. A number of key Corporates have shown interest; so we are off to a great start.
MM: Going ahead, what are your plans to develop awareness and promote action on environmental issues in Sri Lanka?
I: I am delighted to say that we are finalising the members for the first Sri Lanka team to go to Antarctica for the next Expedition in February 2013; this team will be the first group of sustainability champions from the Antarctic Project that will contribute towards a local mission that promotes sustainable leadership in the Sri Lankan context. The theme for the local mission in Sri Lanka next year is 'Water'.
Follow @timesonlinelk
comments powered by

Disqus