Appreciations
View(s):

Liberal and non-conformist, she was more than a librarian

Zem de Silva nee Sally

Zem passed away on July 14 last year about 8 in the evening and her remains were interred on July 28 in a quiet corner of Islington cemetery North London.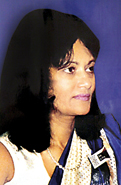 When I was informed by the specialist towards the end of June that there was no hope of a recovery, only a steady deterioration in her condition, I watched her day-after-day slipping away into the gloom and the final darkness of death. That experience is now engraved in my memory. A week or so after our 25th anniversary, I lost my wife and long-time-companion. I grieve for her.
Zem grew up in a traditional Muslim household in Kandy, attended Girls' High School where she received a well rounded education, although it was known she had a tendency for getting into scrapes, perhaps the early signs of nonconformity. 1 believe, however, that she was endowed with talent, had creative instincts and an adventurous heart.
She graduated from the University of Peradeniya with an arts degree, later qualified as a Librarian and also obtained the diploma of The Trinity College of Music, specialising in Speech and Drama. She joined the British Council in 1963 becoming Librarian in 1984. The whole of her professional career was spent in the service of the British Council both here and in England. She took pride in her work and I know that her competence and professional skills were appreciated.
Her talents and interests extended well beyond the spheres of Librarianship and Bibliography. In the sixties, I understand that she participated in fashion shows modelling sarees for a leading designer of the day. Her story hour for children was popular among a generation of youngsters now long past their youth, who used to know her as aunty Zem.
I knew her as a passionate gardener, who spent long hours cultivating her plants and flowers, an excellent cook who experimented with her own recipes, a lover of books and reading. And of course we both shared our passion for travel, exploring other countries and the pleasure of walking whether taking a daily stroll or hill walking in Cumbria and the Pyrenées where we used to spend our holidays.
In conclusion, I would like to refer to some of her attitudes and endearing qualities; her absolute loyalty to family and friends, her liberal outlook and her disregard for convention; so many of her friends were not of her religion or race. Eight months before she died, unaware of the onset of her last illness we undertook a Latin American journey travelling from Santiago in Chile via Buenos Aires to Rio de Janeiro. I asked her whether she felt able to go on such a long and tiresome trip. Her response was ''let's do it"- ready as always to step out on the road to a new adventure.
Above all, she had a kind and generous nature, ready to help a friend in need and compassionate towards the less fortunate. She was courageous in the face of her own adversity. I believe she has now left us for a more peaceful place where there is neither pain nor sorrow. May she rest in peace. This is my heartfelt tribute to Zem.
Mark de Silva
Teacher pays tribute to loyal, gifted and generous alumnus of Ananda College
Janaka Bogollagama 
Janaka Bogollagama of Kurunegala died in November 2010. This appreciation is somewhat different in that it is a tribute to a student by one of his teachers.
I came to know Janaka when he was a pupil at Ananda College, Colombo.He was a hosteller and I was hostel master at the time. I taught him mathematics. I saw the cheerful young boy grow up to be a leading businessman, social worker and above all a gentleman par excellence.
He was a sportsman at school and excelled in badminton and tennis. He went on to become public schools tennis champion.
Tennis became part of his life. When I congratulated him on being elected President of the Sri Lanka Lawn Tennis Federation, he humbly said his thoughts went back to the day the late Mr. A. D. Karunananda, the then Master In Charge, Tennis, placed a racquet in his hands on the Ananda College courts.
Janaka had a great love for his alma mater and its teachers. He gave us an open invitation to visit Kurunegala and be his guests. We obliged. One Saturday afternoon a busload of us made our way to Kurunegala. We were cordially received by Janaka and his beloved wife, Sunethra, and accommodated in the best hotel in the area. For dinner, we were taken to the Kurunegala Sports Club, of which he was the president. He proudly introduced us to his friends, the gentry of that town.
In the morning we climbed Athugala. Again Janaka was there to give the "push" and see that we reached the top. After breakfast at his residence, we went to the Ridhee Vihara and returned to his estate for lunch. Having enjoyed right royal treatment from Janaka and Sunethra, we bade goodbye that Sunday afternoon. His response was, "Come again, with a larger number, and for a longer stay". That was typical of Janaka.
He rendered immense service to the landless of this country. Thanks to Janaka's development programmes, thousands born without a claim to any land were able to put up a roof over their heads in a plot of land of their own. I see this as a great and meritorious act.
May Janaka attain the Supreme Bliss of Nibbana. May his sojourn in Sansara be happy and content.
S. G. Dharmasena
Goodness and wisdom of pastor's wife will live on like a legacy of love
Rathi Selvaratnam 
My dear friend Rathi Selvaratnam passed away three months ago, after a full life well lived, giving generously of her time and attention to not only her three children, daughter Sulochana and sons Peter and John, but also her relations, friends and many others.
A God-fearing woman, Rathi followed Jesus Christ. She was a very dear friend to our family. We miss her charming ways of love and affection.
The Selvaratnams lived in Mount Lavinia, where her husband, Rev. Father A. J. C. Selvaratnam, was parish priest for many years, and later Warden of S. Thomas' College, Mount Lavinia. I first came to know Rathi in 1950, when I was teaching at Christian College, Kotte. We became close friends, and our friendship continued to the end.
We interacted closely, serving in the Mothers' Union of the Mount Lavinia church and the parish choir. She and her husband Rev. Fr. Selvaratnam frequently visited the parish to inquire into the needs of the poor and those in distress.
She was a wonderful pastor's wife. She was an enthusiastic organist, and also sang with the choir, her face beaming. She was a lovable and caring person, with pleasing ways. I had the privilege to spend a week or two with her whenever I visited Australia. This year too, in January, I spent a holiday with her.
Rathi helped all those who came to her seeking spiritual or material relief.
Rathi died after a brief illness. She was 86 years. The funeral took place at St. Stephen's Church, Melbourne. Seven pastors conducted the funeral service before a congregation of some 700 mourners. Rathi's children and grandchildren took part in the service.
Losing a dear friend is a great sorrow. But Rathi's goodness and wisdom will live on like a legacy of love that will always be with us.
Nita
We will meet again one day
Ranil Atukorale
Your purpose-driven life has ended.
The summer we don't meet
Flowers are fading,
Shattering Mother's dreams ­–
Your purpose-driven life
Ended in tragedy –
Fate was so cruel
To crush you so young.
Only silent tears
And endless sadness
Is left to us.
This may be
For a past Karma
We deserve.
But Son, we will meet
Again one day
On this long journey
And we will end this
Uncertain, suffering life
Near Lord Buddha.
Hemamala Sangakkara
A kind, gentle man who enjoyed the company of all    
Nanda Senewiratne
Nanda Senewiratne died on November 10, 2002 at the age of 80, yet the picture I have of him in my mind is the young Nanda of the 1940s, walking the corridors of Lake House, making friends in every department. He had a way with people, guileless and eager to help.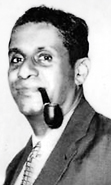 He was the boss's nephew (only son of Mr. D. R. Wijewardene's sister, Mrs. A. F. Senewiratne), but he put on no airs and had no desire to impress anyone with his family connections or wealth. He was just an extra-friendly guy who liked to talk to people, and it made no difference to him whether they were peons, clerks, typists, managers or journalists – he was equally happy in the company of the lowly and the great.
It was no surprise to me to hear a close family member say that the garbage men who came to their gate in Malabe were extremely fond of him because of the way he treated them, calling one and all 'putha'. That word came naturally to him, even when he addressed beggars on the road.
A vivid recollection I have of him is his splendid car – a large and spacious limousine it seemed, with folding seats that could be pulled out to accommodate extra passengers. He was always generous with offers of lifts after work to those who commuted by bus. I was pregnant at the time and greatly appreciated his kindness on many occasions when he would insist on our getting into his car with him and tell his driver to go to remote Rajagiriya where we resided, a far cry from his own home in Gregory's Road. That was typical of Nanda.
Nanda was Transport Manager at Lake House until he left when Associated Newspapers were taken over in July 1973 by the Sirimavo Bandaranaike Government. He rejoined Lake House for a few years during the UNP regime from 1977 but later left to work for Wijeya Newspapers Ltd., where he remained up to the time of his death.
He was a Royalist and played rugger for Hartley House. Nanda was a graduate of the old School of Agriculture in Peradeniya where he won the prize for the best all-round student 1942-44. A carryover from this was, perhaps, his love of gardening. "Things grew under the touch of his fingers," his family said and the evidence was clearly shown in the exquisite garden he created in their home in Malabe.
His other love was wild life, an interest shared with his wife, Clare.
The two of them would go off to wild life reserves and bird sanctuaries whenever they could and Nanda became an expert photographer of birds and animals in their natural habitat.
His fine pictures illustrated Clare's book, 'The sun at my back', and one of his colour photographs won first prize at an exhibition of Wild Life Photography. Their son, Viraj, too has inherited their love of animals. Nanda was always very supportive of Clare and proud of her work as Editor of the Lanka Woman from its inception in 1984. They met at Lake House where Clare began her journalistic career and theirs was a happy union of nearly 50 years.
Growing up in a devout Buddhist background, Nanda was extremely knowledgeable about Buddhist rituals and practices and about the origins and procedures of peraheras. "Relatives would often come to tap his store of knowledge about these things," his son said. It was doubtless the same background that gave him a philosophical bent and the ability to remain unruffled by life's ups and downs. One of his favourite sayings was "We must negate the 'I' in us."
Right through his life, he dispensed many kind deeds – "little, nameless, unremembered acts of kindness and of love" which the recipients will recall when they think of him.
Nanda was a simple, kindly man who radiated goodwill to people and to all creatures – would that there were more like him around.
Anne Abayasekara
Follow @timesonlinelk
comments powered by

Disqus