Strict rules for operating school transport vehicles
By Chamal Weerakody and Harish Murali
View(s):
Regulations and amendments to the National Transport Policy will soon come into effect following discussions between transport officials and private vehicle associations.
Statistics from the National Transport Commission suggest that the increase in the number of road accidents and traffic offences could be attributed to the growing volume of vehicles on the roads. Minister of Private Transport Services C. B. Ratnayake said proposals for amendments covered all aspects of the national transport policy.
The operation of school vans will be monitored by the National Child Protection Authority, the Police, the Private Transport Authority, the National Transportation Commission and the Road Passenger Transport Authority. The Provincial Councils will implement the act in relation to school van transportation.
School vans operating in the Western Province will have to be registered with the Western Provincial Council, said N. M. K. Harischandra Premasiri, president of the Inter-District School Children Transport Services Association. Mr. Premasiri has been in discussions with the Western Province Minister for Transport, H. Upali Kodikara.
Under the amended national policy for transportation, a driver who violated rules or traffic ethics would be penalised by the monitoring divisions and the School Transport Services Association. The driver may be directed to attend a rehabilitation programme, and may even lose his license permanently.
Lanka Private Bus Owners Association president Gemunu Wijeratne told the Sunday Times that private bus operators have not been issued proper timetables for at least seven years, and that competition between the Ceylon Transport Board and private buses, and rivalry among private bus owners, were the main reasons for road accidents involving buses.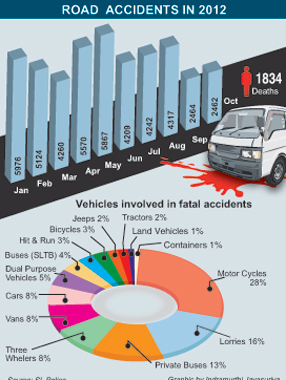 The Police should raise awareness of traffic regulations and ethics with the three-wheeler community, said Lalith Dharmasekara, president of the Three Wheeler Drivers' Welfare Association. Three-wheeler drivers who broke national transport policy rules should have to forfeit their licences, he said.
Senior Superintendent of Police K. Arasaratnam, Director, Traffic Administration and Road Safety, said Traffic Police were being deployed to stop overcrowding of vehicles, especially school transport. Schools should employ experienced drivers who were at least 35 years of age, he added.
Follow @timesonlinelk
comments powered by

Disqus