Doctor turned cinema director makes debut
'Prathiroo' a tribute to mothers soon on screen
View(s):
"Prathiroo' (The Iconic Inspirations), the debut cinematic creation of Dr. Kapila Sooriyaarachchi, the first Sri Lankan medical officer to become a filmmaker is ready to release his 40 year dream come true.
Hailing from Elpitiya, an ardent fan of the cinema from his childhood, the life journey of Dr. Sooriyaarachchi with multiple talents ranging from medicine to movies, theatre to music and sports to communication itself makes an interesting cinema story.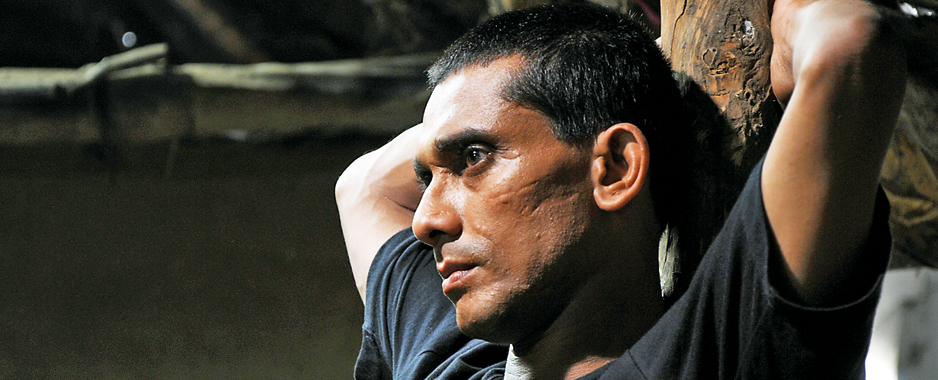 Having already won international acclaim like the Remi Award for the Director's first film at the 45th Annual World Fest at Houston International Film Festival, 'Prathiroo' is soon to be released in Sri Lankan theatres. A story about the universal role of mother and unique quality of motherhood, the film is set in the back drop of war.
'Cinema is very close to my heart as my house was just in front of a theatre in Elpitiya," said Dr. Sooriyaarachchi sharing his nostalagic memories on cinema and his childhood.
"We were living just in front of Elpitiya Rekha theatre and we could hear the entire film from our home. Within one week I could remember all the dialogues and the songs of the movie that was being screened in the theatre," he said. Young Sooriyaarachchi was able to enter the theatre for any show and he was watching movies from the project room and at a very young age was able to operate the projector.
"I was so crazy with cinema and acting that my parents feared that I would pursue the aesthetic field," he said.
Having received elementary and secondary education at Ananda Central College, Elpitiya and D. S. Senanayaka College, Colombo respectively Dr. Sooriyaarachchi secured a scholarship to study medicine at L' vov State University in Ukraine USSR in 1983.
"This was a very serious decision. I still can remember my father advising me that one could become an actor at any stage of his life but to become a doctor one gets only a limited years of his life. So I decided to go for my medical studies,".
Dr. Sooriyarachchi's inclination to art and cinema was not stopped even in Russia. "During the winter season we had a cultural event where I was chosen to do a mime sine I was not fluent in Russian andwon the first place," the doctor narrated.
Following this Sooriyaarachchi was summoned by the Dean of the University. "Usually Dean summons undergraduates to warn when they are not doing their studies well and I was a bit scared. But the Dean questioned me as to why had I chosen medicine without selecting acting and drama and he gave me time to take a decision. Unlike in Sri Lanka the artistes were given more important place in Russia,".
Once again Sooriyarachchi's parents were upset and he decided to continue medicine. "But the Dean made a special arrangement for me to study Russian literature, culture, music, drama and theatre while studying medicine for seven years. This helped him to develop his inborn talents as an actor, musician and a singer in Russia.
Queried about his concept for the film which is related to motherhood and war, Dr. Sooriyaarachchi said his experience as an intern at the Polonnaruwa hospital in 1990s, during the peak of the war motivated him to make a movie on the said theme.
"We were treating young injured soldiers who were flocking to the hospital. We were also able to see the tragedy of border villages and the suffering the people were undergoing there,".
He also shared an experience where General Denzil Kobbekaduwa came to visit him at the hospital after he himself had donated blood to a dying soldier through a direct transfusion.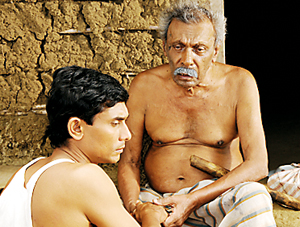 "I was just 26 years and working under a Cuban surgeon who had served in wars. Once we had to continually perform operations on wounded soldiers for two days. The last soldier who was to be operated needed 'O Positive' blood and we had run out of blood. The soldier was going to die if he was not given blood," Dr. Sooriyarachchi said.
The young medical intern decided to donate blood through a direct transfusion even against the wish of his senior surgeon. "My senior was scared as I had been working for two days and it could affect my life. But had I not donated blood at that moment I would have to live the rest of my life with a feeling of guilt,".
The day after this incident there was an unexpected visitor to the hospital. Gen. Denzil Kobbekaduwa who came to my office an inquired whether it was I who had saved the life of the soldier by donating blood.
Appreciating what I did, Gen. Kobbekaduwa who was a great father to his soldiers told, "Putha I love those who love the people I love.".
It was these experiences that pushed me to do my film "Prathiroo' which is also an iconic inspiration.
The cast with veteran stars includes Malani Fonseka, Jagath Benaragama, Veena Jayakody, Joe Abeywickrama, Sriyantha Mendis, Palitha Silva, Giriraj Kawshalya, Jagath Chamila, Sujeewa Priyalal, Himali Sayurangi, Darmapriya Dias , Wijerathne Warakagoda, Damayanthie Fonseka, Ajith Lokuge, Dilini Lakmali Thirimanna, Bandula Wijeweera, Kawshalya Samarasinghe and Dimuthu Chinthaka.
The crew in the film are Ravindra Guruge- editor, Chandana Jayasinghe- director of photography, Darshana Ruwan Dissanayake-director of music-, Aruna Dias-art director and Imal Shanaka Peiris-make up. Co-produced by Dr. Harischandra Yakandawala the film is scripted, screenplay written, co-produced and directed by Dr. Kapila Sooriyaarachchi.
Doctor turned film directorHaving served Polonnaruwa hospital and several other hospitals, Dr. Sooriyarachchi completed his post graduate studies on chest diseases and social science and communications and started to serve as a medical administrator.

Selecting a totally different avenue in his profession he chose Communication in Health Promotion which combines health and the arts. As a communications specialist he crafted many creations for disease Prevention.
Amongst these creations there are Tele-Dramas, Tele- Films, Cartoon films, Documentaries, Television and Radio commercials, Stage and Street dramas, radio programmes as well as print media creations. He has written lyrics and recorded about 150 songs. He conceptualised and conducts the first ever 'Community Music Therapy' programmes in Sri Lanka under the title 'Sala Nisala'. He has carried out several researches on 'Communication and Media'.
He has been bestowed with number of Youth Awards and State awards in recognition of his skills in many fields of the arts.
Follow @timesonlinelk
comments powered by

Disqus