A new dawn
For Dawn Jay music has beomce more than just a companion as the Mirror Magazine finds out...

View(s):
Growing up a baker's son from Homagama, Dawn Jay says music was both his companion and his consolation during difficult times. "I grew up with my dad, after the separation of my parents and being the only child, music was always a companion.
I use to pass the time just immersing myself in it," the singer confesses. Dawn Jay, who has been writing his own songs from a very young age, had his official debut on the Sri Lankan music scene in 2004 as one half of the R&B duo called InnerSense (the other half was his college friend Thilina Hettiarachchi.) The self-titled R & B album, released under M-Entertainment contained 13 tracks, all of which were written by Dawn Jay and were produced by Nisal Gangodage.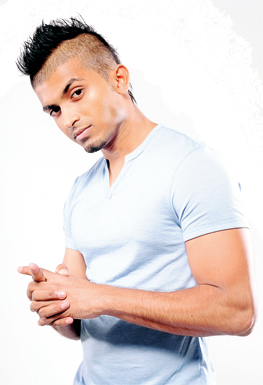 Today, though, Dawn Jay sees himself as having come a long way from that album. His debut album as a solo artist – 'The Dawning' – won him new fans, and he's looking forward to the launch of the video for 'Dadam' (Hada Gahena Ridmaya). The single, which was also released in English has received its fair share of airplay on local radio stations and spent time at No. 2 on TNL Radio's "Criminal Records Most Wanted Countdown" after entering the countdown 4 weeks ago at number 6.
" I've always been the "R&B guy" but I would say my music sense went through a big transition after I went to Singapore and got in to the music business there," he told the Mirror Magazine in an email interview. "Before Singapore I was all about fusing Sri Lankan music with "that pop sound" which was part of "the wave" started by veterans like Ranidu. But after getting in to the Singaporean music scene I grew up better as an artiste broadening my music sense and establishing myself more as a true R&B singer. "
A one-time student of Royal College in Colombo, Dawn Jay chose to move to Singapore after his A/Ls where he graduated with an Advance Diploma in Communication and Automation Electronics (Robotics) from Republic Polytechnic. The last nine years have been spent studying, working and living in Singapore – where he was based until three months ago. He's put his degree to work as a Robotics Research Assistant, but left his job early this year. "I've finally gathered the courage and took a step towards my goal in music by being a full time artiste to focus more on the opportunities that are there for me all around the world," he says.
Though he has written the majority of his own songs and lyrics, Dawn Jay shares credit with a few friends who have acted as his co-writers – Adam 'deepmuziq' Mohammad (Singapore), Azi Sherif (The Sherifs – Sri Lanka) and Tiron Perera are a few people he's worked with. Dawn Jay's appeal is broadened by the fact that he sings in both Sinhalese and English. "Primarily being an English R&B artiste I still love to do tracks that are dedicated to my Sri Lankan fan base and I have to admit being bilingual adds extra value when performing at overseas gigs as an artiste," he says, adding, "I've got a strong fan base of non-Sri Lankans who are equally in love with my Sinhalese tracks even though they don't understand the meaning behind the lyrics first hand, that kinda proves the point that music is indeed a universal language."
Having signed on with an independent label from Singapore called 1OR8FACTION, Dawn Jay says he's opted for his music over a stable career – "music has become my life pretty much."
Accordingly, he's been focused on finding Dadam more listeners. "I'm working on a music video for my single "Dadam" with renowned local video director Dilon de Silva," he adds that the video is scheduled for release by the end of the year and that he intends to stage a concert in Sri Lanka within the same time frame, the details of which will be released shortly.
Concerts in India, Australia, Malaysia, Canada and UK are also in the negotiation stages and Dawn Jay is hopeful. As far as he's concerned, it's his time to shine.
Follow @timesonlinelk
comments powered by

Disqus