Damsari depicts distance between rich and poor
View(s):

Gihan Rohana's maiden direction, 'Damsari', a mega teleplay with 100 episode is now being telecast at 7.30 pm on every weekday on the Swarnavahini channel.A story woven around Akalanka and Visal, who are childhood friends hailing from a well-to-do background. Damsaari is a good looking young girl who follows a fashion designing course.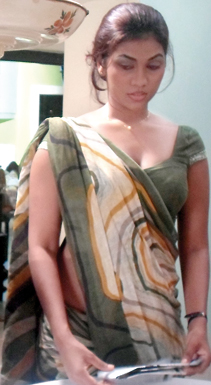 Akalanka and Visal are very close buddies from their schooldays. Their families are also closely attached because of their fathers who are business partners. The parents have plans to someday marry Akalanka to Visal's younger sister Senaara.
Visal's parents Mahen and Shaamila were born rich. Mahen acts according to the whims and fancies of his dominant wife Shaamila. Visal who leads an independent life due to the distant relationship of his parents also carries some Cassanova traits. On the other side his sister Senaara is a reckless girl who gives more priority to exterior aspects. She and Akalanka studied in the same college abroad. Though Akalanka come back after completing his studies, Senaara still continues her studies there.
One day Visal approaches Akalanka and tells him that a girl who had come for temporary training to his father's office had slapped him.Through loyalty, Akalanka insists that he should take revenge on the girl, though Visal was in fact in fault. Visal suggests that Akalanka gets involved with the girl in the guise of starting a love affair and ditch her half way through – in a bid to take reven ge on her. Akalanka starts to follow the girl's whereabouts.
He comes to know that her name is Damsaari and studies fashion designing and interior dÚcor at a university. She had joined Visal's father's office for a temporary training stint connected to her studies. Akalanka falls in love with Damssaari at first sight.
Sheryl Romaine Decker, Dhanuka Dilshan, Kavinga Perera, Bhagya Gurusinghe, Sarath Chandrasiri, Janak Premalal, Awanthi Aponso, Chitra Warakagoda, Eardly Wedamuni, Kusum Renu, Ravindra Yasas and Jagath Benaragama comprise the star cast of 'Damsaari'.
Behind the screen Ariya Samaranayake is the cameraman, Aruna Premaratnhe the story and screenplay writer, Saman Sri Narayana and Chinthaka Wijeratne the art directors, Vishaka Gunathilaka the make up artiste and Theekshana Anuradha music director.
Follow @timesonlinelk
comments powered by

Disqus