45 break-ins a day: Burglaries and robberies on the rise
By Damith Wickremasekara
Even high security apartment complexes are not safe; police reveal shocking details
View(s):
A 23-year-old burglar scaled water and drainage pipes of apartment complexes in Wellawatte to gain entry into flats from their rear doors or windows and got away with money and jewellery. This veritable Spiderman, who had robbed 14 apartments in this manner, shattered the belief of apartment dwellers that they were safe from break-ins as they lived in high security buildings.
The burglar gained access to these apartments during the daytime posing off as an electrician or plumber looking for work. His morning mission was to study the routes of access and escape.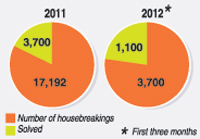 He returned around 10 p.m. and noted down apartments that had rear doors or windows left open. However, he carried out the burglary between 2 a.m. and 3 a.m. These details were revealed by the Wellawatte Police whose investigations into a series of burglaries in apartment complexes eventually led to the arrest of the suspect.
Wellawatte Chief Inspector Samarakoon Banda told the Sunday Times the breakthrough was made after the arrest of an accomplice who had assisted the main suspect in the break-ins.
"On the information we received from the accomplice, we identified the house of the main suspect in Malabe. A Police team had kept a lookout for him for three days. On the third day when the suspect returned home he was arrested. He admitted to carrying out the 14 robberies at apartments at Ramakrishna Lane, Lilly road, St. Lawrence road, 42nd Lane and Hampden Lane," he said.
The suspect, identified as Nadeera Pushpakumara, was originally from Embilipitiya. He was in the habit of visiting casinos where he busted the money which he made by pawning the gold jewellery he robbed. In one instance, he had robbed gold jewellery worth more than Rs. 700,000 from an apartment.
The suspect who was produced in courts had pleaded guilty to the thefts and had promised to help pay back the money and recover some of the gold items that he had pawned. The suspect was granted bail and ordered to appear in courts on another date, but he did not turn up.
Police say they have now launched a second manhunt for him.The incidents of house burglaries have been on the rise in recent years with an average of 40 to 45 cases taking place daily, according to police statistics.
In the first three months of this year alone, as many as 3,700 break-ins have been reported to police. Last year, police recorded 17,192 break-ins or a shocking 47 burglaries a day. But what is more shocking is only one in five cases has been solved with the suspect or suspects being arrested. Even in detected cases, recovering the stolen items is a rarity.
In some cases, the burglars or robbers pose off as police or security forces personnel to carry out surveillance for robberies or gain entry into houses and then rob householders at gunpoint or knife point.
Police recently arrested in Moratuwa two men in police uniform. During interrogation, they admitted they used their bogus police identity to carry out robberies.
"The men posed off as Criminal Investigations Department (CID) officers and visited homes saying they had come for an investigation. They claimed they wanted to search the place for illegal goods and entered the place to carry out robberies," said Chief Inspector Kamal Pushpakumara, who is the Mount Lavinia police station's officer in charge.
He said investigations revealed that the two men, who were ex-convicts had carried out robberies in Colombo, Galle, Nittambuwa, Peliyagoda and Kandy in this manner. They had been arrested on eight occasions for posing off as police officers and carrying out robberies. They had also been found guilty and sent to jail.
The two men were arrested following a police intelligence report that an unknown person was spending large sums of money at a night club, Chief Inspector Pushpakumara said adding that the suspects had stolen the police uniforms and were even had plans to forge two police identity cards to carry out their robberies. They also carried two toy pistols which looked real.
Their main targets were houses where old people lived, the CI said.
He said that in the Mount Lavinia and Moratuwa police divisions alone, the suspects had admitted to have carried out 17 robberies. Among the recent robberies was one that took place at a teledrama producer's house at Boralesgamuwa. The burglars had got away with gold jewellery worth more than Rs. 750,000.
Former Deputy Inspector General Daya Samaraweera told the Sunday Times that in most cases, burglars gained entry into houses through windows without iron grills. Another factor that had encouraged burglars was that people nowadays preferred to live in isolation within parapet walls with little or no contact with neighbours, the ex-DIG said.
"The thieves know that it is easy to carry out a robbery in a house where householders had no links with the neighbours," Mr. Samaraweera added. He said that during the war, neighbourhood vigilant committees were operative. They served a useful purpose in combating crime but after the war, these committees had become defunct.
Sometimes burglars and robbers posed as coconut pluckers, labourers and repairmen looking for odd job he said warning that the people should be careful when entertaining unknown people. "Keep a light on in the house if you are away at night or getting late to come home. Do not keep valuables such as jewellery unless it is essential. Try to keep them in the bank safe," Mr. Samaraweera advised.
Another retired DIG, Jayantha Gamage, said some robbers studied the household activities carefully before the robbery. He said that when the gate was locked from outside, it gave an indication to the robber that there was no one inside.Mr. Gamage said some of the burglars were military deserters who knew how to handle a weapon.
When asked for a solution to the rising robberies, the ex-DIG said there was little use in carrying out routine police patrols alone. The police should also carry out research and come up with new and smart methods to combat crime.
Mr. Gamage said people should be extra careful when they hosted events such as weddings or parties in their houses. After such an occasion it was natural that the householders would be tired and careless about security matters which could give the opportunity for robbers to gain easy access into the house.
Follow @timesonlinelk
comments powered by

Disqus