Jobs on board International Cruise ships!
View(s):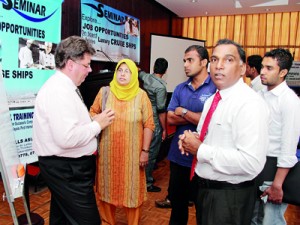 Crewskills International have entered into a partnership agreement with Peacestars Organization in Sri Lanka to cater to vocational training for Sri Lankan and Asian youths in Ipoh, Malaysia, to make them competent to be employed in entry level job positions on the world's leading luxury cruise ships.
Martin O'Dee the Chief Executive Officer of Crewskills International and Jay Dharmaratne, CEO Peacestars the exclusive partner in Sri Lanka for Crewskillls International, recently conducted a seminar on job opportunities in Hospitality on board luxury cruise ships. This seminar was held in Committee Room C of the BMICH.
"The vocational training is specifically focused on the outcome being that of a job offer. We not only guarantee a job offer but we also guarantee a minimum of US $ 500 a month salary. Promotions happen reasonably quickly. Within a year or two a person should be able to expect US$ 1,500 to 2,000 a month provided they go up as expected. The first job contract on a ship is 8 to 10 months, two months off and then a new contract. Ships contract because they contract to a position. You don't have to worry. They will repeat the contract after the two months off.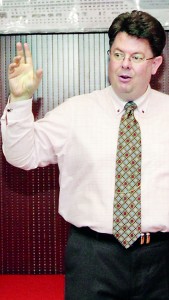 "We at Crewskills International care about the specific skills and specific attitudes to do the job. We try to get a person who wants to do it, up to competency level, so that they can do it. We train only for entry level job positions, to which level our present vocational training in Malaysia caters. The 3 months course carries tuition fees of US$ 2,200 and the 6 month course a course tuition fee of US$ 3200, with a guarantee of a job offer in the contract and also money-back guarantee one hundred per cent on all tuition fees paid to us by any candidate who does not get a job-offer on completion of his or her 3 months, 6 months or one year course. So one of the things we do to make sure we can guarantee the outcome is to make sure we bring the right people in, in the first place. The entry-level positions we cater to in vocational training are for Galley Cleaners/Kitchen Hands, Junior Culinary, Buffet and Restaurant Stewards, Assistant Waiters, Assistant Bartenders, General Cleaners and Cabin Stewards.
He noted that Crewskills International's Vocational Training in Malaysia as a vocational training institution and not a tertiary educator.
The Crewskills International CEO said that no formal paper qualifications were necessary to apply, only youths between the ages of 21 and up to mid-30s, sufficient competency in speaking English as well as 12 months professional service in an international hotel in the category of the application. We offer a holistic program that is required to get them into a job on a ship. We train people for an international lifestyle in a Western society. Crewskills looks after its candidates. If you are young and don't have a life of commitment this is a great career," O'Dee invited.
He spoke of his warm experiences with Sri Lankan candidates all of whom in the first intake to vocational training in the Crewskills Vocational Training Institute are now doing jobs in different positions as crew on international luxury cruise ships.
Follow @timesonlinelk
comments powered by

Disqus