Developing CIMA's 2015 Syllabus
View(s):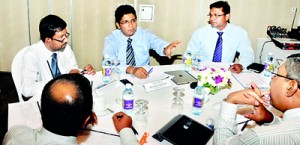 CIMA recently hosted two roundtables in Colombo, at the Cinnamon Grand Hotel; bringing together senior finance and non-finance staff from local and global corporates.
The roundtables were part of the Chartered Institute of Management Accountants' (CIMA) syllabus development project. The new 2015 syllabus will first be examined in 2015, but will be launched in the first quarter of 2014; allowing time for students and tuition providers to familiarise themselves with it.
The project began earlier this year, when the project team held face-to-face meetings with organisations, quizzing them about their Finance functions. An understanding of the skills and competencies required by employers was amassed. These meetings were held with over 70 companies, representing various industries, both private and public sectors, and of varying sizes. Four geographic regions were picked for these meetings to take place: South Africa, Malaysia, the US, and UK/Europe.
Following this extensive research, a draft competency framework was developed. The current stage of the project, holding roundtables in around 20 countries around the world, is an opportunity for the project team to validate, and where necessary, fine-tune, the framework; which will eventually form the basis of the new syllabus.
The companies that participated in this 2 day event were John Keells Holdings, Amba Research, Union Assurance, Hayleys Group, MAS Holdings,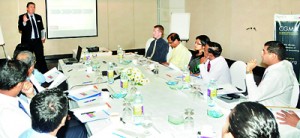 Cornucopia Lanka Ltd, Lankem Ceylon, Mackwoods, WNS Holdings, Hatton National Bank, KPMG, Aitken Spence, Unilever, Commercial Bank, United Motors, Citizens Development Bank, Coca Cola Beverages, MTV Channel, Jetwing Travels, HSBC Securities Services and Hemas Holdings PLC.
In future stages, CIMA will be engaging with many other relevant stakeholders, including tuition providers, academics, students and members. CIMA is determined to create a syllabus which will continue to meet the needs of both employers, and individuals, and for it to remain relevant for future years.
Follow @timesonlinelk
comments powered by

Disqus