Aiming for the stars
View(s):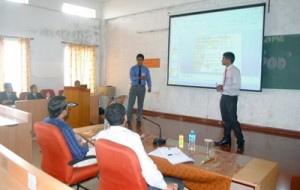 The HinduStudents make a presentation on 'Micro Finance Management' during 'Shriyans-12' management fest at Srinivas Institute of Technology at Valachil, near Mangalore on Thursday. Photo: H.S. Manjunath
The eagerness of youth to be different and frenzy of creative energy can best describe the atmosphere in an educational institute. However hard the prospect of capturing it for the reader may be, The Hindu will attempt to translate the passion of innovation and the creation of ideas in schools and colleges in this newly-launched column. If you have a suggestion, a unique event or an idea that craves for an outreach, mail us at: edu.thehindu@gmail.com
Imagine a prospective manager – replete with a blazer and neatly ironed black trousers – asked to run around the playground while people throw questions at him about management. This is just one of the five rounds the panel at Srinivasa Institute of Technology will use to determine the winner of the 'best manager' event at their two-day Management festival 'Shriyans 12' which started at their premises in Velachil on Thursday.
"This tests the physical ability of the student, it will also test his skills under pressure – physical and mental pressure," explained Hariprakash, Head of the Department, Department of Management Studies which organised the fest.
Even if this test was passed, the contestant go through a stress interview – where the panel dishes out difficult choices coupled with rancid comments intended to put the candidate in as much stress as possible. The corporate world is cutthroat, and these exercises will give them a taste of this.
The fest, in its fifth edition, saw 13 MBA colleges, including one from Kerala, participating in events that cover Human Resources, Finance, Marketing, Management, Business Acumen and even confidence in front of a crowd.
For example, the event called 'Icebreakers' tests spontaneity and creativity as teams stage plays along the theme 'Dream…Make it a reality'. Tripod event for finance sees teams studying large retail stores in Mangalore. In Marketing, the potential salespersons are put through a difficult test – to sell products to those who produce the products themselves. "Teams must sell Hyundai cars to the judges, who are managers of showrooms selling these cars," said Mr. Hariprakash.
Hosted with the theme 'Aperture – Zoom towards success', the college is hoping the events would be an interesting of learning and fun.
Titbits
Dealing with social issues that affect the youth, Pragrati-2012, an initiative to "awaken students to the realities around them" was held on Wednesday at AIMIT, St Aloysius College, Beeri.
The biennial symposium began with MBA playing their documentary that drove home the message that true profits were those that engaged in society, community, social awareness and social uplift, that is, to urge students to become social entrepreneurs instead of just entrepreneurs.
Continuing with this theme, Neeta Inamdar, Director, Manipal Centre for European Studies, Manipal University, advised students to be "Outcome oriented rather than Output Oriented," and education should be about "learning life and not for examinations".
Throwball victors
Sahayadri College of Engineering and Management has emerged as champions of women's Throwball at a university-level competition held recently.
In the finals held at S.J.M. Engineering College, Chitradurga, the women's team from Sahayadri triumped over Bangalore's EWIT College to take the gold at the Visveswaraya Technological University throwball championship.
Coached by Nitisha Rodrigues, the team comprised Joylin Lobo (Captain), Raksha, Sushmita, Ashwini Kumari, Kavya Ullal, Priyanka, Asmita Rodrigues, Neha Shetty, Nivedita, Abhigyan Maad, Anusha Shetty and Shilpa.
Follow @timesonlinelk
comments powered by

Disqus