Rare bipartisanship on European tour
View(s):

Last Thursday, Deputy External Affairs Minister Neomal Perera called on Denis Pietton, Cabinet Director of the French Foreign Ministry in Paris.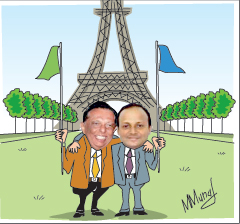 Sri Lanka's Ambassador Dayan Jayatilleke was on hand sporting what appeared to be an oversized satakay, or shawl, not quite of the Mahinda Rajapaksa kurakkan hue but of the Fidel Castro red.
Who else should be on Deputy Minister Perera's delegation? It was John Ameratunga, Chief Opposition Whip and the man who stands in as acting leader of the UNP during Ranil Wickremesinghe's absence.
A statement issued by Jayatilleke's office said, "While praising President Rajapaksa for ending the thirty years war by defeating terrorism which has consumed many leaders of the opposition UNP, Chief Opposition Whip John Amaratunga, MP, stated that his party supports the LLRC report and its implementation."
Needless to say French officials were pleased with the camaraderie between government and opposition politicians in Sri Lanka. "Cohabitatione", they said of Sri Lanka's French style cohabitation politics between the Government and the Opposition in Sri Lanka. The Perera-Amaratunga duo are now touring other countries in Europe giving them a glimpse of bipartisanship in the 'Miracle of Asia'.
Raththaran collects money for Temple Trees party
Deputy Ports Minister Rohitha Abyegunawardena alias Raththaran will be celebrating 15 years in active politics with a function to be held at 'Temple Trees', the President's de-facto office complex.  Though he had initially planned to have the celebrations elsewhere, when told about the upcoming ceremony, President Mahinda Rajapaksa had suggested that he should have the celebrations at 'Temple Trees'.
Whilst the venue would be available free, the costs for the 'do' will have to be borne by the deputy minister, he has been told.
Last week Abyegunawardena was seen canvassing among a group of businessman asking them to contribute towards the ceremony where a large crowd is expected. The deputy minister will also release three books to coincide with the event.
South bans drunken travelling
Like in many developed countries, Sri Lanka has taken steps to ensure drunken driving is an offence.
Police are now busy conducting operations during nights to arrest drunken drivers. This was after the accident rate and the deaths that occur as a result rose to a high level.
The Southern Provincial Council has gone a step further. It has decided to punish even those travelling in public transport systems after consuming liquor. It will start with three-wheeler scooters. For this purpose, new regulations have been promulgated by the SPC.
The new rules not only prohibits the three-wheeler operators from consuming liquor and dangerous drugs while on duty but also prohibits passengers from doing so.
"Bad behaviour" among passengers too is disallowed. What is not clear from the regulations is who will enforce them. "The Chief Minister or his Cabinet alone cannot do that," remarked an opposition provincial councillor.
Did CBK plan political coup through Karu?
The UNP's erstwhile deputy leader Karu Jayasuriya was a lonely man when he attended a wedding of the son of a party theoretician, Prof. M.A de Soyza at the Earl's Regency Hotel on Friday. It was hardly 24 hours since he chickened out from attending a mass rally on which his party leadership had imposed a ban.
Jayasuriya had been in the forefront of getting party members, mainly those challenging the leadership of Ranil Wickremesinghe, to attend the rally which ostensibly was a call for the abolition of the Executive Presidency, but which the party seniors felt was a rally to bolster the flagging image of Sarath Fonseka, the Presidential candidate the party backed in 2010.
Only General Secretary Tissa Attanayake was seen talking to Jayasuriya, who was looking fresh and dapper notwithstanding the long journey to Kandy through rain and traffic jams. There was no ayubowan's to Wickremesinghe.
Three UNP MPs and 17 local councillors have been suspended for attending the rally despite the ban and party stalwarts were saying they were going to use Jayasuriya's statement acknowledging he was bowing to a party decision not to attend the rally as evidence against the 20.
After Jayasuriya left, party stalwarts were mocking him and referring to an earlier occasion (in 2003 when the UNP and the PA were in a cohabitation government) when it was said that President Chandrika Kumaratunga had engineered a political coup by asking Jayasuriya to become the Prime Minister when his leader Wickremesinghe was overseas.
They said that the plan envisaged Jayasuriya to stay overnight at President's House and be sworn-in the next morning. All seniors at the PA were ready for the move, but Jayasuriya had 'chickened out'. Wickremesinghe said that he had asked Jayasuriya once if this was true, and he had denied the story.
Potty VIPs cause daily traffic jams
Troops defeated terrorism more than three years ago but traffic police are still not able to ward off the tensions of road users.
It may not be their fault altogether but the comedy is played out every day in Colombo's streets.
Just last week, traffic piled up for more than a kilometre at the Maradana Junction. A traffic cop had switched off the signal lights after he heard something on his communications set. Several minutes later, a small car with darkened glasses proceeded escorted by a lonely police motor cycle.
As one irate motorist remarked, the only threat for a presumed VIP in his car would have been the long line of traffic. He said there would have been many persons who would have been late to work – the result of daily follies on Colombo roads. Mind you, there are more than 50 of these potty VIPs travelling daily on city roads.
Lokubandara's  chanting interrupted by Presidential call
Former Speaker and now Sabaragamuwa Province Governor, W.J.M. Lokubandara, was one of the visitor's to see Maheepala Herath, the Chief Minister who was hospitalised.  Known for his poetic approach to life, Lokubandara or better known by his initials as Wee. Jay. Moo. began chanting the Buddhist stanza "Karaneeya Metta Sutta" to wish Herath a speedy recovery.
When he was midway, his mobile phone rang. Lokubandara who appeared to be in a near trance stopped. He quickly switched his mobile phone to answer. It was President Mahinda Rajapaksa inquiring about the health of Herath. He gave the President a short briefing. When the call ended, he resumed chanting the Sutta again.
Police told to sir people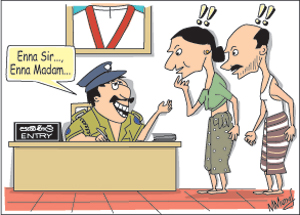 The National Police Commission is to introduce new norms at Police Stations. In terms of this, police officers are to address visitors to Police Stations as "Sir" or "Madam." This is when they come to make complaints or on any other official business.
Sleepy SPs reprimanded
Police Chief N.K. Illangakoon decided to have some of his top men around him as he received a counterpart from Saudi Arabia.
When the meeting was over, some of those who took part were given a telling off. Two Senior Superintendents had been fast asleep. A third was using his smart mobile phone to send SMS messages. They were all warned not to repeat such conduct.
Gayantha's fishy quip at Minister
Government and Opposition MPs were taking part in the Fisheries Ministry Advisory Committee meeting at the Parliamentary complex last week. Labour Minister Gamini Lokuge and Fisheries Minister Rajitha Senaratne were present from the UPFA. For the UNP there were two MPs — Gayantha Karunatilleke and R. Yogarajan.
"Gayantha ko UNP eke wurtheeya samithi lokka? (Gayantha, where is the boss of UNP trade unions?)," Minister Senaratne asked Karunatilleke just before the meeting began."Parana lokko denna innawane. Ey nisa aluth lokka awe nehe. (Two former bosses are here now. There is no need to get a new one here)," Gayantha replied.
Both Lokuge and Senaratne headed trade unions when they were in the United National Party (UNP).
Baila dancing despite losses
It was no doubt a taste of paradise or a feast to many eyes at the Royal Colombo Golf Club on Friday night. The SriLankan Airlines had sponsored a golf tournament. When it ended, the awarding of prizes and a celebration took place at the club.
The Airline's Chairman Nishantha Wickremesinghe was seen dancing the baila. Needless to say many others joined in. Who cares if the Airline is running at a Rs. 17 billion loss. There were smiles all round though none received any air miles for the event.
Public money wasted for Mervyn's family
Public Relations and Public Affairs Minister Mervyn Silva, his controversial son Malaka and other members of the family were in the cooler climes of Switzerland weeks ago.
The family entourage landed at the Zurich airport, the largest in Switzerland. They had to move to a hotel in the city area. For this purpose, the Sri Lanka diplomatic mission at the UN in Geneva had to send a car.
It was a 300-kilometre journey for the chauffeur before picking up the entourage and taking them to a hotel a few kilometres away from the Zurich airport.
Diplomat in naked dance with foreign guest
They say it happened during an outing on the sidelines of the recently held Commonwealth Parliamentary Association (CPA) sessions in Colombo.
A Sri Lankan diplomat and his guest, representing a leading country, were at a resort in the east. They partied till late night. The humidity and perhaps their intake were bit too much. So they decided to shed their clothes and have a dance outside their rooms overlooking the beach.
Hotel staffers have gone silent on the episode after being warned not to speak about the incident. Some claimed they took photos with their smart phones but mum was the word.
Follow @timesonlinelk
comments powered by

Disqus