Bend the rules and win the game
View(s):

My Dear Mahela and the team,

I thought I must write to you because you have taken us to the finals of a cricket World Cup for the fourth time in five years and will today take the field to try and repeat our World Cup win under Arjuna sixteen years ago.

We admire your leadership and courage, Mahela, especially for the manner in which you accepted the captaincy for a second time when, after a not so successful period following last year's World Cup finals, there appeared to be no one to do the job properly.

When I think about some of your achievements, Mahela, I have come to realise that in many ways you and your team are a reflection of what goes on in our country. Now, if that sounds puzzling, please let me explain.

Why I say so is because you and your team seem to carry on regardless, performing quite creditably and winning matches regularly despite all the distractions that go on around you and despite all the obstacles placed in your path by a few powerful politicians and individuals in the Cricket Board.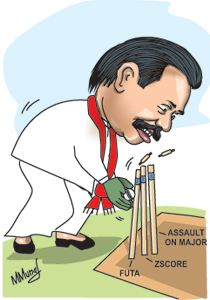 Now, that is quite like Mahinda maama's government, isn't it? Some of his ministers-and you know who I'm talking about-are behaving like they are working for the opposition, but Mahinda maama and his team just carry on, winning elections quite regularly!
Of course there are the times when the performances of your team helped Mahinda maama too. For instance, he was harassed during the past few weeks by people wanting answers for issues like the 'Z' score, the university teachers' strike, and military officers being beaten up by sons of ministers.
Well, ever since the cricket tournament started the focus of attention seems to have shifted. And this week, after your team made it to the finals, everyone seems to have forgotten all those issues; they are talking about Malinga instead of Mervyn and Sanga instead of SB!
At other times, the cricket that you play also provides an appropriate response to some of Mahinda maama's political rivals. Why, remember how that annoying Chief Minister from Tamil Nadu, Jayalalithaa, sent home two Sri Lankan football teams touring Tamil Nadu?
Well, through your performances, you have given her an appropriate response. The Indian cricket team has been sent home, not on the orders of some silly politician but through the proper way: because of the performances of other teams in the competition!
Then there are times when I am certain that Mahinda maama is learning from your tactics too. I am referring to that controversial tactic you adopted last week by asking Kumar to 'captain' the team, because you ran the risk of being suspended for a game, if we fell behind in the over rate.
And then, all Kumar did was toss the coin. Thereafter, you were out there taking all the decisions and leading your team. In a single stroke of genius, you had outwitted the ICC and cleverly evaded their restrictions.
Now, you may not be familiar with this, but one of our many cabinet ministers, a chap by the name of Chandrasena, 'resigned' recently to enable his brother to be appointed as the new Chief Minister of the North Central Province.
That is because Mahinda maama has a policy of not appointing two ministers from the same family. Of course there is an exception to every rule and there is an exception to this rule as well. So, one family is exempted from this principle-and I leave it to you to figure which family that is.
Then, just a few days after you adopted your 'captaincy' tactic at the cricket match, what do we hear about this Chandrasena chap? He has been sworn in as the Deputy Minister of the same ministry in which he was the Minister earlier!
And guess who the new minister is? It is Mahinda maama himself! Now, as you know Mahinda maama would be too busy to look into the affairs of this Ministry so it would be this Chandrasena chap who will be the 'minister' without actually being the 'minister, just like what you did!
So, Mahela, it does appear that, apart from your superb performances with the bat and in captaining the team, you have been able to teach even Mahinda maama a tactic or two-and that is an impressive achievement by any standard.
I hope that Mahinda maama and his team will also learn another lesson from you and your team: that however different you are as individuals, you could take on the world if you are united and work together as Sri Lankans. That is what you have demonstrated to us in the past few weeks, Mahela.
So, the best wishes of all Sri Lankans are with you as you take on the West Indies tonight. Whatever the outcome of that game, I think we should be grateful to you because, through your performances on the cricket field, you have once again made us feel proud to be Sri Lankan!
Yours truly,
Punchi Putha
PS-Some people also compare you to Uncle Ranil. I think that is because you are always retained as captain of the team, even though you have always been the runner-up and never the winner. Tonight I hope that you will change that once and for all, and even Uncle Ranil won't mind that, I am sure.
Follow @timesonlinelk
comments powered by

Disqus