Anarkali sees bombs in brinjals
View(s):

The rising cost of living, it appears, was cause for serious concern for Bandula Bandarigoda, a UNP member of the Southern Provincial Council (SPC).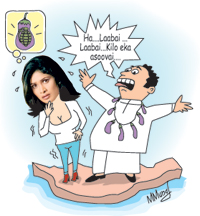 So, he entered the last meeting of the council wearing around his neck a garland made of brinjals. "Kilo ekak asuwai" or eighty rupees per kilo, he shouted like a vegetable vendor.
A one-time beauty queen, actress and now SPC member Anarkali Aakarsha was angered by the antics of her opposition colleague. She said his behaviour was cause for security concern. Anyone could wear some explosive device around their neck resembling brinjals and walk into the meeting.
That drew an acid retort from another UNP Provincial Councillor, Chandana Priyantha. He declared "Manthreethumiyatath indala indala kathakaranna mathak wenne wambatu dekkama thamai (She speaks only when she is reminded of brinjals)."
Obama and GL: Pic ended up in local media only
The United States hosts annually heads of delegations taking part in the UN General Assembly in New York. This year was no exception. President Barack Obama and wife Michele were on hand to pose for photographs with any head of delegation who attended.
External Affairs Minister G.L. Peiris joined the line and was soon photographed. It appeared on the website of the Sri Lanka Embassy in Washington DC only to be pulled out within hours. Now the Embassy's newsletter, produced at great cost with help from Washington based public relations experts, makes no mention of that great photo opportunity.
Yet the Ministry of External Affairs made good of it by handing out the picture to the local media.
Pet tax in Kalutara
Just days after Sri Lanka observed world animals' day, the Kalutara Urban Council has decided to introduce a new tax for pets and animals from next year.
Residents will have to pay five rupees per year for the most common pet – dogs. Horses, donkeys, ponies and mules will cost the owners Rs. 15 each and elephants Rs. 50 each.
Top officer transferred for raiding brothel
A persevering top cop who had barely served three weeks in his new post in a Colombo suburb received hurried orders to move out.
He was not sent to be in charge of another division but to a department that dealt more with reams and reams of messages.
The reason – well placed insiders say, he ordered a raid into a high class brothel. Those who were caught with their pants down and others who feared loss of big business ganged up. Of course, the types told to speak for the Department said the change was "routine," a remark which the victim's colleagues said were laughable.
Vice that is good for some is unwise for the others. It can cost their jobs too.
Deputy Minister laughing stock of children
It was October 1 when the world observed International Children's Day. Deputy Education Minister Vijith Vijithamuni de Soysa was addressing a gathering of schoolchildren in Wellassa in the Badulla District. He decided to chant some kavi (poems) of interest to children. After he chanted the first two stanzas, de Soysa was stuck. He had forgotten the next two lines. It provoked widespread laughter among the schoolchildren.
Hi-tech sexploitation of woman employee
Telecom regulators worldwide had gathered in Colombo for the 12th Global Symposium of the International Telecommunications Union (ITU). Some took the trouble to learn of the strides made in the field of IT by Sri Lanka. Others learnt of how there is also a bad side to the growth of IT if there are no mechanisms to control abuse.
A senior and much respected official well versed in IT and allied fields was to relate a story, of course not publicly, about a case that highlights the bad side.
A woman joined a Colombo-based company. The IT engineer helped her obtain a laptop computer at a concessionary price. Being an artistic type from one of Colombo's leading international schools, she used the camera embedded in the laptop to take a nude picture of herself. She used it to draw a caricature.
When there was a virus attack on her laptop, she sought the help of the same IT engineer to have it cleaned.
It was done within days and she got her laptop back. Thereafter, the IT engineer telephoned her and said he possessed a nude picture. To prove it, he e-mailed it to her.
Then the IT engineer's demand followed. He sought sex with the girl employee if her photograph was not to appear in the internet.
The young woman, with one daughter, was forced to heed his call. The sordid drama did not end there.
Six others including a top man in the company used the same trick to coerce her into providing sex. The finale to all this came when the distraught girl lost her job. Her nude photograph also ended up on a website.
Interesting appointments by EAM
The Ministry of External Affairs has embarked on a series of interesting appointments in the recent past.
First it was a round of Deputy Chiefs of Mission (DCM) in several European capitals, including, London, The Hague, Oslo and Warsaw (D.S. de Silva). All these appointees were non-career persons. One of the two career deputies in Sri Lankan High Commissions, M.R.K. Lenagala in London and M. Colonne in New Delhi are reported to have opted to return to Colombo and not accept the superfluous post of DCM in Berlin.
Now come a series of new ambassadorial appointments. The Presidential media spokesperson Bandula Jayasekera has been appointed as the Consul General in Sydney with the rank of Ambassador. One of those in charge of matters during this year's Geneva debacle, Mohamed Muthafa Jaffeer has discreetly headed to Oslo unknown to many in the External Affairs Ministry.
Other changes include, Ambassador Sarath Wijesinghe moving from Abu Dhabi to Tel Aviv, Israel as Ambassador in place of former Air Force Commander/Chief of Defence Staff, Donald Perera; former IGP Mahinda Balasuriya moving to Abu Dhabi from Brasilia, which was dubbed as 'boring' and 'far away' by the former head of police, while two respected career officers, W. Seneviratne and Sumith Nakandala, take over in Katmandu and Baghdad respectively.
Interestingly, the only three ambassadors from the career diplomatic service to serve in European capitals currently (except Geneva which is dubbed a Permanent Mission and not an Embassy) are from the Eastern Province: P.M. Amza; A.L.A. Aziz in Vienna and M.M. Jaffeer in Oslo.
Prostitution ring: Wrong call to IGP
When the emergency telephone number 119 at Police Headquarters rang, the caller identified himself. He claimed he was the Grama Niladhari of Werellapathana in Walapane. He gave his mobile phone number if the caller's verification was needed and said there was a prostitution ring operating in a house in his area of authority.
They were also involved in drugs, he complained.Alert policemen checked to find the Grama Niladhari of the area in question held a different name. Smelling something was wrong; they alerted the real man about the "tip off" and gave him the mobile telephone number of the caller.
The angry Grama Niladhari called that number to warn the person who answered not to make fake calls. Who should answer? It was none other than the Inspector General of Police, N.K. Illangakoon.
The Grama Niladhari then lodged a complaint at the Walapane Police.The man who posed off as the Grama Niladhari was arrested. He was produced before courts and remanded till October 15.
No splitting affairs with barbers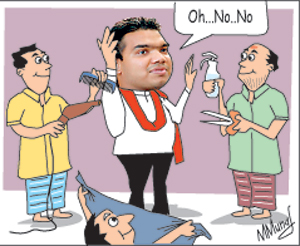 Barbers in Moneragala received free equipment last week at a ceremony arranged by Uva Chief Minister Shashindra Rajapaksa.
The chief guest was Namal Rajapaksa, MP. During a speech in Sinhala, he told barbers that he took haircuts only on a few occasions.
"Mama nam giya avurudde konde kepuwe eka parai. Mey para konde kepuwe me uthsawayata aradahana karanna dawas dekakata vithara kalin. Ehema nethnam ada me uthsawaye dipu upakarana walin issellama mage konde kapai (I had a haircut only once last year.
I had one just two days before I was invited for this function. If I did not do that, you all would have used on me the equipment I just donated)."
No promotion for Berty's son
Duminda Dissanayake, son of the former Chief Minister of North Central Province Berty Premalal Dissanayake attended last Wednesday's Cabinet meeting.
Many Cabinet ministers were surprised when they saw Dissanayake junior. Some of them thought he had been promoted already to Cabinet rank.
However, it later turned out that Dissanayke was attending the meeting as the acting Minister of Youth affairs and Vocational Skills Development. Minister Dullas Alahapperuma was on a visit to the United States.
Senior officer in row with Namal at T-20 semis
Chief of Defence Staff, Air Chief Marshal Roshan Gunatileke is to give a pep talk to security forces top brass tomorrow (Monday) on the need to respect MPs' rights and privileges. They are also to be told to follow established rules. The meeting was urgently scheduled for Friday but at least one officer, in the eye of the controversy, is said to be out on an inspection tour away from Colombo.
The move has been prompted by an incident on Thursday night at the Premadasa Stadium where the Sri Lanka-Pakistan ICC T-20 semi-finals took place.
The Presidential Secretariat had issued some 40 passes to a select group to watch the match from the President's Box. Whilst some security top brass had occupied the Box, personnel from one service arm tasked for security at the stadium and bodyguards had prevented the well-wishers from taking their seats at the Box.
This was on the grounds that their top brass were there.Just then, Namal Rajapaksa, MP arrived at the scene and found the pass holders shut out. When he tried to enter the box, one senior officer had breathed hot air. He had allegedly declared that only Rajapaksa could be allowed since he was the President's son. Not to be outdone, young Namal had retorted that even more importantly he was an elected MP and the officer had no right to restrict him. He had pointed out that none other than the Presidential Secretariat had invited the pass holders. Onlookers said a heated exchange followed.
Namal Rajapaksa's efforts to have the invitees watch the match from the President's Box, despite passes issued by the Presidential Secretariat, did not succeed. The officer concerned, it has come to light, left the Stadium even before the match could conclude. Now, the Chief of Defence Staff has been told not to mince his words when he puts things right.
Follow @timesonlinelk
comments powered by

Disqus