Let them entertain you
View(s):

Three beat boxers, one rapper, and all twenty of them are dancers-Choro Calibre takes versatility to an entirely new level and they're not afraid to bring it on. Perhaps this bravado and sheer talent is what won them three awards in all three categories they participated in at the Asia Cantante International Choir Festival. Maybe it's that or maybe they just got lucky-either way, let them tell you the story on September 11 at the Hilton Grand Ballroom, with 'Road to Victory'.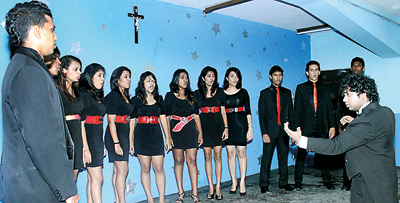 Shamal De Silva, who formed the choir nearly three years ago, is clear about what sets Choro Caliber apart. "From the start we've sought to impress," he says frankly. "The choral aspect is definitely important, but even more than that it's about delivery. I honestly believe that if your audience isn't enjoying your performance, you've failed."
It's that panache for delivery that makes Choro Caliber something special. The young ensemble is versatile, confident in themselves and they can all move to the tunes. The group is well known for their excellent choreography and lively performances, which explains their immense popularity in the wedding and hotel circuit.
Shamal is a former Josephian and leader of his school choir. It was a natural next step after school to form a group of his own with a bunch of friends-both male and female alike. "If you'll notice, Choro Calibre is always evenly segregated gender-wise," he smiles. "A coinciding number of male and female voices complement our harmony."
The vision for the choir was to have a group of choristers who could sing as well as entertain, he explains. "The initial six or seven we took on were friends of mine that I knew were amazing vocalists, but after that we held auditions for new recruits. One common thing we looked for was the ability to deliver a performance." It seemed like they had looked for the right trait. Choro Caliber has achieved many great things since then, including the release of their own Christmas album and an original song.
The album Feliz Navidad received rave reviews from those who bought it said Shamal, while the song 'Ape Namaya Sri Lanka' which was released in lieu of the 2011 Cricket World Cup was well-received as well. They've done one concert previously aptly titled 'Hope', in aid of 15 musically gifted children handpicked from the SOS Village. Charity and giving back is close to the choir's heart, with the group setting out to complete at least two CSR Projects every year.
The audience will be treated to an evening of classical music, a 70's & 80's medley, a disco medley, reggae, popular Sinhala hits, a traditional set and of course-the pièce de résistance, a dance medley. It's set to be an evening to remember and they'd love for you to be there, supporting a journey towards victory they began three short years ago.'Road to Victory' will be held on the 11th of September at the Hilton Grand Ballroom at 7pm. Tickets for the event can be purchased at the Park Street Mews, Barefoot, Hilton or on www.tickets.lk
Follow @timesonlinelk
comments powered by

Disqus