There's money in rubbish
View(s):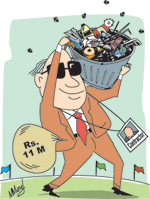 There has always been the belief that there is money in rubbish. Whether the money comes from feeding rubbish into plants and the fruit that these plants bear is yet to be determined. Anyhow a contract has been given to a leading firm to get rid of the rbbish after a major sports tournament to be held in the island in the near future. The cost of getting rid of rubbish was first estimated at Rs. 20 million but after much haggling the task has been given to a firm for Rs. 11 million.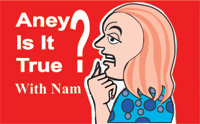 Filthy rich
How come that some T20 cricket matches are well attended and some aren't. It has been found that the sponsor of this particular team, where top cricketers are involved, provide free food and drinks for spectators. The sponsor of this team is so filthily rich that all he wants is the cheap publicity he and his team gets from spectators.
Protest at being shown the door
A major sport played with a ball and net got underway in Colombo yesterday. Some players who were shown the door were seen hob knobbing with a foreign team. Could it be that these former team members are showing their protest at being dropped from the naional team by currying favour with opponents?
Stadium under repairs again
The leading Stadium in Colombo which was renovated recently has been closed again for further repairs. Apparently the work done on the track at a colossal amount has not been carried out properly. On the pretext of doing further work on the track the stadium has been closed. The reason given to it is that they want to renovate the football area.
No activity
There is hardly any activity in athletics these days. The London Olympics are over but the local body now should be gearing for future activities. The present officials who were elected to the body at the AGM are non active. It looks as if another AGM will have to be held to re-activate them.
Bear hug
This driver walked into an office at a leading sports body recently to find a lady in the office was locked in a good old fashioned bear hug with a foreigner. The embarrassed driver stepped out shocked that such things were happening at a leading sports headquarters. Now officials are trying to say that the driver concerned has no business to pry around offices when his task is to drive people around. The question that cries to high heaven for an answer is whether the lady concerned does favours of this nature to others in the sports body?
Follow @timesonlinelk
comments powered by

Disqus