'Ini-Avan' : To break barriers of cinema
View(s):

Asoka Handagama's latest direction 'Ini-Avan' (Him, Here, After), a Tamil language Sri Lankan film is to be screened at the Toronto International Film Festival (TIFF) from September 6 onwards.

Handagama's film 'Ini-Avan' been an official selection, will be screened at Contemporary World Cinema section in this year's programme. Ini- Avan is one of the five films selected for in-depth discussions with the audience conducted by the University of Toronto.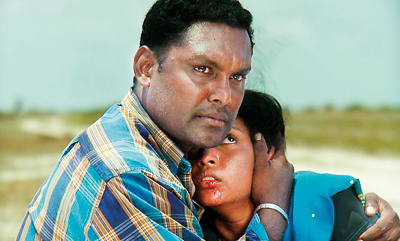 A scholar from the university's Munk School of Global Affairs will have an expanded conversation about the film.
Toronto International Film Festival (TIFF), a non-competitive film festival is the most recognised and largest film festival to be held in North – America. 'Ini- Avan' had its world premiere at the Cannes 2012 under ACID Programme.
'Ini Avan' narrates a story of a Tamil Tiger rebel rreturning to his community after Sri Lankan civil war is over. Known only as "Him", the protagonist faces hostility, suspicion and bitter recriminations in this film narrated as a excellent elegiac meditation on the aftermath of war.
Writing on the film the TIFF noted "..Juxtaposing serene landscapes with strangely beautiful renderings of urban decay, Handagama's elegiac allegory neither wallows in grief nor mourns for a lost past, but rather explores the unsettling realities of postwar Jaffna. And yet, there is hope within this desperate, lyrical portrait — hope of an "after" for those who have lived through the traumas of war."
'Ini-Avan', a Tamil language film by a Sinhala director is to serve the important purpose of breaking the language barriers of Sri Lankan cinema.
"This was one of my purposes in doing a Tamil language film," said Handagama speaking about his latest direction.
"On the other hand 'Ini Avan', the perspective of the North during the post-war period is similar to 'Me Mage Sandai' which portrayed the impact of war on the South," Handagama said.
"To tell a story of the Tamils in the North, I have to narrate to them in their language," he said.Directed by Handagama, Ini Avan cast includes Darshan Dharmaraj, Niranjani Shanmugaraja, Subashini Balasubramaniun, Raja Ganeshan, Malcolm Machado and King Rathnam. Cinematography is by veteran Channa Deshapriya, music by Kapila Poogala Arachchi, art direction by Sunil Wijerathne. For E-Culture Productions, 'Ini Avan' is co-produced by Jagath Wellawatte and Anusa Fernando.
Follow @timesonlinelk
comments powered by

Disqus